This content has been archived. It may no longer be relevant
Students across campus are finding ways to deepen their understanding of Christian Science by forming discussion-based study groups.
These efforts include a Christian Science Church Manual study group, which meets weekly with facilitator Louise Kingsbery, Resident Counselor of Brooks House, as well as a student group that studies Education at The Principia (EAP) and has group discussions at lunch twice a week.
Kingsbery said she was pleased at the level of student interest and participation in the Manual study group.  "I've had a few people say to me, 'I can't believe you have close to fifteen students giving up an hour on Sunday to talk about the Manual of all things,' so that's pretty amazing," said Kingsbery.
Junior Jodie Maurer, president of the CSO, is one of the weekly participants in the Manual study group. Maurer said of the group, "I've really enjoyed it.  I think listening to the different perspectives has given me a lot to think about each week."  Maurer highlighted the importance of studying and abiding by the bylaws as a Mother Church member: "I wouldn't want someone on my soccer team who doesn't care to follow the rules of soccer."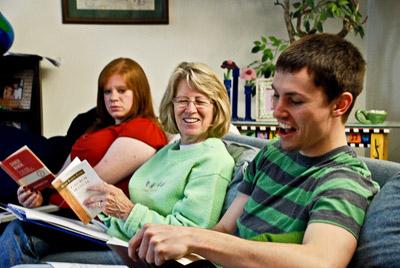 Kingsbery said of the Manual study group, "I don't think you can … do the study we're doing and not have a better grasp of what Christian Science is all about, and of how what we think of as restrictions are really freedoms."
Senior Chris Sheasley initiated the EAP study group.  Although the group has a few drop-in participants, it has a core of four students.  Sheasley said, "Reading EAP in the spring of my senior year has been valuable to me because it's helping me to reflect on all of those experiences that I've had over the past … four years."
Senior Chelsea Kendrick, a member of the EAP study group, said she was surprised when she first read parts of the book during Resident Assistant training two years ago.  Kendrick had expected "more of a dry, boring textbook," but found EAP to be "inspiring, relevant, and applicable."  Kendrick said she "wanted to read the whole thing."
This quarter, Kendrick said she was "excited about making reading Education at The Principia a priority with the group."  Kendrick thought it would be "really cool if [EAP] was incorporated" in the character education program at Principia and said, "a lot of people would be surprised" by how interesting the book is.
Both the Manual and EAP study groups encourage their participants to read a section of the book before each meeting so that they will be able to discuss the book in its entirety over the course of the quarter.
Maurer said, "Hearing from the group has helped me think through things going on in our movement and things in the Manual bylaws."  For Maurer, these conversations can be "humbling because you can think about these ideas on your own, but when you hear the deep thinking of others, it can move your own thought in a new direction."
For Sheasley, the EAP study group got him thinking about "how we can strive to uphold the highest standard of community."  Sheasley said, "We're working together to uplift each other" at Principia.
Sheasley got the idea for the group during the road trip back to Principia after spring break.  Sheasley said, "The idea came to read EAP to familiarize myself with Mrs. Morgan's vision of The Principia …  So when I got back to campus, it seemed pretty practical to me to just read the book, but I wanted to share it with other friends who wanted to read it as well, and the idea [for the group] just blossomed."
For Kingsbery, the idea of a Manual discussion group developed over a longer period of time.  Kingsbery heard last year about a friend's experience with a Manual study group, the last meeting of which was followed by an inspirational talk.
Kingsbery said, "My first thought was that I wanted to do a Manual study group with anyone in the Elsah church that would like to do it," but once Kingsbery returned from the Hawaii Field Program, she wasn't sure how to move forward.  Kingsbery and Maurer discussed Kingsbery's idea, and Maurer encouraged her to include students.
Kingsbery said, "I knew that it was valuable, that it would be exciting, that I had a lot to share, but that I'm just a facilitator and not an expert." The Manual study group will end with a talk about the Manual to which the rest of the campus will be invited.