India is a land of bright colors, rich spices and tea, and hospitable people. It was to this "Hindustan" that our group of 21 students, along with professor Chris Young and resident counselor Julie Sanderude, journeyed on February 6. After we arrived in Delhi, we spent a few days touring the city, visiting local bazaars and the Taj Mahal, and taking a bicycle rickshaw tour of Old Delhi. There was so much to see and hear in the crowded streets. It was unlike anything that most of us had ever experienced.
In true Indian fashion, we took an overnight train from Delhi to Udaipur on February 11. College alum Ian Forber-Pratt, founder of Foster Care India, met us at the train station. He has served as our in-country guide while we have been here. We have had the opportunity to visit Ian's house and see both the Foster Care India office and the Foster Care India Family Connection Center.
Upon arriving in Udaipur, we took a day to explore the area before beginning our research and Hindi classes. We quickly discovered that a normal walk through the city might include dodging multiple cows, women sweeping, speeding motorcycles carrying as many as five people, auto rickshaws so full that people hang off the back, an occasional camel, elephant, or miniature donkey carrying crushed rock, or even stray dogs (there are some living on every street). Along the way, we would also pass street vendors carting everything from oranges and grapes to clothing and blankets. Vendors tried to lure us into their jewelry, leather, or sari shops. Needless to say, walking anywhere is never anything short of an adventure.
Every day we go out in pairs in auto rickshaws with our research assistants, most of whom are local Udaipur college students. All of us have our own individual research projects that we are conducting interviews and site visits for. These project topics range from arranged marriages, to architecture, to Indian education. We meet as a big group for lunch, and then our afternoons are spent taking Hindi classes. We have two sections: grammar and conversation.
For the past ten days we've been staying with local Indian families and learning about the Indian lifestyle. Homestays have ranged from large Western-style homes with flush toilets to two-room modest Indian homes with "squat" toilets. Some students are staying with families that have children and some are not. We have all really grown to love our families and we will be sad to leave them.
We have a few more days of research and then will be busy writing our ethnographic research papers before we leave to fly to Amritsar to visit the Sikh holy site, the Golden Temple. We're all learning a lot and having fun along the way. We can't wait to share all our stories at our slideshow presentation on April 24th at 7pm in Wanamaker! There might even be a few treats and a surprise, so don't miss it.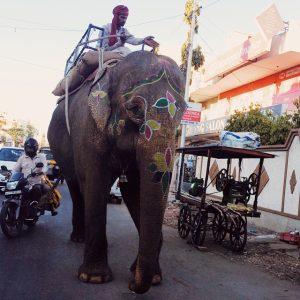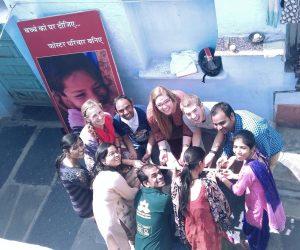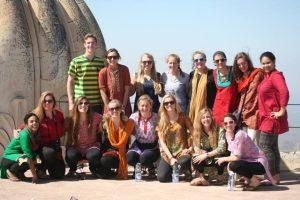 Images courtesy of Meg Andersen and Ian Pratt