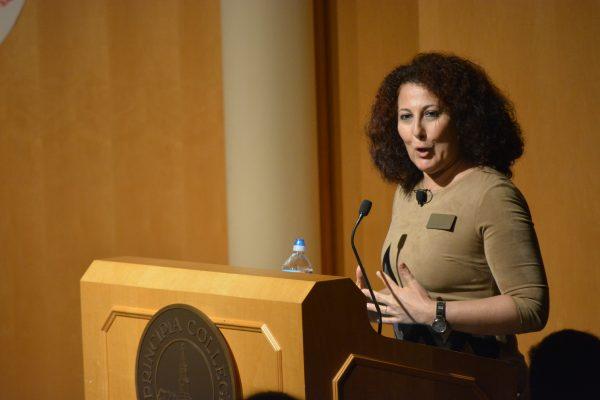 By: Britteni Kayser
Each year, students at Principia College host and organize two main conferences: the International Perspectives Conference (IPC) in the fall, and the Public Affairs Conference in the spring. It is no surprise that conferences need money to invite speakers who deliver hard-hitting, well-informed talks that are interesting for college students to hear. Because IPC is considered a club, its budget is substantially smaller than that of PAC. The Pilot set out to investigate if this budget disparity affects IPC's offering or engagement with students.
One thing to note about PAC is the conference's longevity. PAC has been around for almost 70 years and is the longest student-run conference in the United States, while 2017 only represented IPC's fourth year as a student-run conference after changing its name (formerly the Pan-African Conference) and broadening its scope from the African continent to a more global perspective.
Since IPC is considered a club, it obtains funding through Student Government and a few outside sources. Each year IPC has received a slightly larger budget for its array of international speakers and increased promotion of the conference. But the question that remains is whether those budget increases is enough to garner student attendance.
Junior Alex Kamau, who attended this year's IPC conference said, "I think IPC doesn't get as many people as PAC because PAC has a dinner/conference where students can meet entrepreneurs and network by making connections with the speakers."
As noted by Kamau, PAC holds a dinner that is normally catered by Chipotle. However, the price of the dinner for student who attend PAC is not free. Students have to pay a small fee to go to the conference, eat Chipotle, and obtain a PAC logo t-shirt.
In contrast, IPC offers itself as a free conference for students in the hope that student interest and attendance would spike based on the discount. Because their funds do not come from application fees, the IPC board utilizes a significant portion of their funds towards getting high caliber speakers to come and give their message.
Senior and social media head for IPC, Logan Landry said, "There are certain things we cherish about IPC. We are okay being less formal, and we are fine being a free conference. We don't want to be like PAC, especially since our conferences are about two completely different topics."
Assistant director of PAC this year, senior Maddi Demaree said, "IPC doesn't have as many components as PAC because the goals of the two conferences are entirely different. But we're so proud to support each other, and the boards have worked together a little bit already and are just so glad to have the support of the other conference, even though the conferences are accomplishing other goals."
Social media has played a large role in gearing up for IPC this year. Since PAC may be considered a more well-known conference among the student body, Landry wanted to ensure that she posted about IPC at least once a week, and once a day during the week of the conference, to ensure students were informed about IPC.
The board's main goal was to have every student on campus know about IPC and become interested in attending the conference despite budget constraints. To achieve this goal, the board sat in the concourse during meals, taped their logo throughout campus, and slipped an IPC sticker into each freshman's mailbox.
Believing the freshmen class to be less informed about IPC, the entire IPC board set up a table at the club fair and visited the freshman houses to answer questions and introduce them to the conference and this year's theme, Breaking Stereotypes.
Unlike PAC, which focuses on more industry-based lectures and career-driven students, IPC focuses on inspirational speeches to increase student awareness towards viewpoints in other countries/cultures.
The beauty of having IPC on Principia campus is the fact that the college is a metaphysical place. This way, students can bring their open minds to each talk and walk away with a spiritual motivation to do good.
Landry said, "Since we are such a spiritual campus, we can take this topic of breaking stereotypes and pray about it. We're not rich in the physical sense, so we do struggle a little bit, but we are rich in the topics we promote. The fact that we're bringing these topics to campus and making people talk is what really matters."
While PAC is mainly directed towards business and career-driven thinking, IPC spotlights social justice and international issues to broaden student perspectives on campus. Both boards have a strong desire to make a global difference and strive to develop a change in thought in others.