This content has been archived. It may no longer be relevant
Do you ever hear stories of Principia's past and wonder what it would have been like to live on campus even a couple decades ago?  What the culture was like in each of the houses? In order to compare the past with the present, house presidents and alumni share their experiences so you can get some perspectives on the evolution of house culture.
Sometimes house culture is steeped in heritage and has remained largely unchanged over the decades. Junior Jake Roometua, president of Buck House, noted that "the house culture in Buck has stayed the same and has focused on brotherhood and achieving a high sense excellence through everything we do—athletics, academics, and Christian Science. How we differ from years past isn't in the culture or traditions, but in how much we make ourselves seen on campus. Through the years, Buck has tried to continue a legacy of 'Buck gentlemen.'"
Buck seems to have maintained a continuous and uninterrupted legacy, perhaps because the house has remained a men's house since its creation.
Some houses have really worked to build their house culture over the course of shorter amounts of time, including within the span of a single semester. While a large part of Howard House's culture is rooted in its many events and traditions, it also depends upon its house presidents and house board to shape the culture.
Led by junior Jessica Alford and sophomore Ashley Shoemake this semester, Howard has worked to "be strong and independent but also united by our sisterhood," according to Alford. The legacy of the Howard sisterhood certainly runs deep, as head women's volleyball coach Mary Ann Sprague can attest. Sprague was a Howard sister while a student at Principia.
Sprague said that one of the Howard traditions was "that we would have small little celebrations and get-togethers regularly. One was animal crackers and darts. At about 10 p.m., people would take a little study break and we had a dartboard and a huge thing of animal crackers… Another big thing we started was 'BYOCB' (Bring Your Own Chocolate Bunny) parties after Easter. Everyone's parents would send them chocolate bunnies…and people would donate their bunnies to add to [a] fondue pot. [Also,] we loved 'grab a date' outings, and did them regularly. Most were spur of the moment for a late night outing to Alton – back then Mister Donut was open at night."
Sprague's stories indicate that the theme of sisterhood reaches across the decades in Howard.
Brooks House as we know it today is very different from the Brooks of 30 years ago. It used to be called Brooks North and was a men's house. Political science professor Brian Roberts is a former member of Brooks North. He described the house culture as "lively, diverse, energetic… We had a real mixture of people in that house the four years I was there. Every spring we did a mailbox run, because there used to be an actual mailbox outside the concourse. We would start outside the hall in Brooks and run as fast as [we could] down there and back. It doesn't seem like it's that long of a distance but when you're sprinting all-out, [it does]. My senior year we did something called 'Brooks Bistro' and we basically turned the upstairs room into a dining hall and we fixed either an Italian meal or a Chinese meal and it was sort of a fundraiser. We had somebody playing the piano and white tablecloths and I don't think anyone ate at the dining room that night. We earned enough money to pay off all of our house debts and have a lot of money left over. And in the spring for our house party we used to rent a pontoon boat out in the Mississippi river and we would take a pontoon cruises up and down the river for…two or three hours."
Senior Brooks member Sarah Litwiller said that she is "sure the house culture totally changed when it transitioned from a men's to a women's house." Litwiller added, "[Today, the house is] homey and the nature of the women is welcoming and loving."
Some houses have maintained the culture that was attached to the name of the house, regardless of which building was being used. Junior Igor Souza, Lowrey House president, detailed their historical transition from Rackham West to Lowrey. Souza said that bonding through conformity used to be the focus of house unification activities in Rackham West.
He added, "Nowadays, the main idea remains the same: brotherhood. But we now emphasize the individual skills and how each individual can help make the brotherhood stronger. Now it is less about forcing our will [on] the incoming students and more about sharing our ideas with those who are willing to treasure them." Elements of Rackham West culture have remained, despite the change of name and residence.
It's safe to say that, while the culture of our houses has changed and evolved, the values that they treasure have remained constant.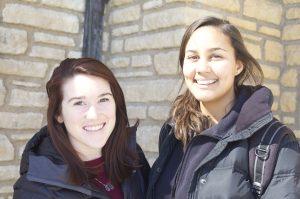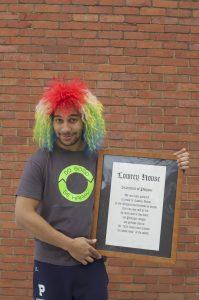 Image courtesy of Hayley Shabes