This content has been archived. It may no longer be relevant
It takes days for me to decide which restaurants to review. I use my trusty Sauce Magazine subscription and my handy dandy map to help me make my decisions. However, this week's article not only comes with yummy food but with a life lesson: sometimes the best things are found unexpectedly.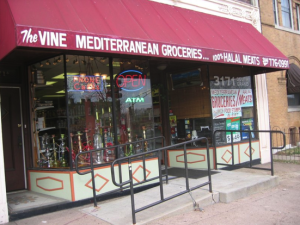 I started out on South Grand Ave Friday night with a reservation at a Vietnamese restaurant, but the place had a 20-minute wait. I needed to make a movie showing, so the next option was to walk up the street to City Diner. As I walked, the luminescent neon sign served as a beacon to hungry college students everywhere: "All-You-Can-Eat." I ended up eating at a cozy restaurant called The Vine, which serves authentic Lebanese food.
After I was seated in my window seat of silk pillows, I ordered a pot of tea infused with Cardamom, which is a delicious spice that has a nutty, spicy quality that goes well with black tea. To begin the meal, I tried a plate of their Baba Ganoush, which is similar to hummus because it has Tahini paste in it, but has a base of roasted eggplant instead of chickpeas. Theirs was epic because instead of just roasting the eggplant, they also smoked it. This gave the whole spread a smoky flavor that highlighted the nutty accents of the eggplant.
My choice of main course was influenced by my visits to my sister in the Mission District in San Francisco, during which our outings always focused around the food famous in that area. We constantly gorged on a kind of Middle Eastern dish called a shawarma. Three words: Go, Shawarma, go! This Middle Eastern burrito is party in one's mouth when one bites into it. Naturally, when I saw that The Vine had not one shawarma option, but two, I ditched the all-I-could-eat option and instead tried one of each kind of shawarma: the beef and the chicken.
The chicken shawarma was made of a thin piece of pita bread filled with succulent shredded chicken, different Lebanese pickles, tomatoes and a garlic sauce. Since I have an epic love affair with garlic, this creamy, tangy sauce overflowing with the flavor of fresh, as well as roasted garlic, brought our relationship to an even deeper level. The beef shawarma was as amazing as it was different from the chicken, which was nice because it is easy to have too much of the same thing. The beef shawarma was made of the same pita bread as the chicken shawarma on the outside, but the innards were completely different. The beef was perfectly tender and flavored by a marinade that contained hints of cumin. The filling also contained Lebanese pickles, which gave it a bit of a twang, and fresh mint, which really gave the dish its kick.
The desserts here were a bit of a letdown, which was unfortunate because I definitely have a sweet tooth. I tried an assortment of different pastries from behind the counter, and all of them were dry and lack-luster. Everything had rosewater in it, but they weren't just infused with a hint of rose like you would expect. It felt like I was gnawing on a bar of soap you would find in your grandma's powder room.
The moral of the story is that one must always allow for spontaneity when choosing restaurants because you never really know what place you will find that will meet all of your food needs.
The Vine is located on 3171 S. Grand Ave in St. Louis, and is open from Sunday to Wednesday from 11:00 am to 10:00 pm, and from Thursday to Saturday from 11:00 am to 11:00 pm.The food is cheap: the shawarmas only cost $3.99 each, so no need to load your pockets with extra cash because this place is college-budget friendly.