This content has been archived. It may no longer be relevant
Though the students' opinions vary on how they feel about the social events here at Principia College, the new Student Activities Director (SAD), Julia Frank, has come in with a vision to refuel house pride and social life on campus with input from students.
Frank has plenty of previous experience with social planning at Principia, as she was Social Head of Howard and All-Campus Social Head when she was a student five years ago. She had been working in the Admissions Office for a couple of years before becoming SAD this year. When the job opened up, she was inspired to bring back the feeling of house pride, involvement in social activity, and fun pranks that she felt seemed to have been lacking on campus. She wants to continue the "oldie but goodie" events such as the Buck Roast and Lowery/Howard Rumpus Luau. However, her main goals are to use technology as an advantage to revamp the social scene on campus and to bridge the gap between her position and the students in order to cater to them better.
Aside from advertising on the TVs in the concourse and with posters and fliers across campus, Frank and her student Social Events Planners are now able to reach the students more directly through the social hotspot: Facebook. There is now a "Principia College Student Social Events" page that student users can "like" to stay up to date on the social events across campus. Said Frank, "It's the first time it's all been in one spot," The new page is helpful to the planners because it is interactive. In addition to the timely updating of social events, Frank posts questions for the students, such as where they would like Spring Formal to be, and students can post their own questions or ideas as well. She also posts pictures from the events, and students can upload their own pictures to the page and "tag" their friends in them. Sophomore Oliver Simpson, said, "I think the starting up of this Facebook page has increased the awareness of social events," and many students seem to like the page, as 213 of them have already literally "liked" it on Facebook.
Out of these 213, the first 50 to "like" the page received free T-shirts at the Facebook Launch Party at the Pub this last Saturday night. The shirt read, "I like the Principia College Student Social Events page on fb," on the front and "Suggest to Friends" on the back in Facebook format—an effective advertisement for the launching of the new page. The party was decked out with blue Facebook cookies, blue drinks, and blue lights, including a blue-lit Facebook logo gleaming on the wall outside the Pub. There was also a DJ and laptops around for students to sign onto Facebook and "like" the page, and the two old flat-screen TVs from the concourse were auctioned off to students: one at $160, and the other at $190.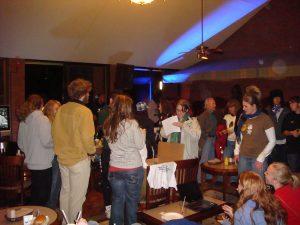 A new 60" screen has replaced the old ones, which displays the news and iMovies created by students to help market and promote social events with better quality.
Sophomore Social Event Planner Maddy Grendel said, "We're trying to… bring this cultural age of technology to all the students here."
At the Launch Party, the Social Event Planners also premiered a commercial for the new Panther Perks program coming this Winter Quarter. Students will be able to rack up Panther Point rewards by getting their meal card scanned at each Prin event, and the students with the most points at the end of the quarter will be put in a raffle with four chances to win an iPad. The goal of the program is to get students out of their houses and more involved in the Speaker Series, social events and athletic events.
Frank stressed that it is a cross-department blend, backed by the Office of Student Life (OSL), Athletic Department, Alumni Office, and Speaker Series. "It really is a call from a lot of offices to see students filling the stands at sports games, coming to social events, and going to speaker events," Frank said, "I found when I was a student, I wasn't always really sold on going to speaker events, but the second I went I really enjoyed them, and I saw my friends there, and then we'd go to the pub and talked about the things the speaker talked about." She hopes that with this program, more students will attend these events and appreciate them for what they have to offer. Also, though it hasn't been talked about, Frank says that hopefully students on House Board and Student Government will be able to earn points for their work. "Having leadership positions on campus, I think, does need to be rewarded 'cause not a lot of students are willing to do it," she said.
Another feature Frank and the Social Event Planners are excitedly working on is fundraising for a Prin Party Bus. The bus will travel around campus on the weekends picking up and dropping off students at different social events. Frank said, "It's got music, lights, the whole deal." She hopes to introduce it this coming spring quarter.
Students have enjoyed many of the social events this fall quarter under the new management. In fact, 100 more students than in past years attended this year's Homecoming Dance, which was on campus in order to include the alumni and athletes who attended the Hall of Fame Induction Ceremony. Also, several students at the Facebook Launch Party commented on social events they particularly enjoyed this quarter. An overwhelming amount of students mentioned how much fun they had at the Dodgeball tournament last Friday. Also, Grendel said, "I love the dances. Those are just fantastic!" Freshman Brandon Edwards said, "My favorite was probably Starbrooks just because it was a time for all the students to come together and show their artistic talent." Starbrooks, which regularly has a large turnout, was one of a few events that planners started drawing chalk advertisements for on the sidewalks of campus this fall.
A couple of older students expressed a desire to see more improvement in the social events. "I really enjoyed a lot of the social events from last year, especially the one where we went and did—I think it was a [sock hop] at a nearby place," said junior, Josh Curry, "And, I'd love just to see some social events every weekend. You know, it really gives us something to do here on campus." Also, senior Jenn Odell said, "I feel like this year there isn't as much participation in the social events as I've seen before. There seems to be a lack of enthusiasm. I don't really know why. I think it would be fun if we had more thematic parties." When informed of the Viking/Ninja party coming up this next Saturday, Odell said, "That sounds incredible!"
Other students also proposed ideas for social events in the future. "[We could have] something with the pool 'cause we never use the pool," said sophomore Ben Frederick, "I'd like to see maybe a dance in the winter time cause there aren't really any dances in the winter time." Freshman Naveed Hosseinmardi also brought up the idea of an event at the pool as well as the idea of a scavenger hunt across campus.
Frank's answer to those who are dissatisfied with the events is to get involved. "We've got a decent amount of money, and we're happy to support the activities," she said, "And you know, I don't want it to be just a group of student event planners and myself planning events. I really do want input from the campus, and I'm totally willing to be flexible and excited to support more student-run activities." She said that it is easy to whine, but that if you aren't willing to step up and get involved then you should not be complaining. Along with student involvement in planning events, she would also love to see more house fundraisers and pranks. No doubt, Frank is enthusiastic and more than willing to listen to the students' input. As a message to them, she said, "Come on down, let's plan something."