This content has been archived. It may no longer be relevant
You may have seen them opening for the band ZIV earlier this semester, or perhaps you caught their performance at the Fall Festival just a few weeks ago, but one thing's for sure: if you haven't had a chance to see Casual Friday in action, it's something you definitely don't want to miss. Not only will you hear original songs composed and written by Casual Friday, but you will also have the opportunity to be inspired by a band that has a tremendous love for music and their community.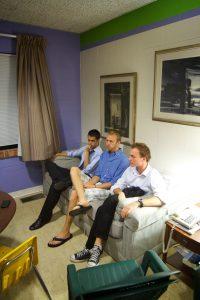 The band is made up of three musicians, junior Phil Riley as vocalist and guitarist, senior Nick Tosto as bassist, and Shane Robles on drums. Tosto and Riley have played together for a while during their time here at Principia, but without the accompaniment of drums. Robles, a junior who just transferred to Principia this semester from University of Texas at El Paso, has been playing the drums since he was 12. Riley and Robles met through their participation in Principia's Jazz Band, and has filled Tosto and Riley's need for a skilled drummer who loves music just as much as they do. "I feel like we have a really good creative power together," said Riley, recognizing that each member brings something unique to the band.
"We're playing for the campus," Riley said. That essentially sums up Casual Friday's purpose. Casual Friday has one objective: "to make people relax and feel good about music," according to Riley, "We're out to make a good time, not a stressful time for anybody." The band's ability to let their love for music shine through and reach their audience is quite impressive. Tosto commented: "One thing we've been talking about a little bit is giving back to the community … to share what we like to do." Riley shared that lately he has been "thinking of writing as something really I'm doing for the audience, rather than for myself . . . I find it the most satisfying for me."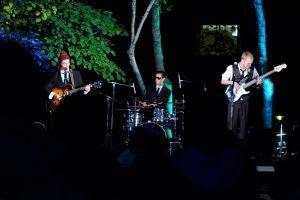 When asked what genre they consider their music, all three looked at each other and replied humorously "casual." Robles added that it is "casual rock" and added: "I love particularly that it's really relaxed, Casual Friday is such a perfect name for it because we're not stressing over things at all." This "relaxed" frame of mind, shared by all three members, is one of the reasons why their music is so appealing.
If you're looking for an elaborate explanation as to how they came up with the name for their band, and the significance behind it, you certainly won't get a satisfying answer. Tosto mentioned that "casual" and "Friday" have "positive associations," which is why they were chosen as the band's title. Other than that, however, there is no deep-rooted significance, which further expresses the band's motto to keep things simple and to focus on the music and the audience.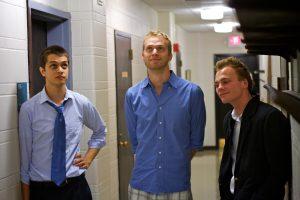 Casual Friday is unique in that they are creating their own original musics. They have not chosen the easy route of covering the songs of all their favorite bands, as many college bands do. They are dedicating a great deal of time and energy to writing and practicing original songs, despite the many demands of college. All of the band members are enjoying this challenge. Tosto added: "recently we've been getting into creating our own music, which is new for me, but that's also been really fun, just getting into the more creative side of it."
So what inspires these laid-back gentlemen? Riley said that Led Zeppelin and G. Love are some of his favorite bands and that recently he's been listening to pop music to "take what the formula is of whatever the most popular songs are, and switch that up and make it something that we own." For Tosto, "playing songs that [he] likes to listen to" and recreating the music is what he most enjoys. Robles gave specific names of profound jazz drummers who inspire him, such as Grammy-award winner Art Blakey. Robles added that what he is aspiring to do is to play like all of his favorite drummers combined.
Most recently, Casual Friday was featured on a PIR radio show called "Indie Rock Box" and also at Howard House's annual "Transylvania Treats." Keep an eye out for their next performance and don't miss your opportunity to see this selfless band perform!