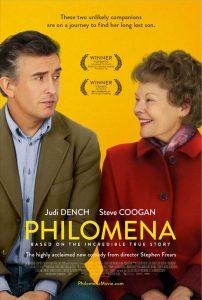 Unconditional love. That's the phrase that comes to my mind when I think of Dame Judi Dench's latest creation, the title role of director Stephen Frears' new film, "Philomena." She's not painted as a Christ figure, but the movie stops just short of that. And while that would normally annoy me, "Philomena" is based on a true story, and, according to my own research, it's accurate.
The film tells the story of Martin Sixsmith (Steve Coogan), a prominent BBC spin doctor who was ousted when he let slip some crucial government information. Semi-detrimentally, the film isn't too concerned about explaining this situation. But this is really the story of Philomena Lee (Dench), who Sixsmith meets after hearing her story and agreeing to write a human-interest piece about her.
Lee was enrolled in an Irish-Catholic institution as a teenager, and when she became pregnant, she was only allowed to be with her child for his early toddler years before he was sold to his American adoptive parents. The church kept the money and did the same injustice to other teenage girls under their "care," and as Sixsmith learns more and more about the story, he gets angrier and angrier at the church itself.
Wisely, I think, Coogan's script (co-written by Jeff Pope) chooses to focus on the theological implications of Lee's story, culminating in an intellectually thrilling climax involving the forgiveness that "Philomena" feels compelled to give to the church. Frears' direction complements the nicely-balanced script, which mixes comedy and tragedy in a very appealing way.
Dench was the perfect choice for the role. If anyone is surprised by her performance, they need to watch Helen Mirren in "The Queen," another of Frears' best films in which he allows an actress to fully inhabit another person's identity. Dench is spellbinding here, and I always get a thrill when Coogan shows his dramatic range.
In essence, this is a film about redemption, acceptance, faith, temperance, meekness and love. Movies like this are what the Academy's little golden men are made for. And thankfully, "Philomena" doesn't feel as though it's cloying for those statues. It feels truly deserving.
"Philomena" = 5/5