This content has been archived. It may no longer be relevant
By L. Kincaid Holmes
Principia College students and faculty stretched their classrooms across the globe as they began their remote learning yesterday, with the online conference tools of either Zoom, Google Meet, or Canvas Conference.
Principia classrooms worldwide have shifted drastically in appearances. Instead of dorm rooms and library tables, students have been tasked with rediscovering their at-home study spaces from when they were kids and adapting them to what best works for them now.
The Pilot checked in with five students and one faculty member to see how the first day of remote learning went yesterday. While the seeming chaos has just begun, the students interviewed unanimously acknowledged respect for the hard work professors have put in to keep the semester afloat. But they held mixed emotions regarding the actual online learning.
Junior Hawthorn Kirkbride, who is staying in Charlottenburg, Berlin, is unsettled about his initial technical experience in his classes yesterday, which he attended seven hours ahead of Elsah time.
"In my Scottish literature class, we attempted to use Canvas' conference feature, but it failed due to connection issues, and we switched to Zoom within five minutes," Kirkbride wrote in an email interview. And, then, in Zoom, several students in the class could only hear "a few words out of every 30 seconds or so."
From there, he explained, students moved into "breakout rooms" to communicate on an assignment, and one student was disconnected for a few minutes. And Kirkbride also lost internet connection for a time.
"Overall, I can't say that the tools or Zoom have been working effectively," Kirkbride wrote. "But I know faculty has put in an amazing amount of work to try and make this happen; and I'm sure there is a lot of improvement still to come!"
Jessica Bayne, a junior at home in Jupiter, Florida, described the online experience in a phone interview as actually quite pleasant.
She's re-outfitted her bedroom desk from elementary school years to hold two computer monitors and "an adult-size human being."
Her first class yesterday was World Religions with Gretchen Starr-LeBeau, and Bayne said the virtual atmosphere had the same "casual and open" tone the professor employs in her physical classroom.
"One girl remarked that it was like a big family conference," said Bayne of the Zoom meeting. "Yes, it feels weird because of the situation. But it wasn't too unsettling doing class that way because it's not the location, it's the people that make it. All that's missing is the face to face."
Bayne anticipates that the hard part will be "how seriously students take their classes and how they treat this time…. The teachers are prepared for it; but students are not." She says distractions like cell phones and even things to do while wandering around the house while listening to class are going to be a problem for students to pay close attention. Also, Bayne said one thing she likes to lighten the mood with is the Zoom feature that allows participants to change their backgrounds to things like a beach oasis or a mountain aerie.
Mass communication professor, Paul Wesman, in an email interview wrote about a somewhat similar feeling of community continuity in his class. "Students were spread from Bogota, Columbia to Elsah, Minnesota, Chicago and Pittsburgh," he wrote. "They picked right up with a planning session focused on what to do with an unfinished project they'd been working on in Alton before the break. It wasn't the same as physically being in a room together, but it worked really well, everyone was engaged, and we look forward to adapting our course work and moving forward."
Noah Stewart of Dresden Germany, a junior studying political science and global studies at Principia College, said in a phone interview yesterday, that remote learning "is a collaborative effort." Teachers rely on students and students rely on teachers, he said, noting that in his foreign policy class with Julie Blaise, students used their knowledge of their technology and the college's programs to assist in setting up Canvas Assignments as well as their new classroom on Google Meet.
Stewart's verdict on the first day back and online: "It was good!" Nearing 8 in the evening for Noah, he was heading into his second class of the day. He said that this set up is "definitely different and will take some getting used to."
One difference that Stewart noticed in his class is the idea of speaking up, or raising hands. "Talking is harder," he said. "You can see when people are finished talking in a physical classroom, but this is harder." People talk over each other more often due to lags in the systems and just overall not having the in-person, social ability to see when someone is done speaking, he said.
Stewart's home set-up shifted just as he arrived. In the apartment building where Stewart's family lives in Dresden, a neighbor moved out the day after Stewart arrived and allowed the Principia student to work there for the three remaining months the neighbor has leased it. Stewart can focus with a perfect setup to have a quiet space for class time.
Stewart understands how hard it can be to navigate new streaming tools and said that for the class he had yesterday morning, he was grateful for how Blaise did a great job working through the technical issues to keep class running smoothly.
Molly Loveless, a sophomore majoring in theater described her first day of remote learning as "unconventional and not the same, but exciting to reconnect and explore this new style with both my teachers and my peers."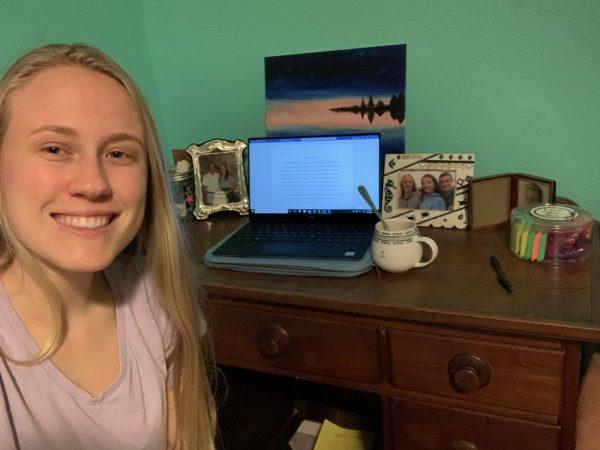 Loveless had voice and speech class to start off her day, and was glad that her room, at her home in Alton has a good amount of space so she can move freely about, because the class
demands it. "[My] home classroom is comfortable and a nice space to feel safe in figuring out how to navigate remote, online classes," she said.
Loveless said that her class with Zoom was much more normal than using Canvas conference. Zoom allows classmates to see one another and feel like a more normal class, while Canvas conference, only projects the professor and the student whose computer is logged on.
Already, Molly is "pleasantly surprised" and "very grateful that the professors were so willing to be so flexible and understanding." She says that "they are just as clueless as we are in this new experience" and that just the first day of this experience has taught her how to have more compassion toward her teachers and express more gratitude for their hard work.
Thomas Rauschenberger, a sophomore business major from Shady Cove, Oregon, had three remote learning classes yesterday, beginning with a movement-based class in the morning, voice and speech, followed by marketing and chemistry of art objects. He said that while this is a really tough time and a hard way to hold classes, "it's kind of what needs to happen. It's better knowing that we are all in the same boat."
As a student on the West Coast, Thomas has to wake up earlier than others farther east. So when discussing what his home classroom set-up is like, he said he does his "6:30 a.m. class" in his living room, so he can move around and be active, while the other two classes he can do at his dining room table.
While Thomas perseveres alongside his classmates and fellow students, he acknowledged that the teachers have been prepping for this and are "struggling even more and they all did great," regardless of any technical malfunctions.
The students interviewed clearly agreed that their teachers have worked hard and have shown clear support for doing whatever it takes to further the education of Principia students. From Dresden, Germany to Shady Oak, Oregon, Principia students have found a way to connect back to their classrooms and the community, no matter the technical difficulties.
• Featured photo at top, by Paul Wesman, is a screen-grab of his first brand journalism class after Spring Break.