This content has been archived. It may no longer be relevant
2017 Senior Class gift to Principia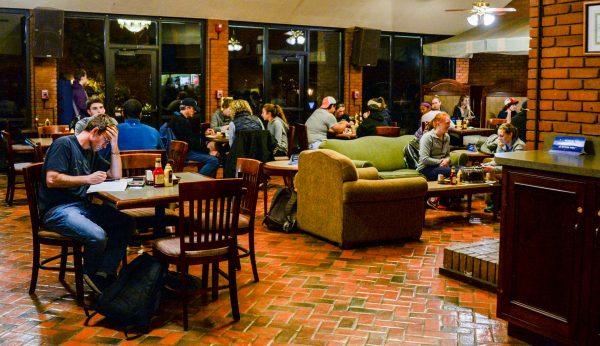 Mackenzie Talcott
Student Government Reporter
"Class gifts are supposed to have longevity and have everyone else enjoy them once we're gone," says senior Genevieve Smith. The class gift is a fun and unique way for the graduating class to leave their mark on Principia College campus for years to come.
This year's senior class has decided to give back to Principia through a small Pub renovation. After toying with several other ideas including new vacuums for the houses, a new telescope on the bluffs, or a bike rental service, the Pub renovation was the most well received among the class.
The plan currently in the works is to add outlets to every booth, switch out the trash cans for compost bins, replace the couches, and add high-top tables, among other ideas depending on how much money is raised for the project.
"To me, a gift should have a purpose, you know, not just a monument," says Principia Alum Susie Bonwich. Gifts from previous senior classes can be found all around campus, and are often used by current students.
"Our class gave three wooden bench swings. I believe these were a successful gift because I almost always see someone [swinging] on them, especially the two on the bluffs. We wanted to give people a place to sit, think, talk, and appreciate the beauty of the campus," says Bonwich. Another past gift are the solar umbrellas on the Pub patio, given by the 2016 senior class.
"Gifts are often given for special occasions and to people we care about. Seniors are hopefully recognizing those informal special occasions housed at Principia College: the late night laughs, the achievements in the classroom, the realizations about self, and wanting to give something in return," says Bonwich.
This year's seniors hope that their gift will have a positive impact on students-to-come. "I hope it will make people feel more comfortable going into the pub and make it a more welcoming environment," says Smith.
The Senior Class Representatives have hosted several fundraisers in addition to the class's own donations. While they strive for one hundred percent participation from the senior class, anyone can donate to the cause.
"We have an online site for donations, and did the Krispy Kreme delivery," says Senior Class Representative Katie Swarts, who adds that the donut deliver fundraiser "worked out really well." According to Swarts, all the proceeds from the donut fundraiser went towards the gift. The representatives are considering hosting another fundraiser before the end of the semester.
Image courtesy of Laura Cluthe