This content has been archived. It may no longer be relevant
Students like Fassio Elder deserve credit for thinking long and hard about Christian Science and church. "I've had a lot of thoughts about church and spirituality … at the forefront of my mind for the last several years," said Elder, "and as these thoughts have been developing, I've really been trying to share them with people around me." Elder came to Principia this year looking for more dialogue about Christian Science and for more Christian Scientists with which to have this discussion. He had felt the power and value of Christian Science at his hometown church in California and he knew he wanted to learn more about spirituality at Principia: "I wanted to talk about things [that I found interesting] … I kind of wished I was in Sunday School again," said Elder.
Enter Tim Dixon. Dixon had also been thinking plenty about the power of church, and he and Elder connected over the topic. Said Elder, "[Tim and I] really hit it off, and we had some great conversations about Christian Science, and everything [we had been thinking about]."  Soon, the two were gathering some of their friends and hosting discussions focused on healing and on how to achieve a deeper understanding of Christian Science.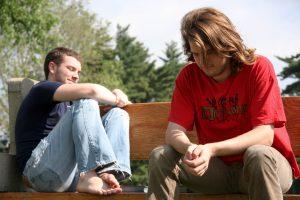 In January, Dixon attended a "Church Alive" summit in Los Angeles, one of many programs across the nation sponsored by the First Church of Christ, Scientist in Boston. The "Church Alive" summits draw Christian Scientists from around the country to share inspiring ideas about the power, value and structure of Christian Science churches. Dixon came back excited to share his new gleanings and enthusiasm with Elder and their discussion group. "[Tim] said to me, 'Why don't we start our own church service?'" said Elder, "…[and we both thought] that it could serve as an outlet for these spiritual ideas we wanted to focus on, and all the while, provide inspiration to people on the campus…maybe even those who wouldn't normally be inclined to go to [the Christian Science Organization services]."
Dixon and Elder did just that. The next week, the two invited their friends and any other interested students to their first "church service," a testimony meeting filled with  gratitude sharing and testimonies of healing. The response to and the feeling of the service was so positive that they kept right on going with it, holding regular services every Wednesday and Sunday.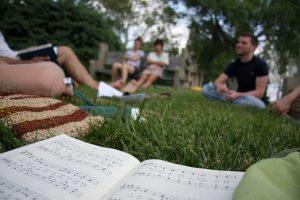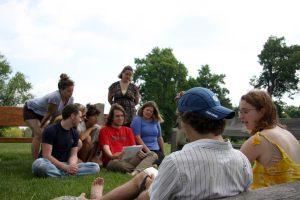 Both Dixon and Elder stressed that their goal is in line with that of the campus CSO. Their services adhere to the instructions given in Mary Baker Eddy's Manual of the Mother Church and readings are given, as in all churches, from the Bible and Science and Health and the Weekly Bible Lesson. In fact, both Dixon and Elder are looking forward to working more closely with the Christian Science Organization in the future. "Both Tim and I have talked about how important it is [to support CSO]," said Elder, "and a lot of our prayer during and outside of church services is for metaphysical support of the CSO services. We've talked to a lot of participating members of CSO and we're looking forward … to bridging our understandings of what church is."
In the end, for Dixon, Elder and every participating member of CSO, it all boils down to the power and importance of church: "We're not trying to create any rifts in the religious movement [here at Principia]," said Elder. "…[T]he power of church is something phenomenal…everyone just praying for the community and the world at large … the power in that is unspeakable."