This content has been archived. It may no longer be relevant
Softball returns to Principia's athletics calendar after an eleven-year lull. Coach Ken Leavoy, whose life has revolved around sports since he was seven, has the task of assembling and mentoring a team that will have their first taste of competition at a SLIAC round robin tournament in Springfield, Ill. on March 26 and 27. This will be followed by a double-header against Webster at home on March 30 at 3 p.m. and 5 p.m.
Leavoy has put together players with a variety of skills and firmly believes he has a winning combination. "The aim is to establish a base by concentrating on proper fundamentals. We have had to go back to the basics," says Leavoy. "It is a great way to do it because we establish a foundation. If and when we come back for a reunion after ten years, there should be a different story. As a result, the standards have to be set high," he explains. Unlike Major League players who use the spring for conditioning, Leavoy says the team has had to contend with indoor training at Crafton Center during winter. Leavoy is still emphatic that much has been achieved. "We have made a lot of progress and a lot has been achieved in seven weeks," the coach says.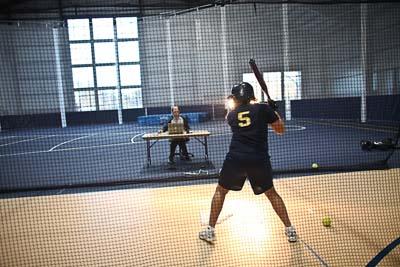 The team's practices have been held at Crafton Center, while the softball field undergoes renovation. The field is near completion, but like the saying that Rome was not built in a day, it will be some time before the field is completed with the necessary equipment, such as floodlights for evening training. The field has undergone a near complete renovation, including a new backdrop, dugouts, infield, warning track and outfield fence.
At Leavoy's disposal are nine enthusiastic players who share his passion. He calls the team a unique group: The team has a dancer, soccer and basketball players, and some first-time softball players. Freshman Jocelyn Shoemake, for example, barely has time to rest after a busy basketball season. The smaller number of players on the team has ensured special attention to the needs of the individual players. Although some 18 players signed up when it was announced that softball would be back on the Principia sports menu, Leavoy said that even 14 would be "a good number." Leavoy notes that there have been obstacles: "We have a disparity in skills, and creating drills that are challenging to the team is not easy at times because they respond differently."
Despite the eleven-year lull and low player availability, Leavoy remains realistic in setting goals for the first game. "We will control what we can control," he says. "Nobody should outwork us. We will not yield to discouragement. We expect to win every game. We will also make sure we win in character," he adds.
Metaphysically, the coach is excited about the players who apply the principles of Mrs. Morgan: "We should see that reflected in our game. My main aim is that the players will be better metaphysicians. We will do the humanly possible things," the coach says.
Principia's entrance into SLIAC softball represents a collaborative effort on the part of the Principia College and School athletic directors to share personnel and resources. NCAA and MSHSAA guidelines support the concept, and the plan works because the softball programs at the School and College are played in opposite seasons. By combining personnel and resources and sharing the associated costs, the economies of operation allow for an expanded program at the College, greater flexibility in utilizing personnel on both campuses, and an effective embrace of Education at the Principia's Policy 15 – working as one institution to improve the quality of education at Principia.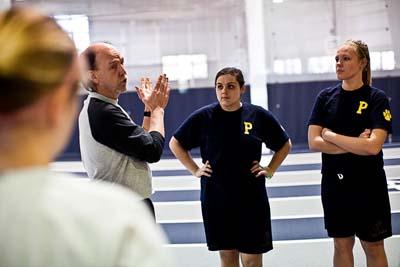 College Athletic Director Lee Ellis says, "I am thrilled that we are able to keep such a terrific coach at the School while at the same time tapping Ken's immense talents to lead the reinstatement of softball at the College." The players are equally excited to lay a foundation. Sophomore Marina Whitney, a pitcher, knows that only hard work will bear fruit: "We have worked hard and encouraged one another and are ready for the season," she comments. Karlin Krishnaswami maintains there is a silver lining for the Panthers. "The coach has been very encouraging," she said.
Leavoy has coached the Principia School softball program for the past nine years, winning Metro Women's Athletic Association (MWAA) Conference and Class 2 District 3 championships the past two years. His extensive background includes coaching and serving as an advance international scout for the Canadian women's Olympic and national softball teams during the past eight years.
He has also coached men's professional teams in Canada, leading his team to a world ranking of fifth prior to the 1996 ISC World Tournament. Many of the players on that team were members of the 1992 World Champion Canadian National Team. Ken is a Level 3 NCCP certified (National Coaching Certification Program of Canada) coach and a NFCA (National Fastpitch Coaches Association) member.
Some of the players to look out for are junior Andie Raffles (pitcher), Whitney (catcher), sophomore Lucia Rooker, sophomore Jessica Dunlap, freshman Marianna Distel, and Shoemake, many of whom have extensive softball backgrounds.
Roll: Priscilla Alarcon, Bekah Charlston, Marianna Distel, Jessica Dunlap, Tavia Patterson, Andie Raffles, Lucia Rooker, Jocelyn Shoemake, Maggie Sweeney, Marina Whitney, and Karlin Krishnaswami.