This content has been archived. It may no longer be relevant
Walking around the campus between morning classes, it's easy to see that Principia College is a truly international institution. Latin-American, African, European, and Asian students talk and laugh with students from all over the United States as they stroll down the paths.
But many Principians have identified a disconnect between domestic and international students here, and are acting to promote a more unified community.
Principia's 105 international students represent 24 countries, and make up around 20 percent of the student body.  According to the 2010 U.S. World and News Report College Rankings, Principia College is one of two schools with the highest percentage of international students in the nation.
Coming up this week are two events aimed at bringing the Principia community together and celebrating its diversity: the Whole World Festival, and "Prinstock."
The Whole World Festival will already have begun by the time you read this, with languages professor Duncan Charters's Quiet Time talk on the festival's theme: "Crossing Cultures: Are You Ready?" The festival runs through the whole week until Saturday, May 8, with events including inspirational poetry from Ghanain former student Chris O'riordan-Adjah, a Languages Bazaar in the Dining Room, a World Cup soccer tournament on W6, and a talent show to close.
The annual festival is being put together by Friendship Around the World (FAW), the international student organization on campus. Junior Brian Kamusinga, president of FAW, said the main goal of the festival is to appreciate and learn about diversity on campus "by providing as many opportunities as we can for community members to interact." When the festival is over, Kamusinga plans for FAW to encourage international students to apply to become Resident Assistants in freshman housing, and will begin a mentoring program for incoming international students.
Principia's first ever "Prinstock" is taking place tomorrow on the Chapel Green. It evolved from both Earth Day and Global Oneness Day, said event organizer and All-Campus Eco Head, junior Amelia Heron, who initially found it hard to put a name to an event to which so many people are contributing. She stressed that the main aim of the event is "to reawaken a sense of community … to share ideas, let go of false limits, do what you love to do, and make this place home."
Prinstock will see the Chapel Green divided into spaces in which people can share things they love in order to get people to appreciate both each other and the earth. "The idea is to create areas of space, and have people bring their passion to these 'environments,'" Heron said. "We are the environment. It's not 'out there.'"
A small selection of activities for these areas of space include: a "poetry tree" reading area, a massive canvas to which anyone may add artwork, music to make and hear, a "petting zoo" with Principia's goats, NGOs from the area including the Sierra Club, slack lines, and in-progress photography by the Principia Camera Club. Dining Services will provide dinner from the top of the Green. Sociology professor Billy Miller will also be a featured speaker.
"A multicultural student body with a wide variety of interests brings many benefits to Principia," said International Student Coordinator Bente Morse. "So often you can read about other cultures, but to room with someone from another country or sit in a classroom with them every day is something else …They bring the world to our doorstep. They bring new perspectives."
However, students from abroad sometimes feel that their perspectives are not understood. Sociology and Anthropology department chair Billy Miller described a disconnect at Prin between African and domestic students, who may have media-based stereotypes about what it means to come from Africa. "Principia's domestic students … may say things that come across as racist and ethnocentric," said Miller, "implying that America is the best. Even though it's not purposeful, it hurts a lot."
"Some, maybe the majority, are aware that they don't know about another culture, and are afraid of saying the wrong thing, of sounding insensitive, and worry about not understanding the accent," Miller continued. "They may want to go over and be included with the Africans. But they gravitate towards the familiar – towards people that look and sound like them."
Junior Colin Clark from Seattle took Miller's Race and Ethnicity class and realized that he probably had more domestic than international friends. Since taking the class, he said, "I've gotten to know and be friends with more international students." But still, he feels it can be difficult to branch out during the hectic quarters: "It's a sprint – to branch out takes time and energy. If you're up against deadlines you're more likely to stick with what you know."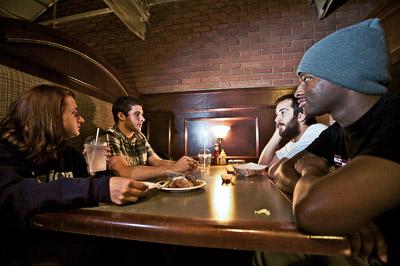 Senior Emily Kabura from Kenya explained that African students can also feel shy about getting to know domestic students, especially because American social life is so different. She said of her Principia experience: "Education—good. Christian Science—good. My social life—questionable. I'm not saying it's Prin's fault. I mean, have I interacted enough with domestic students?"
There is a noticeable and vibrant "African subculture" at Principia because of the number of students interacting with shared African languages and cultures.  Kabura said it is important for them not to forget where they come from. "Not thinking you're inferior as an African student is so important," said Kabura. "You need to be confident and ready to share your culture."
This quarter, Miller is teaching a class called Peace and Conflict. The students recently chose the topic of relations between domestic and international students at Principia as their class project. One of the suggestions under discussion is a "cultural competence seminar" for incoming freshmen, in which they would learn more about non-American worldviews and cultures.
Junior Christina Schaule, who is taking the class, said she appreciates thinking about the commonalities between all Principia students: "Firstly, of course, Christian Science, but also friends and families. Often we focus too much on the differences between us."