This content has been archived. It may no longer be relevant
As often as we emphasize character education at Principia, students may be unfamiliar with a course designed to teach it exclusively. Though the course has not been taught at Principia for ten years, it has been revived with the help of Lauren Hinchman, chair of the education department. The atmosphere of the classroom is full of enthusiasm and support for fellow students. Students enjoy learning about the different traits of a positive character through discussion and extensive reading. These students are more than just classmates, they are a community of listeners. Everyone has their own experiences to bring to the table and share with one another. Each experience is received with understanding and courtesy.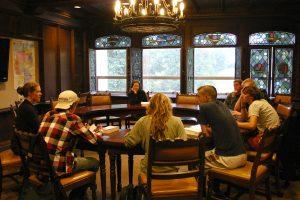 Hinchman took the challenge head-on with energy and a positive attitude. A significant figure in the reading is Mary Kimball Morgan and her book Education at The Principia. Hinchman said, "It seemed like such a natural thing to do to focus on her writings." She added, "I would love for students to go away with the idea that having good character is not something that is just important at Principia or because they are a Christian Scientist, but something important in every walk of life."
According to the syllabus, the class includes five objectives for students:
To grow in their understanding of the broader topic of character education; to gain a stronger foundation and understanding of the values of quality character; to become more reflective about learning, with an eye towards building on what is working and recognizing what can be done differently; to be critical thinkers willing to move out of comfort zones and think analytically; and finally, to become more proficient as writers and readers able to use scholarly sources to present views different than one's own.
Still, the class goes far beyond the objectives on the syllabus, and students have interesting ideas about these goals. According to sophomore Cooper Stock, the purpose of the class is to "learn about something that is very important to the world – to get people to have good character." According to sophomore Matt Edwards, the true purpose for Principia students is "learning how to be … better [people] outside of Christian Science."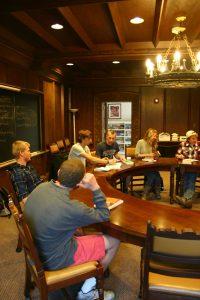 Student and faculty cooperation is another aspect of this class that makes it so successful. Hinchman said, "I walk away feeling so excited with what this class is doing for them and for me." Edwards seems just as enthusiastic about the course: "[It is] one of the best classes I have ever taken at Prin, one of the best experiences I've ever had. It's like you're in Sunday School asking the tough questions. It's really an important class."