While fulfilling the requirements of an Education major, said junior Kim Hicks, the average Ed-Blocker has time for only two of three important things: keeping a social life afloat, finishing homework, and sleeping. "Usually you give up friends," Hicks joked.
Hicks' comment is not far from the truth for many Education majors during student teaching block quarters.
While most Principians attend classes on campus throughout the quarter, all six members of this quarter's Intermediate Education Block are spending an intensive three weeks creating and implementing lesson plans, assisting in elementary school classrooms, and learning just how much work goes into full-time teaching.
"You feel like you're on an abroad," Hicks added, describing just how removed the group often is from daily campus life.
Like every intermediate block group, these students were placed in separate classrooms with individually selected "cooperating teachers" at South Roxana and Central Roxana elementary schools near Wood River, Illinois, about 30 minutes from campus.  According to junior Jessica Elmore, the Principia education department has worked closely with these schools for fifteen years.
In addition to full-time teaching, the members of Intermediate Block are expected to turn in "expanded lesson plans" and teaching products once a week during their placements. These include feedback from cooperating teachers and students, examples of student work, reflection papers, and original lesson plans.
Before the group started daily work in the classroom, they spent two days a week for three weeks in the schools to prepare for their full-time placements.
Elmore said that student teaching within the Intermediate Block program has its advantages over Beginning Education Block, which is typically completed in the fall of sophomore year.
"I'm now in a class that I want to teach. I never wanted to teach seventh grade science, which is where I was [placed] in Beginning Block," Elmore explained.
Since Monday of Week Six, Elmore has spent her days leading morning meetings, helping with math, and reading Junie B. Jones to kindergarteners at South Roxana Elementary. "I love it. This is definitely what I want to do," she said.
On Elmore's second official day on the job, she taught the class entirely on her own, although a substitute teacher had been assigned to help out. "It was a good learning experience," Elmore said.
She added that it wasn't too difficult to adjust to full-time work with kindergarteners because she has nine summers' worth of preschool teaching experience to draw upon. She also explained that the regularity of her students' daily schedule helped with her transition.
Still, Elmore said her biggest difficulty was coming into the classroom toward the end of the school year when students had already grown attached to their teachers.
However, after a few days Elmore said she felt that the students had grown accustomed to her presence in the classroom. She added that they often give her hugs throughout the day and tell her what a great job she is doing. "That's so fantastic!" she said. "I love that."
Hicks said she feels as though she has already made connections with some of the fourth-grade students at Central Roxana Elementary. She added, "Being able to honestly watch them grow and experience and learn is something that you can only do through this kind of experience. You can't learn it in a classroom."
Junior Mollie Mangelsdorf is also working with fourth-grade students at South Roxana. She said the experience has been challenging, but she added that it has been "really fun to see them get excited about learning."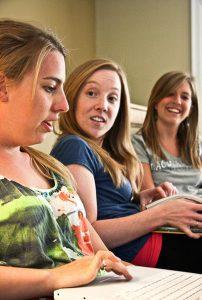 Mangelsdorf said she brought a SMART board, a high-tech interactive whiteboard, into the classroom one day, and the students really seemed to love working with it.
The students' excitement about learning seems especially encouraging to the Ed-Blockers. Mangelsdorf, Hicks and Elmore all said that South and Central Roxana are located in a high-poverty area of the state. Elmore said the Ed Block group was told early on that certain students never do their homework, while others might come to school without shoes or show signs of troubled family lives.
Hicks said that some of her fourth-grade students are learning math that is already beyond their parents' level of understanding. She explained, "These students come home with questions that their parents can't answer because they don't have the education."
Hicks referred to the Ed-Block experience as a "good wake-up call" and an opportunity to determine whether teaching is the right fit for individual students.
Mangelsdorf said the experience has taught her that she wants to work with children in some way after graduation.
Like Hicks, she also appreciates the opportunity to connect with individual students. Mangelsdorf added that her students are often eager to tell her stories about their lives because they know she will listen, which may not always be the case at home.
A challenge for some of the Ed-Blockers has been dealing with negativity in their placements.  Mangelsdorf said she has observed several teachers complaining about their students' shortcomings or limitations. "I find myself getting bogged down by that sometimes," she said.
To counter that thought, Mangelsdorf said she sees her students as always innocent and intelligent. She added,  "You don't have to be a Christian Scientist to think that way."