This content has been archived. It may no longer be relevant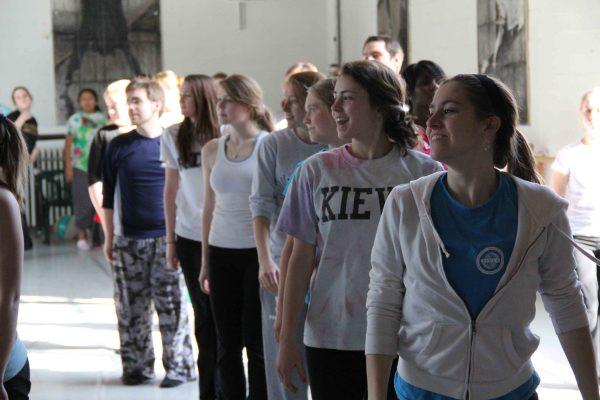 If you know me at all, the following statement will not surprise you: I'm in love with Dance Production. I've always had a few friends involved in the annual performance, but my appreciation for the event grew exponentially when I first attended an all-cast rehearsal as a sophomore. I was floored.
But let's be honest: there's a lot I don't know about the world of dance. The last time I wore a leotard I was five years old and prancing around a gymnasium to The Lion King soundtrack. I'm vaguely aware of the positions one might learn in an introductory ballet class, and a friend taught me a few things about pointe shoes last year. Beyond that, I'm clueless. But those of us who may not be able to decipher acronyms like ABT and COCA or even touch our toes can recognize and appreciate real talent when we see it. In fact, that's precisely the reason Principia sells so many tickets to Dance Production every year.
Our very own "tiny, but vibrant" dance department – as described by professor Hilary Harper-Wilcoxen – will host Dance Production from April 12 to 14. The event will feature nine pieces originated by student choreographers and four by professional guest choreographers, including John Gardner and Meg Eginton, who has previously worked with Principia students.
Although the annual Dance Production we've come to know and love isn't a longstanding tradition at Principia, there are certain trends one will inevitably notice through talking with the performers involved. Dance Production retains its appeal year in and year out because it fosters a unique feeling of support and joy among the cast. Choreographers, first-time dancers, and everyone in between continue to prove that as much as they might enjoy the spotlight, the process that leads up to opening night is an even more valuable part of the overall experience.
In addition to working with student choreographers to bring their vision to life, many Principia dancers have had the opportunity to work with guest choreographers Eginton and Gardner – among others – in classes, or as part of a ten-day dance intensive at the start of Winter Break which included ten advanced students from the Principia program. Hilary Harper-Wilcoxen, the artistic director for Dance Production and the only full-time teacher in Principia's dance department, explains the significance of working with Gardner in the following way: "His background is at the highest level in dance. He was a soloist with [American Ballet Theater] and was an original principal dancer for [Mikhail] Baryshnikov's company, White Oak Project, which is a big deal in the ballet world. So it was kind of this amazing opportunity for our dancers to work with someone who is a wonderful person but also a highly skilled and talented artist."
Harper-Wilcoxen says she is very particular about the outside influences her dancers are exposed to in their time at Principia. She said: "I choose people who really have a very strong moral center and compassion and enthusiasm for their work."
The process of preparing for the annual show is interesting in that it brings together performers of varying levels of experience. Some have dedicated years to ballet, tap and modern classes, while others discovered their passion for dance after coming to college. Others, like senior Kyle Katz, took a substantial amount of time off between dance experiences. Katz explains that he started taking ballet in elementary school and continued lessons through middle school. Katz jokes: "I told everyone at school [my ballet class] was for football, but I really just did it because I liked doing the performances." Katz, who strayed away from dance in his high school years, was encouraged to try out for last year's Dance Production by a choreographer who knew he had experience in martial arts, which was the foundation for her piece in the show. Katz auditioned and landed a spot in three pieces last year. He says he enjoyed last year's experience so much that he was wanted to be involved again as a senior.
Several of the students interviewed for this feature remarked that the atmosphere at Dance Production auditions is supportive and fun. Although a few students are cut every year, the program tends to embrace all kinds of performers. This widespread involvement in the show helps foster an appreciation for the experience of working with one's peers to create something worthwhile. According to Harper-Wilcoxen, it is far easier to appreciate the level of work that goes into preparing for a performance if you've actually participated in the process.
She explains: "I think that's what happens with these dances. You're like 'Oh, that's a cool dance' when you go to Dance Prod. And then when you're in it, you're like, 'This is so hard to get to [look] like it's ready to go on stage.' You have no idea how much time and discipline it takes."
Even after watching a recent all-cast Saturday morning rehearsal, which included a full run-through of the show with a bit of time built in to make corrections and give feedback, it is still difficult to fathom the level of effort put forth by each of this year's 49 featured student performers. While the time commitment varies depending on the number of dances in which a student is cast, everyone is required to attend weekly Saturday rehearsals, participate in a dance technique class and show up for every rehearsal scheduled by their respective student choreographers.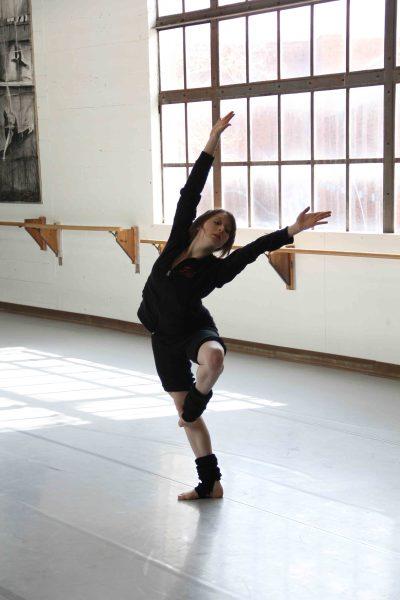 But as challenging as this schedule often proves to be, many dancers agree that there is a healthy balance of work and play in rehearsals and weekly run-throughs. Senior Megan Scott describes her view of the process after four years of involvement in Dance Prod: "It's a serious thing. We are rehearsing constantly and there's definitely corrections being given. We are expected to know what we're doing, but there's also a sense of fun with these choreographers that I really enjoy… It makes me want to go to rehearsal. There's never a moment when I'm not loving where I am."
Buying a ticket to Dance Production gives community members a chance to see their peers in a completely different light. This is a chance to see ballerinas, modern, tap and break-dancers in their element.
Junior Rachel Gibbens was given the opportunity to intern with The Slaughter Project, a St. Louis-based modern dance company, which rehearses twice a week in the Washington University studios. Gibbens, who danced with the Dayton Contemporary Dance Second Company in Ohio for a year before coming to Principia, originally sought a dance internship in order to balance a professional experience with her involvement in Dance Production and on-campus classes. Cecil Slaughter, head of The Slaughter Project and a former member of the previously mentioned Dayton-based dance company, worked with Gibbens to choreograph a solo for this year's Dance Prod.
Gibbens explained that Slaughter asked her to improvise without the assistance of music in the early stages of choreographing, which allowed him to see how she naturally chose to express herself. She added: "It's really neat because it's kind of a mixture of what I did naturally and what he brought with his experience and what the music communicated to both of us."
The music – Adele's "I Found A Boy" – accompanies Gibbens' movement perfectly. The practice floor in Morey, which is often crowded with dancers in several of this year's grander pieces, was quiet as all eyes rested on the single figure spinning at the center of the room. The cacophonous, whooping applause that followed Rachel's personalized piece attests to her skill as a performer and to the level of support and enthusiasm demonstrated by everyone off stage. Although the occasional side conversation or giggling fit is impossible to avoid when working on a show of this size, the kind of respect and seriousness these students bring to their craft is truly awe-inspiring.
Just as Gibbens' solo was designed especially for her, each piece featured in this year's performance reflects the personality and style of its creator in a unique way. Of course, that's not to say that Tamara Seid-Graham's deadly-but-thrilling chess board scene represents a violent streak in her personality or that any other choreographer's life has played out like a soap opera, but I often found myself remarking to a friend or writing in my own notes "This dance is SO [insert name here]."
Junior Owen Loose, a second-time choreographer, explained that her epic ensemble piece, complete with enormous color guard flags, was originally inspired by a song a friend introduced to her. This friend explained that he could envision Loose dancing along to the joyful and expressive "Baba Yetu," a version of the Lord's Prayer in Swahili.
Loose says she initially set the song aside but listened to it again and thought to herself "I can see a lot of people dancing to this!" With the exception of the finale, (spoiler alert: It's not the perky "Brian Wilson" choreographed number we've always associated with the end of every show) Loose's piece is one of the largest you'll see on stage. Her dance incorporates 22 female dancers, all with very different dance backgrounds. According to Loose: "It's been interesting to just kind of see how you can take dancers with different styles and bring them together into a single piece."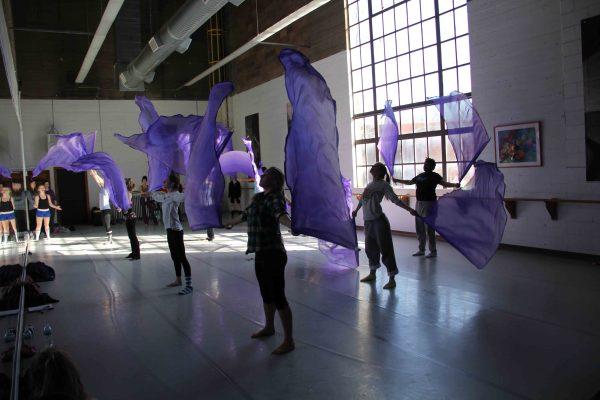 Loose explains that, as a choreographer, "It's been a learning experience [discovering] how to move all those people around the floor and organize the whole thing." She adds that she's come rely on separate groups of dancers to work on the elements of the choreography they already know need to be perfected.
Loose notes that she emphasized the importance of performance above everything else at the initial audition for Dance Production, which took place last term. She says that her dancers "should convey a lot of joy in this piece, so I made that a really big deal during the audition process." Loose explains that after weeks of perfecting the choreography – including basic steps and what action happens on which count – her group is now working through "how to add in that performance [i.e. enthusiasm and freedom of expression] while keeping your brain moving."
Although I won't spoil the dance with further description, I will add that words cannot express my excitement to see this piece performed in Cox Auditorium. If this seems like an exaggeration, please refer to the opening statement of this article.
There are several other pieces involved in this show that are sure to impress with special effects and impressive lighting tricks. Half of sophomore Sam Williams' piece takes place in complete darkness, with dancers using LED lights to mark their movements. Williams' piece is the only one in the line-up that incorporates break-dancing, a skill the choreographer taught himself two years ago. Williams describes his inspiration to choreograph in the following way: "I thought it would be fun to add that to the repertoire. It's really the only one of its type." Williams acknowledges that several accomplished hip hop and break-dancers graduated last year, which meant he was prepared to teach basics as part of his original audition and call back those who seemed to grasp the techniques most rapidly. He says he was surprised to discover the level of skill among his peers. "It just turned out that I had a lot more [options] than I thought I would," says Williams.  Williams' piece, which he explains as a social commentary about the dynamic between men and women as far back as Genesis II, adds yet another dimension to this dynamic performance.
While it would take far more pages than I've been allotted to reflect the diversity of talent and dedication of the entire Dance Production 2012 cast, I've seen firsthand that the group is remarkably humble, responsive and open to correction – three things one might not readily associate with a typical dancer. Tamara Seid-Graham, a senior and third-time choreographer, has had quite a bit of time to learn the value of her Principia dance experience and the importance of listening for feedback. Seid-Graham, who first found the inspiration for her piece almost two years ago, has seen her original concept evolve into something quite new and unique for her. She explains: "I feel like all three years I've choreographed it's been totally different. I haven't had just one style I've stayed with." While Seid-Graham and the other choreographers have the final say on lighting and costumes, they often rely on Harper-Wilcoxen's expertise as director. Seid-Graham says: "I'm really glad to have her opinion, to have a second set of eyes looking at it other than myself … she really just advises us and gives us any support that we need."
With help from Harper-Wilcoxen, Technical Director Patrick McCreary, Costumer Leah McFall and Stage Manager Katie Stanley, among others, this year's cast seems prepared to deliver an amazing show. Seid-Graham could easily speak for the rest of the performers when she says: "I'm just going to go all-out … like my heart is on stage."
Dance Production opens on Thursday, April 12 at 8 p.m. in Cox Auditorium. The show continues on Friday and Saturday night at 8 p.m. with an additional matinee performance at 2 p.m. on Saturday, April 14. Tickets for this year's dance production are $7 for students and $10 for the rest of the community.
Image courtesy of