This content has been archived. It may no longer be relevant
There's nothing quite like being in a room full of spandex-clad college students performing synchronized choreography. At first, it's an awkward setting for a journalism student with very little coordination and no demonstrable dance skills. Fortunately, my only job is to watch and write. I'll leave the lifts and leaps to this year's cast of the Winter Dance Production.
Those who have been part of the Principia community for any length of time know that Winter Dance Production is always a big deal. Almost one out of every ten Principians will perform in this year's show, which means nearly everyone has a roommate, friend or classmate who spends an exorbitant amount of time dancing in Morey Field House. Supportive friends, family members, and peers will pour into Cox Auditorium at the end of Week 8 to see the polished performances, but very few have the opportunity to see the work that goes into two brief but exhilarating minutes of choreography onstage.
I had the chance to sit in on a typical Saturday morning rehearsal three weeks before the final performances. I sat quietly in the corner, pen in hand, expecting to scribble notes throughout the two and a half hour run-through. I left, however, with little more than a few names and thoughts scribbled down. I was too mesmerized with the dancers to focus on my assignment for longer than a few seconds at a time. Tap dancers, Bollywood performers, and hip-hop dancers took turns on the floor while other students practiced their more challenging steps in corners or sat and watched in small groups. Even without stage make-up, lights or costumes, I fell in love with every dance for its spirit and the sheer fact that each one is utterly unique.
It has taken countless hours of purposeful and focused rehearsal to get to this point. Starting Week 1, each dancer must commit to two hours of practice a week per dance, weekly Saturday rehearsals that include the entire cast, and a dance technique class. That means that some of the more involved dancers and student choreographers spend up to 15 hours a week in Morey or the Hay Field House dance studios. Although dancers earn a few credits for their hard work and can elect to drop one of three academic courses, the production is still time-consuming.
Freshman Owen Loose sometimes spends upwards of 12 hours a week with dance, but has still managed to keep up with her three classes. Loose says, "One of the most challenging things has definitely been time management, because I didn't drop an academic class. It's definitely busy."
Although dance seems to consume the lives and schedules of many Principians every winter, director Hilary Harper-Wilcoxen stresses that academics always come first.
"[It's] very important to me that they maintain their academic loads well," says Harper-Wilcoxen. "They have to be able to balance their lives."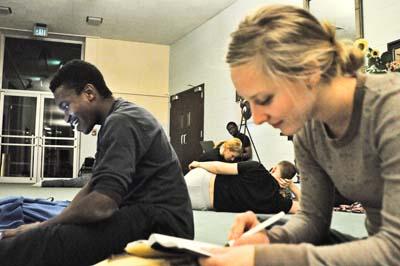 Junior Godfred Fianu used to be concerned about balancing Dance Production with his chemistry major, and therefore did not participate in the show until this year.  Although he reflects on several sleepless nights throughout this quarter, Fianu has found balancing his love for science and his love for dance worthwhile. Fianu says that he used to make excuses about his major being too difficult to allow for his involvement in Dance Production. He adds, "If the passion is there, it doesn't matter if there's time or not. You make time for it."
Whether participants have dedicated their lives to dance or picked it up in high school or college, every person in that Saturday rehearsal seems to thoroughly enjoy what he or she is doing. Sophomore choreographer Tamara Seid-Graham says, "I've been dancing for so long, that I can't just stop at this point."
Not that she would want to. Her piece, which sets ballet elements to the big band song "Sing Sing Sing" requires work on pointe and a variety of lifts that seem very advanced, especially to dance novices such as myself. All three female dancers in the piece have extensive ballet training and were able to learn the choreography quickly, according to Seid-Graham.
Other dancers have fewer years of training, but seem to fit their assigned roles naturally. Loose took formal dance classes last year as a senior in high school and decided that she wanted to continue her dance career in college. She says of her expectations for last quarter's auditions, "I just wanted to keep an open mind." Loose was cast in three dances, including her favorite, a samba, which is an entirely new form of dance to her. Loose's grace and obvious enthusiasm for the dance had me convinced she was a pro.
This year's show features a wide variety of genres and styles. Harper-Wilcoxen said the variety "makes [the production] very powerful for the audience" and will hopefully encourage viewers to reevaluate what forms of dance they do and do not like or understand. For example, I've never found myself captivated by the art of tap, but the energy and sass of guest choreographer Jeff Rosensweig's number helped me realize this genre's exciting possibilities.
Students can participate in up to four dances, and for some, like senior Alex Kasprzyk, that means playing four entirely different parts. In addition to choreographing her own Broadway-inspired piece, Kasprzyk is in two hip-hop dances and a samba piece.
"The dances I'm in are very different from each other and they all bring a different type of challenge," Kasprzyk says. "Even Mona Lisa's and Elizabeth's [hip-hop pieces] are very different styles." She adds, "You have to remember you're a totally different character for each one."
There certainly is a range of characters and storylines featured in this year's show. Within the span of a few minutes, audience members will be entertained by U.S.O. girls and World War II soldiers, witness the final performance of a dance company going out of business, and see the intense inner workings of the Mafia. It's easy to become completely absorbed in each story as it's introduced, and I found myself shaken out of a dream-like state more than once as the music for each piece ended.
Kasprzyk says, "I just never want the audience to be bored, because we're never bored when we're dancing."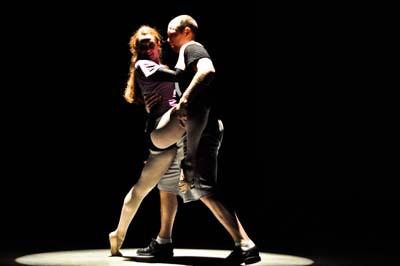 To this end, choreographers have shown great flexibility in preparing their pieces. Several had very different original concepts, and consequently spent months planning and reworking their choreography. Senior Elizabeth Opoku-Dakwa was at first inspired by the Cinderella story and later Romeo and Juliet. She spoke to Harper-Wilcoxen about her plans and decided that she needed to modernize her idea before she auditioned dancers last fall. Opoku-Dakwa's hip-hop piece tells a powerful story about love and the Mafia that will undoubtedly leave audiences short of breath, and may even inspire controversial discussion.
Opoku-Dakwa, who choreographed a piece for last year's production as well, says that working with her dancers has been rewarding but difficult at times. Most of her piece is made up of ensemble choreography, which means every dancer must be focused on executing every move at exactly the same time and in exactly the same way as everyone else. She adds, "It's very hard to get people to do that, especially in hip-hop because the [dance] vocabulary hasn't been as developed" as in ballet or tap.
Despite the challenges of teaching an original dance to fellow students, several choreographers shared that their love for the art form makes all of the hard work worthwhile. Opoku-Dakwa explains it well when she says,"I love to dance. That's my passion. So the fact that I get to do that every day for lots of hours is a great reward."
Like Opoku-Dakwa, the dancers I spoke with are incredibly serious and passionate about their craft. Junior choreographer Ali Vice spent fall quarter on the India Abroad studying Indian dance. Although Harper-Wilcoxen approved Vice's Bollywood/hip-hop piece before the abroad, the knowledge that the choreographer spent so much time immersed in the culture surrounding her dance makes the performance all the more authentic for the audience.
Almost everyone I interviewed remarked that being a part of Dance Production is like being part of a family. For those of us who don't watch the work that goes into this massive production, the term may sound a bit cliché. But just a few minutes into that Saturday rehearsal, I saw the truth in that statement.
At the beginning of every rehearsal, the dancers gather together in a circle to share metaphysical support and gratitude. The ideas were beautiful, but the most inspiring moment came when 50+ performers spontaneously broke into the most beautiful rendition of the Doxology I have ever heard. Maybe I'm a sap for Christian Science hymns, but I think that moment was indicative of the love that goes into every minute of practice and performance: love for discipline, love of dance, and love of each other.
Winter Dance Production performances will take place Feb. 25-27 at 8 p.m. in Cox Auditorium, with an additional 2 p.m. performance on Feb. 27. Tickets are $7 for students and $10 for other members of the community.