This content has been archived. It may no longer be relevant
To live with purpose, to be present in one's life, is to live intentionally. Do that with other people, and you have an intentional community.
Helen Mathis, one of the professors for this year's Ecology of the Sacred FYE (First Year Experience), shared with me the Greek word "koinonia," used by the Apostle Paul to describe community in the earliest Christian churches. She said, "I don't think they saw Christianity, as it is often seen today, as a private, individual matter of faith; rather they whole-heartedly embraced the community of other believers in celebrating their deep, vital relationship with Christ – the kind of relationship that others found irresistible."
Communities like that, I've come to realize, are incredibly important. They are the best kind of support systems. They enrich us, strengthen us, keep us sane. The Fellowship for Intentional Communities (ic.org) defines them in part as "projects where people strive together with a common vision." Cool, right?
On September 24 and 25, I had the chance to visit the Dancing Rabbit Ecovillage in Northeastern Missouri with Helen, Jackie Burns, and their FYE students. One resident (or "rabbit") said he still felt a connection with the "outside world," but that he found the community within Dancing Rabbit a lot better in terms of communication – something we all know is vital to interpersonal relationships and communities.
Dancing Rabbit, which got its name from a creek in California, hopes someday to be home to 500-1000 residents. Even now, with only 50 or 60 members, the ecovillage encompasses several smaller communities. Some people share a kitchen and bathroom, others have their own showers but choose to cook together, and still others have all of their own amenities but work and play in community. Another big part of the community at DR is their system of governance: they make every decision by consensus. That gives space for every member of the community to contribute her or his ideas, and each one has the power to block any decision.
It's hard to feel the intimacy of community with hundreds of people. But even in dorms with just 50 or so housemates, I've felt sort of alone. A former Resident Counselor, who graduated from Principia shortly before the Internet became widely available, marveled at the amount of time people spend in their rooms these days. The time that we spend on our laptops, engaged with a world outside of our immediate locale, she and her hall-mates spent getting to know each other.
Walking through the dining room, one current student says, "[I don't know] any of these people, but they still feel free to judge me." It's a generalization for sure, but it makes an important point.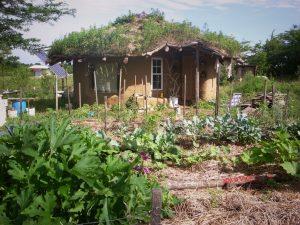 The only time I've really felt a sense of community in my house at Prin is when I lived in Williams as part of a "Creative Living" theme house with just 14 other students. In that case, we had decided specifically to live in community – cooking, eating, studying, and making music and art together. I've wished ever since that my term-to-term dorm experience could be more like that.
There are lots of other things that make communities work really well – like bartering goods and services and supporting local economies – but community can be had anytime, anywhere, when we choose to take our conversations beyond the weather and really be with each other.
A new student-run eating community is just getting off the ground, currently in Buck's kitchen, and potentially spreading soon to a kitchen near you. (Ask me for contact information if you're interested.) "The Kitchen," as it's called, was born out of a desire for more meaningful eating experiences, and consists of students cooking local and/or organic, vegan and vegetarian food and then eating it together. Another group is pioneering Principia's first community permaculture garden, which they hope will eventually draw in community members, offering places to sit and walk. The food produced by the garden would then be made available to members of the community.
Eating is fundamental to community. In a 2009 New York Times blog, Michael Pollan requested reader's rules for eating, and later published a small book that offers concise "rules" to guide one's eating habits. One of my favorites is "Try not to eat alone." Eating in company makes every meal a social gathering, which not only gives us the benefit of being around other people, but can also make us eat more slowly (because we're talking between bites), which makes us eat less. Another take on this came from one of the blog's readers. Her Romanian grandmother said, "Breakfast, you should eat alone. Lunch, you should share with a friend. Dinner, give to your enemy."
At Dancing Rabbit, every meal (all ingredients grown and made locally) was accompanied by a myriad of satisfied sighs. As we were leaving, I heard some of the FYE students saying, "This was the best field trip ever!" and some are already planning to go back. A community's got to be doing something right to make 16 (mostly) first-year college students as thoughtful and appreciative as they were.
Jackie pointed out that "the intimacy and joy of discovery" that was so apparent among these students is easily lost among the buzz of academic schedules, etc. Just as we bring community to the dinner table, we can bring that learning community to our classrooms and meetings.
So probe deeper in your conversations, diversify your dinner company, and dance on.