This content has been archived. It may no longer be relevant
The almost all-female cast of Dance Production
Maddi Demaree, Women's Issues Reporter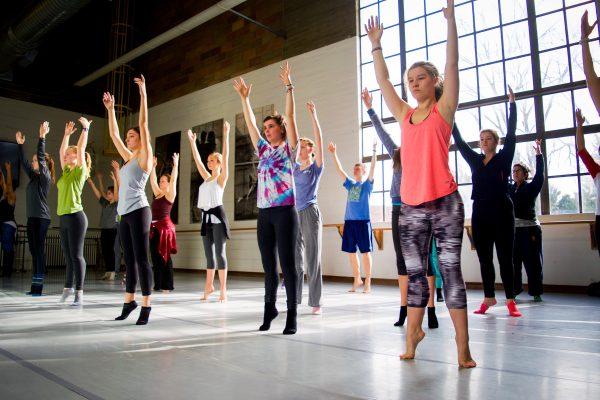 Principia College's dance production is a hallmark presentation and a highlight for many students long after they graduate. This year, dance production will occur April 13, 14, 15. It includes a cast of over 40 dancers, nine student choreographers, five live musicians, and even a couple of guest artists.
Out of the main cast of dancers, only three are men. Max Bruch, a senior male dance production veteran, shared with the Pilot that dance production is his "favorite thing that [he's] been involved with at Principia."
Bruch and junior Courtney Puduski explained that the massive difference in the gender distribution in the dance production cast is a double-edged sword. Because of the slim number of male dancers available, choreographers struggle to recreate realistic-looking, gender balanced communities.
The ratio is so low this year due because of the numerous commitments that student have including the dance production and the musical Godspell says Dance production Director Hilary Harper-Wilcoxen.
There is "always a very big difference between men and women in any dance production," she adds.
With such imbalances, it is difficult to have a cast of diverse genders, unless the dance is very small, dancers say. With dance pieces that have an all-women cast, the intended meaning or premise of the dance gains a new layer through the presence (or lack thereof) of gender differences.
For both says Bruch and Puduski, the gender disparity plays only a minor role in their experience as a member of the cast. Puduski notes that a "certain level of comfort," or a "sisterhood" begins to develop amongst the cast members in each piece, and that a sense of kinship is established more quickly thanks to the shared relationship of womanhood.
Bruch says that this comfort level allows him to get to know people he usually wouldn't interact with on a very personal basis. Women he might not normally know "come out of their shell" in this environment. The men in the group become part of this sisterhood, Puduski says, as "they're embraced [in] the whole thing."
The power structure is also different than traditional setups due to the fact that women run the show. Bruch notes that the cast becomes a "sort of matriarchal society," because the number differences mean that it's the women who conceive of, create, rehearse, and direct the show.
"It's a cool, different environment to be in because it's such a different dynamic than other activities I'm involved in – like playing on the soccer team or being Lowrey's president." He also appreciates how Dance Production differentiates the expression of grace in dance from the expression of grace in athletics.
"The community that emerges from that cauldron is often quite extraordinary but it is based on having a common purpose and goal. A spiritual purpose and goal as well as the obvious need to have a show ready by opening night," says Harper-WIlcoxen.
"The idea of grace [is] a defining ingredient is music," she adds. "Not only do dancers have to be skilled but they have to do what they do within the musical framework of the piece and make it look easy. [It's] not so easy!"
Bruch enjoys learning from the artistry of the other dancers and growing in grace in a different way than he has on sports teams in the past.
Dance Production is a mixture of many different dance styles and perspectives. The result will not only be a varied group of dances, but also a strong group of dancers supported by a deepened and diverse understanding of grace.
"So much good growth can happen when students are challenged to do something hard together. I don't care what their gender may be," says Harper-Wilcoxen.
Image courtesy of Liz McAloney