This content has been archived. It may no longer be relevant
The Piasa Convenience Store opened its doors to the Principia College community on Wednesday, May 5. The store offers a wide variety of food and is open for longer hours than the Pub or the Scramble Room. The store's hours of operation are 11 a.m. to 2 a.m. Monday through Saturday, and 12 p.m. to 2 a.m. on Sunday.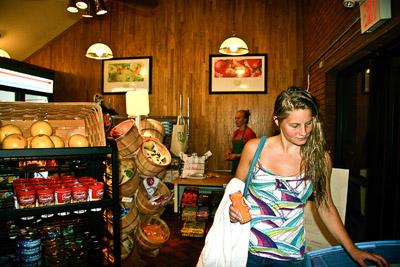 Dan Post // photo
A crowd of students, faculty, and staff attended the Grand Opening on Wednesday. A variety of students expressed their views on the store: Junior Margaret McElfresh said, "I think it's brilliant … I feel like I need a bigger fridge now that there's stuff to put in it." Freshman Katie Stewart said, "Well, they have Ben and Jerry's, so I'll be back a lot."
Supervised by Dining Services Manager Brian Day, the store is student-run. Senior Katie Sydness, the recent Dining Services Representative, said, "In one day we filled all the shifts to work the convenience store – as soon as the email memo went out, we had a line outside Human Resources."
One student worker, freshman Xandra Kenney-Blumer, said, "I'm excited to work in the Convenience Store because a lot of people seem to have been wanting it for a while, so it's fun to be part of something that so many people have been waiting for."
The store is designed to be environmentally friendly. On Opening Day, Brian Day told a student, "You can save five cents off your transaction as a way of saying thank you for using reusable bags." Freshman Katie Hynd said, "The fact that it's organic makes me really happy."
Dining Services Director Lance Thornton said: "[From] recycled glass countertops to the biodegradable bags that we're using, to the reusable organic cotton bag that we're selling, we want it to be green and sustainable. We're trying to sell organic products and natural products, but we're also trying to sell the things that people want."
Sydness said, "This is a student store so your opinion about what you want in it matters." Thornton said, "You'll hear us in there going, 'What is it you're looking for?' because if we can carry it, we will."
At the store, you can pay with a meal card, cash, credit card, or check – "anything except IOU," joked Thornton.
Sophomore Patty Harber said, "People are going to rack up money on their meal cards." Sophomore Dana Gaubatz said, "I think it's going to save people a lot of money. They're going to buy the stuff they need, and it will make meals more efficient."
Thornton added, "We need students to use wisdom … We're providing a service, but our goal is not to run up people's charges. Our goal is to supply a need that wasn't supplied before and to create more happy people."
"We're just very excited because we've felt for a very long time that it was a right idea," said Thornton.
"In varying degrees, [the idea for the Convenience Store] has been in the works for about eight years," Thornton explained. "It really grew rapidly once we were able to get a strong communication tie from the student government; that's when things really started to happen."
Sydness said, "We wanted a third option. We had the Scramble Room, we had the Pub, but there was something more that the students needed."
Thornton said, "Our goal is to service as many people as we can: community members, people who live on campus that don't want to run up to Schnucks and Walmart. Can we compete with some of the pricing? Probably not, but we can save you on gas."
The Convenience Store was not designed to turn a major profit. "We are out to break even and make sure the place pays for itself," said Thornton.
Thornton said, "Many people have supported this in order for it to happen." Thornton explained that the development of the Convenience Store involved work from Student Government, Dining Services, the President's Office, Facilities, Human Resources, Telecomm, IT, Housekeeping, and Flex Crew.
"Facilities played a huge role in supporting what needed to be done in the time frame that it needed to be done to get this open this quarter because it could have easily been knocked back to the fall," said Thornton.
Thornton said of Dining Services, "We're moving forward with plans and ideas that will move us in line with what other colleges and universities are doing, and the C-Store is a good sign of what that is."
He added, "Our big goal is that … people walk away feeling like 'Wow, that really was convenient!'"