This content has been archived. It may no longer be relevant
Principia's homosexuality policy is a reoccurring topic for impassioned discussion on campus. Whether it is in moral reasoning, at a lunch table, or even in class, there are few public topics on campus that generate so many different opinions, ideas, and heated debates. At the beginning of spring quarter, the discussion was started all over again when many Principians found pins in their mailboxes, giving students another opportunity to consider the issue.
Senior James Koval talked about the ideas behind the pins and his ambition in distributing them: "I am hoping that these pins will just help people talk about the gay policy more openly. I feel there is a lot of pressure to leave this issue under the table, to leave the gay policy under the rug forever. There needs to be a little bit of student enthusiasm – average individuals creating activities."
The pins project is based on research Koval and others conducted earlier this year. During fall quarter of this year, Principia's Amnesty International Club conducted a survey. Koval, a member of the club, stated: "We sent out a survey to the whole student body, and it asked 'Are you in favor of keeping Principia's current policy [on homosexuality]?'  When we got responses back it was about 71 percent who thought that the homosexuality policy should change. More than 200 have taken the survey. That's a pretty compelling statistic." Based on this, Koval and fellow senior Rigel Valentine decided to start the pins project. Koval said: "We didn't just generate the pins on our own. We collected a ton of ideas and donations from a huge supportive community. We raised several hundred dollars within the student body in order to buy enough of the pins. To me, just the fact that we could raise that much money so quickly – we raised it in like a week – attests to students' support." In describing the connection between the pins and the survey statistics, Koval said: "We put the statistic as the pin logo. We took a little pie chart of 71 percent and colored that area with the rainbow logo; the grey area is the remaining percent."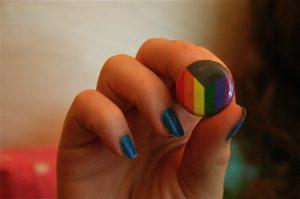 In creating a foundation for further discussion, Koval feels the pins got rather positive feedback: "Mostly I have gotten a lot of people who are happy that the pins went around. No one has come up to me and been angry about the pins." Junior Amber Dahlin is one student who wears her pin regularly: "I try to wear the pin every day because I want it to be known that I want the policy changed and that I don't think we're fully serving the cause of Christian Science when we don't admit certain spiritual thinkers based only on so-called gender preferences." Dahlin shared Koval's view of the pins as a conversation starter: "It is just an awareness campaign … And it is not like everyone who is in support of changing the policy is walking around wearing it all the time for everyone to see, but it's an opportunity for people to show their support for that, and…maybe that in itself is not what is going to make the difference, but it is a little bit of a nudge in the right direction."
This form of activism in favor of discussing the homosexuality policy is rather new on campus. The Free Speech Policy, passed in spring 2009 in cooperation between College President Dr. Jonathan Palmer, Dean of Students Dorsie Glen and a student committee, made it possible to address topics like this more openly. The policy allows students to discuss current Principia policies and other matters of their concern, as long as certain requirements such as a spiritual foundation, appropriate tone, a reasonable balance on both sides of the issue, and a genuine form of sensitive accountability are met. The policy also requests that discussions in large groups be moderated by a neutral mediator. More details about the Free Speech Policy can be found on the OSL webpage.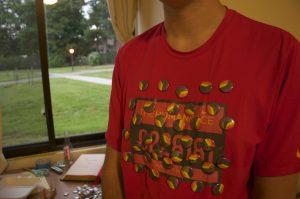 In addressing the demand for discussion of the homosexuality policy on campus, Dorsie Glen is in full support of the idea of free speech. Glen explained, "It would be good to have open discussions any time." In response to Koval's initiative, she added: "Maybe [some students] don't like the policy – they don't agree with it for whatever reason – and I think that's fine. And when people don't agree with any policy, we are willing to discuss [the policies] and hear what [students] have to say. I just think we have to be careful, though, that having a discussion does not automatically mean that the policy will change."
Even though Koval's project supported the discussion about the homosexuality policy at Principia, he nevertheless feels the problem itself is deeper than just within the Blue Pages: "Your identity as a student, as a citizen, or as a person in your community shouldn't include sexual identity at all. The phrase sexual identity shouldn't even be in our vocabulary."
At this point, no official step has been taken to change Principia's current policy on homosexuality.