This content has been archived. It may no longer be relevant
If you were to watch a Lazy Zipper rehearsal, you may see the group playing a little something called Final Cut Pro 7. Don't be perplexed; they're not playing with the popular video editing software. In this promising new game, participants start random scenes with no prompts and those who are not directly involved with the scene are able to cut, delete, rewind, or fast-forward the scene. Final Cut Pro 7 has been a favorite among this year's crew.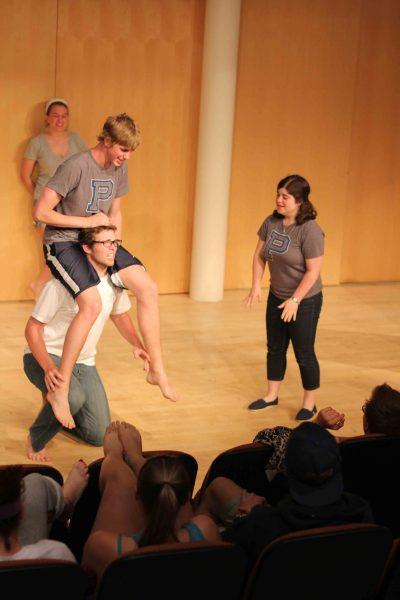 Lazy Zipper, for those who don't know, is the improv comedy club on campus. Officially started in 1999 by a group of students, Lazy Zipper has been providing the Principia community with comic relief for 13 years. The club is completely student-run with a student director and producer leading the group to success. The current club consists of 12 members, seven of whom are returning members, and five that are completely fresh to Lazy Zipper. Abbie Steckler, a freshman and new member of the club, said: "I first heard about Lazy Zipper at [Camps] Newfound and Owatonna, where so many of the counselors would always talk about how much fun it was." Steckler also mentioned that she loves the rehearsals. "They are always the highlights of my week," she explained.
Zipper members meet for six hours each week and work on sharpening their quick wit, familiarizing themselves with the rules of improvisation, as well as preparing for their annual show. Earlier this semester, the team traveled to Chicago to watch the Second City Improv Group perform. The shows they attended inspired the members of Lazy Zipper, and with three extra weeks of the semester to prepare for their big show, the group felt this year's performance should be unlike any other. Director Christian Richardson said: "We all really enjoyed the fast-paced shows in Chicago, full of music interludes and black-outs, and we decided we wanted to implement some of the same things into our show."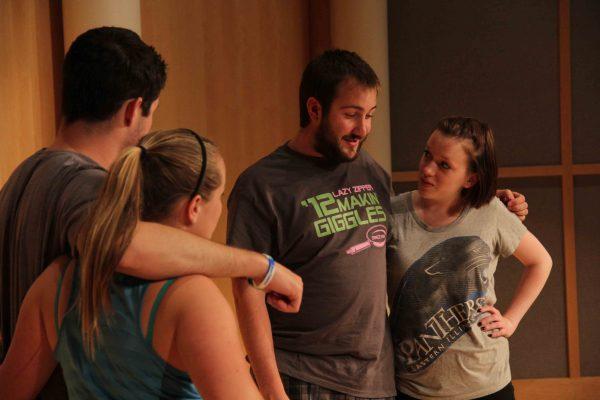 The club has traveled to Chicago twice in the last four years. Producer Ben Frederick said, "I think both of those trips affected the team greatly. The first time we learned some new games and loved the blackouts. The second time we were very inspired to write skits." Lazy Zipper performs more than just once a year. Over the past few years, the team has performed in the Mid-Winter Arts Festival, the Parents Weekend Variety Show, and a show at the end of each semester to provide students with a study break during exam time.
Lazy Zipper plays an important role in campus life. The club is more than just a bunch of funny people being goofy on stage. Melanie MacWilliams, a member of the club for the past three years, said: "Aside from bringing joy to campus, I think Lazy Zipper shows our community what can happen when a group of people love and respect each other so wholeheartedly. We put so much work into our improv, and I think it contributes to campus in such a positive way. Just a bunch of people lovin' each other on stage – couldn't hurt." Cam Wells, also a Zipper for the past three years, said: "I like to think that Lazy Zipper makes a contribution to Principia. People like to laugh, and if we can provide something to laugh at, then we've done something for others." This reveals perhaps a part of Lazy Zipper's purpose, to uplift the campus through good-hearted and clean humor. Unlike many other improv comedy groups and comedians in the world today, Lazy Zipper strives to show it's possible to keep jokes clean and still be hilarious. "[Lazy Zipper] brings the right sense of humor to Prin," said Richardson.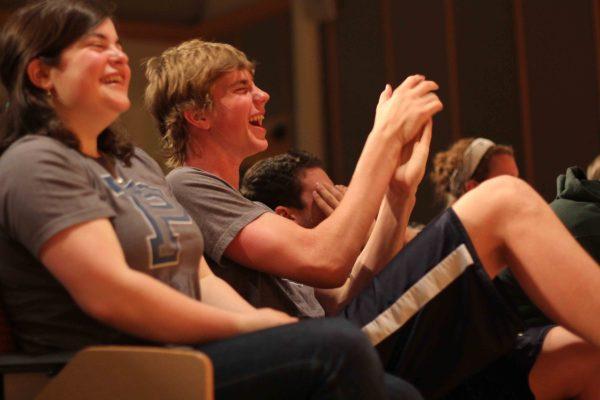 Group dynamic plays a huge role in the success of the club. Bekah Charlston, a senior who has been on Lazy Zipper since her freshman year, said: "Every year, the team dynamic has grown exponentially. Having a unified, cohesive group is crucial in improv and each year the team has grown closer and stronger." Steckler said "Everyone brings something completely different to the team, and it makes our improv so varied and multi-layered."
When Lazy Zipper first started, the shows consisted primarily of scripted scenes, which originated during the rehearsals, according to Dan Schneider, one of the first Lazy Zipper members. Schneider added that Lazy Zipper had "quality script writers" during this time. Around 2002, the shows evolved into their current format, made up in large part of improv games performed on stage.
As long as there are comedians on Principia campus, there's no end in sight for Lazy Zipper. And as Reverend Dr. Talmage said, and Mrs. Eddy quoted, "there are wit, humor, and enduring vivacity among God's people."
Image courtesy of