This content has been archived. It may no longer be relevant
There's something about Clint Eastwood: he just won't retire. After making and starring in over 50 movies, and still going strong at 80, he's not giving up anytime soon. With his newest movie, Hereafter, he explores new territory: the supernatural. You might watch this and say, "Wow, this is such a departure from what he's done before." No guns, no Dirty Harry-type characters in this one, folks. The exploration of life after death is something he does really well, and by the time the movie's over, you'll remember it for a long time!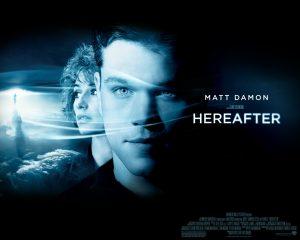 The plot essentially revolves around a French woman named Marie (Cecil de France), a British man named Marcus (Frankie McLaren) and a former psychic named George (Matt Damon), who used to talk to people's deceased friends. The film really centers on Marie and Marcus, who live in two different countries but both come face to face with death. Marie is swept away by a tsunami tidal wave, sees her dead relatives, and then is revived. Marcus' brother, in turn, is struck by a car. Both of them are traumatized by their respective experiences and want to seek answers to understand what happened.
Meanwhile, George is again receiving offers from people to do psychic readings. Eventually, George goes to London to a publishers' fair and sees that Marie has published a book about her experience.  He then gets it signed. Marcus then meets George and procures a reading for his brother, and Marcus then feels more reassured about his brother's afterlife.
In the end, George meets Marie; they shake hands, and go off together. The film really succeeds at capturing the surreal way in which people commonly envision what happens after death. The blurred images and echoing voices of the hereafter are very well done. They create a feeling of suspense and terror, but at the same, a certain level of comfort for the main.
Loneliness is another theme explored in this film that is common in much of Eastwood's work. In this film, the characters are lonely because of trauma they have endured, not because they are naturally lonely people.
Damon's performance is top notch. We're probably all familiar with his work in the Bourne trilogy, and most recently in a leading role in Eastwood's Invictus, starring with Morgan Freeman. However, he plays the psychic role in this film very well. Some people might say this may not be in line with his previous work, but, hey, change is good, right? He handles all aspects of his role very gracefully.
The other actors perform to the same standard as Damon. Cecile de France captures Marie's quiet and frightened nature without going over-the-top. Frankie McLaren also plays his character, Marcus, very well.
Now let's talk about Clint. Like always, his directing style and camera work are nothing short of astonishing. The close-ups throughout the film intimately show the characters' emotions, and allow the audience to experiences them as if they were sitting directly in front of the actors. Overall, Hereafter is worth seeing because it has a captivating plot, along with golden performances from the entire cast.
Grade: A