This content has been archived. It may no longer be relevant
The Computer Information Systems (CIS) department has several major projects underway, some of which should be completed by summer 2011.
These projects include school computer replacements, the launching of online classes, installation of a new phone system, and an increase in bandwidth capabilities.
Currently, Principia maintains 550 computers on a four-year cycle, and about 137 school computers are replaced each year. Richard Booth, Chief Technology Officer, explains, "Computers, kind of like a car, wear out in ways that get maintenance intensive. When cooling fans or other moving parts fail, it's costly both for the user that can't get work done and for the tech support time to fix the computer."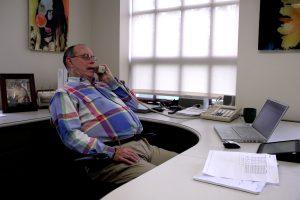 CIS experimented with a three-year leasing program in which the first large batch of replacement computers, approximately 275 machines, will arrive this summer. A smaller batch of 100-125 is set to arrive in the summer of 2012. "This year and next are especially large variations, partly due to the fact that we deferred purchases in 2008 and 2009 for budgetary reasons," said Booth.
The total college budget for the current computer replacement is estimated at $200,000.
While CIS has explored purchasing Hewlett-Packard and Lenovo computers, "we have a good relationship with Apple and Dell," said Booth.
Another project CIS is working on relating to the strategic master plan is the development of online classes. While Gary Gentry, Director of Online Education, has been spearheading the development of online classes and acting as a consultant,
CIS will play a role in programming a server to allow for a single, authorized all-in-one login to Principia. A single login will give students linked access to existing online features such as Blackboard, Self-Service Banner, and Chalk and Wire. CIS expects the single login feature of online classes to be complete by winter 2012, although online classes for Principia Adult Continuing Education (PACE) will be ready by May 1.
CIS is also working on the huge project of replacing the existing phone system. The project, which should be completed by summer 2012, is estimated to cost $4 million.
While the current phone system has been in place for the past 23 years, the manufacturer of the current system, ROLM, was acquired by IBM in 1984. Consequently, ROLM parts and qualified technicians are scarce these days. Any replacement parts for the phones are either used or reconditioned. "Someday there aren't going to be techs to maintain it — and that day is coming soon," said Booth.
CIS finished an analysis of the current physical environment and functional requirements, as part of the initial phase of a new phone system. This means the floor space in the telecommunications room (TR) of every building has been measured for cooling fans and additional telecom gear.
While some variables still remain, like the manufacturer of the new phones, it is likely the new system will be voiceover IP (VoIP), which will run over the existing data network. There are few infrastructure improvements to be made, since the existing cables are up to current specifications, so "we're about 90% of the way there," Booth said.
"I still hope we're buying a system that will last twenty years, but I know that no one [component] is going to make it for more than five," Booth added.
CIS anticipates that there will be a need to increase the current bandwidth under the current AT&T contract from 50 megabits per second (mbps) to 100 mbps in Fall 2011.
Some students experienced slowdowns in the Internet during Week One. Senior Cameron Huber said, "I remember you couldn't get a YouTube video to load." However, Booth noted that, according to CIS records, bandwidth patterns were normal. Principia's Web infrastructure is near or at 100% efficiency. For the past ten years, CIS has noted regular patterns where bandwidth usage is minimal from 2 a.m. to 10:30 a.m. Junior Nicole Tisdell said, "It depends on the time of day [when] the wireless slows down."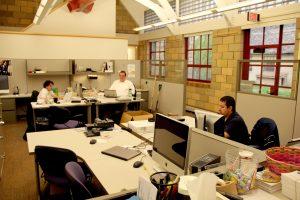 CIS foresees increasing bandwidth demands in the future as the nature of browsing and video content requires higher bandwidth capacity.
Booth said he has enjoyed his relationship with the current All-Campus Technology Representative, senior James Koval, as well as junior Theodore Lindsey, a former All-Campus Technology Representative, and that this position has been a wonderful mechanism for communication between students and the CIS department.
Koval said: "I don't think CIS has the capacity to constantly fix all technical issues on campus, but I would like to see them be more proactive in adopting technology and preventing issues derived from security holes or bugs. They do a great job of keeping every computer on campus running and on the Internet, but they could improve by doing a few practical things, like keeping up with updates."