This content has been archived. It may no longer be relevant
Everyone has different ideas of what Church is supposed to be and these ideas aren't always congruent. In Science and Health with Key to the Scriptures by Mary Baker Eddy, the author defines church as "The structure of Truth and Love; whatever rests upon and proceeds from divine Principle. The Church is that institution, which affords proof of its utility and is found elevating the race, rousing the dormant understanding from material beliefs to the apprehension of spiritual ideas and the demonstration of divine Science, thereby casting out devils, or error, and healing the sick." (S&H: 583)
Mrs. Eddy gives a clear definition of Church, but what does it mean for many of her individual followers? To some it may seem like an intimidating place where you have to sit quietly for a full hour. To others it is a place of peace and calm where they may reflect on the weekly Bible Lesson. As Christian Scientists, we all eventually leave Sunday School and transition to "grown up" Church, but not everyone experiences this change in the same way.
Many Principians had or currently have a pleasant experience when it comes to Sunday School. Octavia Luongo, a freshman with approximately seven months left in her Sunday School career, said of her experience: "I like having the interaction with people…we're all completely different."
These Sunday discussions play a major role in developing spiritual growth and understanding for young Christian Scientists, but not everyone benefits from that atmosphere. Taylor Chichester still has over a year until she turns 20, but has been going to church instead of Sunday School because she said, "There are questions that keep coming around…every Sunday School class I have been to we covered the same topics over and over again".
Yet, the feeling toward church varies just as much.
Most young Principians have some worries about entering Church, like eighteen-year-old Weston Williams, "I have to say I'm probably not looking forward to church a whole lot because I do prefer the discussion."
Elisabeth Meindal, a non-traditional student who has attended church for a few years now, sheds an interesting light on the services. She said: "All over the world there are hundreds – if not thousands – of people sitting in a room all listening to the same message, all listening to this one good idea. How powerful is that?"
When asked about the possibility of changing church services, the students interviewed for this article expressed mixed feelings. Luongo said that it "would be incredibly cool to have people actively participating in the music of church, playing violin or some other kind of instrument". On the other hand, 21-year-old Aidan Lloyd disagreed, "Adding more music won't make the church more appealing for us 'youngins.'"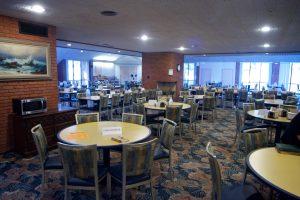 Sophomore Peter Telschow, who has six months left of Sunday School, said he would change "absolutely nothing" about his experience. He added, "I love it the way it is. I find it to be completely amazing."
So should there be a change?
According to Lloyd, the services in some of the churches he's visited – like San Juan Capistrano, California – are livelier, with a feeling of openness and community throughout the service. He suggested that this kind of environment could make services at Principia more appealing for some.
The transfer from Sunday School to Church is a unique experience for all. Some students find the transition quite pleasant, while others have a difficult time adjusting. Elisabeth Meindal shared another insight that might help concerned students, "Those words are there for you to listen to. God is talking to you."