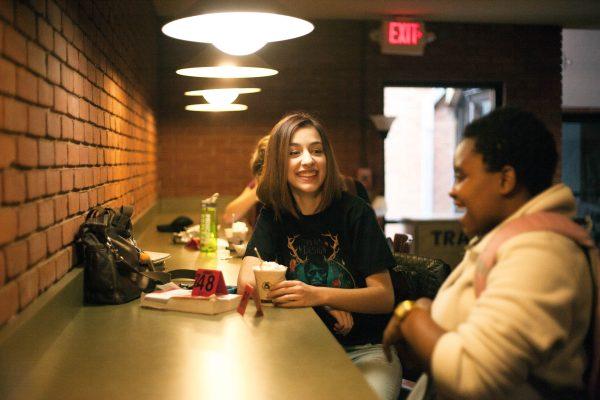 Huge changes are coming to the Piasa Pub this semester. Buzzers, menu switches and maybe even refurbishment are in line to improve the current menu and make production more efficient.
Over spring break, buzzers like the ones at Panera were introduced to the Pub. There are no longer any "runners" that bring your orders to customers. Instead, the people making the food behind the counter have been calling out numbers to notify customers that their food is ready. Students are now able to go outside or to the student center and know when their food is done without having a runner track them down.This system also keeps track of how long an order is taking so the workers know how well they are keeping up with their orders.
Another change is thinking about how to improve the pub facilities themselves. Delivering food in a timely manner has been a challenge for many of the workers in the Pub. The space that students are working in makes it hard to complete the orders with such a small grill. "While total reconstruction is ideal, it's expensive, so our team is trying to figure out how to make the best of a small space," said junior Susie Bonwich, the Student Senate dining services representative.
The Pub's "tiger team" in charge of making these changes consists of three students, one faculty member, one staff member, Pub manager Mary Odhiambo, and dining services director Lance Thornton.
The team will also examine the menu to come up with a more condensed list of options. Over the past few years, the menu at the Pub included healthier options, as well as wider variety of toppings. In 2004, the option to charge food to student meal plan accounts was added. This exponentially increased the amount of orders that the Pub handles.
Today, the Pub is still one of the liveliest social gathering spots on campus.The logistics of serving a high quantity of customers with little storage space has brought about the need to revise the menu. "We are always looking for ways to improve the service," Odhiambo said. To decide what to change, she gathered data from orders last fall, and will be sure to keep the top sellers such as burgers, fries and shakes.