This content has been archived. It may no longer be relevant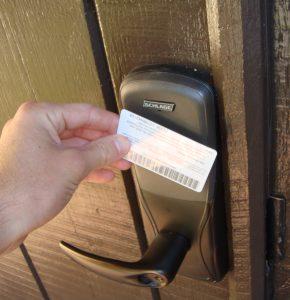 The addition of e-locks to residential buildings and the positioning of student employees known as "hosts" at the gate house are among the series of changes undergone by Campus Security over the summer.
Another such change is that Campus Security now reports to Dorsie Glen, Dean of Students, instead of to Phil Riley, Principia's legal counsel, who used to oversee security. Although Campus Security reports to Glen, it is still overseen by Jim Brown, Director of Campus Security.
The changes to gate house security have opened up employment opportunities for students. The student workers who now work in the gate house during the day are called "hosts." Glen said, "Our current Security Officers were called Watchmen.  We have a Security Officer on campus 24/7 — sometimes they are in the Campus Security office, or at the Gate House, doing rounds or being a presence at activities.  They are available to support the student host.'" With e-locks now on all the residential buildings, there is talk of making the campus open to the public. Principia has opened up more to the community, but Glen was reluctant to use the term "open campus" to describe the Principia campus. "Our original plan for the student host program was the student would be a presence at the Gate House, but would not stop cars.  Although we like that the campus is open to visitors and guests, it is regulated in that the student hosts and the Security Officers at the Gate House will stop cars that do not have an official sticker and issue a visitor pass."
E-locks have been a hot issue for most people, including upper classmen, but the freshmen have taken to it with ease, according to Resident Counselor Reid Charlston. The freshmen are in a unique situation because they have never known any other type of security at Principia. On the other hand, the adjustment has been much more difficult for older students. Resident Counselor Christy Ellington said, "It's definitely been an adjustment for Howard. The first week was kind of hard, but now that all of the kinks have been worked out it's running smoothly."
Glen said, "One advantage to e-locks is that if an e-card is lost, it can be deactivated immediately so it cannot be used by anyone else.  Previously, every woman was issued a key and sometimes they would be lost."
When asked how e-locks and meal cards might change in the coming years, Glen said, "We are looking at adding more e-locks but still keeping all buildings accessible to students." She also said that for Principia, "it would be good to have a one-card system where the e-card/meal card can be used for everything." Students already use them as library cards, meal cards and now keys.
Although Campus Security changes have affected all students on the Principia campus, the changes are meant to make life simpler and make students responsible for their safety.
The following email was sent out to the Principia College community and is reprinted with the permission of Dorsie Glen.
The Principia
Interoffice Correspondence
To:                   College Faculty, Staff, and Students
From:               Dorsie Glen, Dean of Students
Jim Brown, Director of Campus Security
Phil Riley, Principia Counsel
Re:                   Campus Security Issues
Date:               October 4, 2010
There have been numerous questions about changes that have taken place regarding Campus Security. At the request of student leaders, we are sending this email to answer many of those questions.
Why did we make a change?
Last spring we began looking at potential improvements to Campus Security that would take advantage of the mobile phone coverage offered by the new cell tower and allow for enhanced Campus Security presence throughout campus (not just at the Gate House). We looked carefully at new security measures and identified several opportunities for using mobile phones, electronic locks, and cameras.
Why are only some doors using e-locks?
Some houses have all exterior doors fitted with e-locks, and some houses have only a few. The Maybeck houses were very expensive to change to e-locks because of the antique doors, but we are looking into the possibility of adding more e-locks on the Maybeck houses in the near future.
What about e-cards?
We would like our campus to eventually be on a one-card system. Right now the cards are used as a meal card, to enter houses, as a Library card, and in athletic buildings. Students are able to enter any house during open house hours, but when the house is closed, students may only enter their own house. If you lose your card when Campus Security is not open, you may check out a "guest" card from your resident counselor.
Can I have an e-card for a guest?
The resident counselors have guest e-cards that can be checked out by a student who is having a visitor. However, the student becomes responsible for the guest card just like their own – if the student does not return the e-card to the resident counselor when the visitor leaves, the student will be charged for a new card.
When are Security Officers on duty?
We have Security Officer staffing 24/7, including office and management coverage weekdays and otherwise as needed. Security officers will be receiving extensive training to better support the community. They will be covering the Gate House from 7 p.m. to 7 a.m.; however, there will be times when they will be away from the gate on an emergency or when doing rounds.
Why are we using student hosts at the Gate House and when are they on duty?
We have created new jobs for students through our host program. They are on duty from 7 a.m. to 7 p.m. every day. They check cars for decals – student, faculty/staff, or Gold & Blue Club members. If a car does not have a decal, they stop the car to determine the purpose of the visit and issue either a temporary pass or an overnight pass. While the original proposal was to leave the front gate unstaffed during daylight hours, after a two-week experiment, we decided this did not meet our need.
Is the campus now an open campus?
Our campus is a regulated campus as it is open to visitors only from 10 a.m. to sunset Monday through Saturday and from noon to sunset on Sundays. Of course, students, faculty, and staff are welcome to have overnight guests and personal visitors after sunset.
When will we have cameras at the Front Gate?
Installation of video cameras at the Front Gate to monitor ingress and egress will be complete within the next two weeks. Should the Front Gate be unmanned, the cameras will record any activity.
Does this save Principia any money?
We have received a substantial savings on our insurance with the installation of the e-locks. One of the benefits of the 24/7 e-locks is students have insurance on their possessions, up to $2,500 with a deductible of $250.
Is it true that transients are living in secluded areas of the campus?
No, there are no transients living on the Elsah campus.
Is it true that anyone is being waved through at the Front Gate?
No, we are not just waving anyone through the Front Gate. We are checking for decals.
We understand that this is a shift for the community, and we ask for your patience and understanding as we transition Campus Security's policies and procedures. Safety remains our No. 1 priority. Since the new program was first implemented, we've made several adjustments, and we will continue to review and make additional changes as necessary.
Please feel free to contact us with any questions or concerns.
Editor's Note: What do you think about the Campus Security changes?  Please post your response below.