Students were recently informed that Gehner will be the only dorm open for the duration of this year's spring break.
With the transition to semesters comes a switch from a two-week spring break to a one-week hiatus. A shorter break means it's likely more people will want and need to stay on campus during this time.
In order to accommodate as many students as possible, the Office of Student Life has increased the living capacity of Gehner for the break.
That means Gehner could potentially hold the international student population while still leaving room for a few domestic students.
Director of Housing Joshua Sprague said, "We can virtually guarantee that any international student who wants to stay over spring break can stay." Beyond that, OSL cannot guarantee a spot for everyone. Over the last three school breaks an average of 80% of the students who stayed on campus were international.
The Office of Student Life will not be accepting applications for spring break housing until the beginning of next semester. The intention of alerting people in advance about the limited housing available during spring break is to try and allow as many people as possible to find somewhere to go for the break.
No one will be guaranteed housing, but international students will have the chance to apply for housing before domestic students. Those applying for housing will know right away if they will have a space.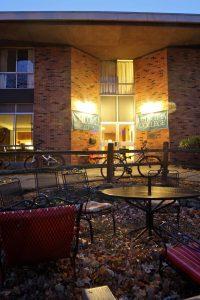 The only exception to this is the non-traditional students who will be allowed to remain in Beeman for that week in March. No other house on campus will be open during break. Because it will be during the middle of the semester, OSL does not want to have to ask any students to pack up their rooms for the short break.
Closing the houses will also give all the resident counselors an opportunity to leave for break as well. If other houses were to remain open over break, RCs would not have that luxury. Consequently, all the houses except Gehner will be locked for that week. The e-locks will automatically engage on the Saturday of spring break so that no one is going in and out of the houses during the week.
Increasing the capacity of students in Gehner will make it crowded. This means there will be up to four people assigned to each room. Sprague said, "We are looking at the situation in Gehner as a way to accommodate as many people as possible."
OSL's hope is that those who can go away for spring break will make arrangements to do so. Not only will this allow Principia to accommodate as many students as possible who have a real need, but they are hoping that time away from campus will be refreshing for students.
Dean of Students Dorsie Glen said: "Our hope is that students will have an opportunity to leave, a chance to get away. We hope that having a break will allow students to leave campus and come back fresh. We understand that some people do not have the opportunity to leave campus, but we think it is a valuable time for those who can."
Break housing will cost seventy dollars, which works out to ten dollars a night.
This fee will need to be paid up front and in cash. This cost is to partially offset the cost of keeping services open, including athletic facilities and the dining room.