Overall Grade: A-
The Book of Eli is the story of a man on a mission from God. Eli, played by Denzel Washington, is a former K-Mart worker turned post-apocalyptic badass. After nuclear war scorched the surface of the Earth, Eli is charged with the task of protecting the last Bible in existence.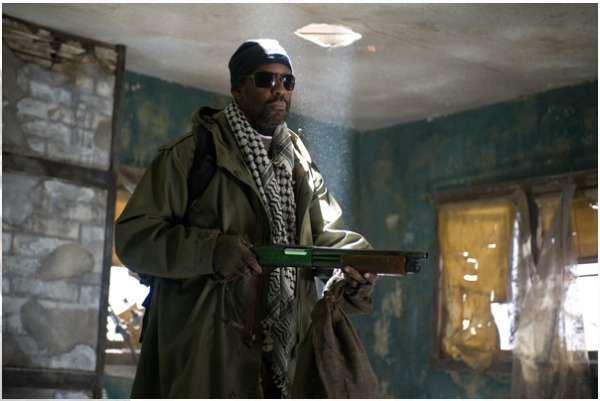 Eli kicks ass, both physically and spiritually. When ambushed by bandits, he dispatches them swiftly with a custom machete. When confronted by a town's tyrant, a man named Carnegie (Gary Oldman), Eli displays his spiritual strength. Carnegie demands that Eli turn over the Bible to him so that he can "use the words" to make people do what he wants. Eli refuses, and returns to his God-appointed task. This struggle between institutionalized and personal religion adds depth to the feature.
The cinematography employed in the film is a refreshing change from modern fare. The action scenes use steady shots – no shaky-cam – and run for seconds at a time. In contrast with the quick cuts of many action movies, this method allows the viewer to enjoy Denzel's fighting prowess. That's right he does all his own stunts. The action scenes are spaced evenly throughout the movie, and are short but purposeful. These fights are not meant to entertain with gladiatorial combat, but to demonstrate Eli's divine protection.
The costuming in The Book of Eli is standard post-apocalyptic fare. Most everyone wears goggles or shades; new clothing hasn't been manufactured for years; and everything is weathered and beaten. Except, of course, for Mila Kunis's skinny jeans. Mila plays Solara, a tavern girl who leaves behind her life to follow Eli. Mila's acting skills are not in question as much as her wardrobe. It looks as though she walked out of an Urban Outfitters, complete with dark wash skinny jeans and trendy plaid shirt.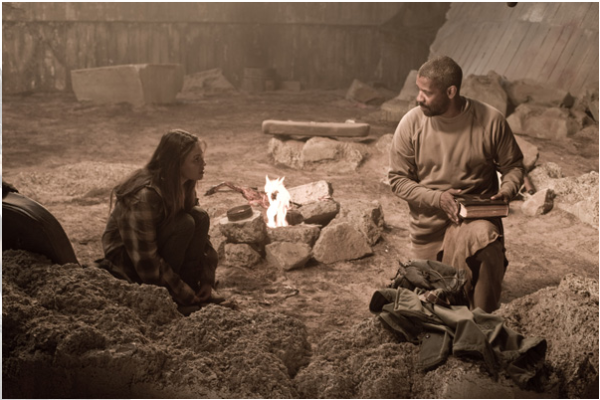 The interplay between Eli and Solara is that of teacher and pupil. There's a healthy contrast between Eli's poise and Solara's curiosity. This dynamic is believable and carries several powerful scenes throughout the movie. One of the most meaningful interactions is when Eli teaches Solara how to say grace. This common act, performed in an uncommon and desperate world, shows Solara the virtue of gratitude.
The film is a Christian genre movie, split into two acts – part Old Testament, part New Testament. Religious overtones are present throughout the film as various obstacles impede Eli's progress on his 30-year journey. Biker gangs, reminiscent of Mad Max, terrorize travelers on the road.
Eli's character evolves throughout the movie, changing how he interacts with the Americans of the post-apocalypse. Part Prophet Elijah and part Apostle Paul, Eli begins his journey with a righteous wrath, but learns the power of God's protection without the need for violence.
The soundtrack consists of ambient tones, powerful sweeping strings, thoughtful piano, and mixed percussion. The music, when used in combination with the spartan landscape and scorched sky, conveys an otherworldly feeling to the viewer. This music is used sparingly and to great effect over the course of the film.
The storytelling of scriptwriter Gary Whitta captures the essence of a biblical tale in all its sublime beauty. There is a major plot-twist in the film that may be viewed by many as a leap of faith. I won't spoil the moment for you, but it is a powerful and moving revelation.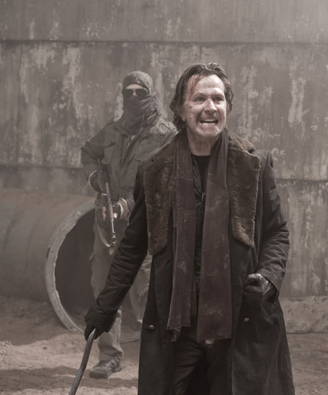 The select use of scripture in the movie will move a religious person to tears. The filmmakers do an incredible job creating a post-apocalyptic world devoid of morality and the Word of God. In the middle of this suffering world, Eli shares selections from Genesis, Psalms, and Johnny Cash Live at Folsom Prison – obviously not a book of the Bible, but both powerful and humorous.
The Book of Eli is a film that offers both intense action and a powerful spiritual message. There is no denying that this is a religious movie that offers strong Hollywood talent, technology, and technique. Most mainstream film critics had a hard time accepting the spiritual nature of the film, and rated it poorly because of their discomfort with that nature. The majority of America, being religious by comparison, responded favorably to this film and wrote rave reviews.
If you're looking for a film that will both entertain and uplift you, then be sure to catch The Book of Eli before it leaves theaters.