This content has been archived. It may no longer be relevant
Summer is almost here. The days are longer and final paper assignments continue to loom, so there's a chance you haven't yet seen the Principia Men's Soccer Team preparing for their upcoming season. But pretty soon they'll be out playing under the lights in their first home game of the year – which, for one player, might stir up memories of another soccer game long ago.
You might not remember the inaugural Major League Soccer (MLS) game in 1996 – a tight match between the San Jose Clash (now the Earthquakes) and the DC United.
But Alex Bentley does.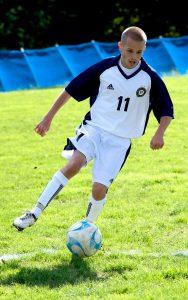 "It's one of my most vivid childhood memories, going to see my first MLS match," said Bentley, a junior at Principia. Bentley grew up in the small town of Scotts Valley, only 30 miles south of San Jose, California. In that historic game, San Jose claimed a 1-0 victory in extra time to the delight of the home crowd and an eight-year-old Bentley. "I just thought it was the best, and [my family and I] would always drive up to San Jose and watch as many MLS games as we could."
The Bentleys are a soccer family. Alex's dad played at Pomona College in Claremont, California and his older brothers Patrick and Taylor were both members of the Principia soccer team from 2000 to 2004. "[For my family], soccer was the ultimate sport," said Bentley, "…and I loved it from the second I started playing."
Like his brothers before him, Alex was out on the field almost as soon as he learned to run. By the time that first MLS match came to San Jose, he was hooked. Soon, Bentley was playing for his elementary school, then for middle school and club teams that traveled the California coast.
When Alex was in the sixth grade, the Bentley family packed up and moved to Raleigh, North Carolina, home to the Capital Area Soccer League, one of the biggest soccer programs in America which boasts over 800 men's, women's and youth clubs. Bentley found that soccer on the east coast was a different game than what was played in northern California. In Raleigh, the pace was quicker, the players were more skilled and the pressure was higher. Big games in high school would attract thousands of fans – all things Alex loved.
"The intensity and level of play made the game more enjoyable for me," Bentley said, "…and [playing in North Carolina] was a huge step in my development, especially in my high school years." As a high school student, Bentley played on both his school team and a club team. He tasted success in both arenas, as his club team played in the national championship tournament in Dallas, Texas, and his high school team won the North Carolina state championship during Bentley's junior year. "That's probably one of my favorite soccer memories, making it to that state championship," said Bentley, "…we won, and it was euphoria. I'll never forget that."
Bentley's senior season was cut short when his team lost in the early rounds of the state playoffs, and soon he was finishing school and thinking about his future. "I actually did not plan on playing soccer after high school," he said. Instead, Bentley attended community college for a year and then moved to Los Angeles to work for Cimarron Entertainment, a film production company.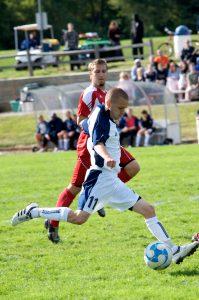 Bentley lived in LA for two years before enrolling at Principia to complete his degree. While he had loved his time in the city, there hadn't been much time for soccer. "I fell in love [with Los Angeles]…but I had been off of soccer for about three years," said Bentley. As a freshman at Principia, Bentley only watched from the stands as the men's soccer team took the field—but soon enough he remembered his own passion for the game.
"As my first fall quarter went [on] and the more I watched the [soccer] team play, that drive started kicking again. [I began to think,] 'I should get back in there, I should start playing again,'" said Bentley. That following winter, Alex was working out with the team, getting back into shape and sharpening his skills as a player.
Easier said than done, however. Not only did Alex have to prepare for the most physically demanding level of soccer he had ever played, but he also had to re-master the technical facets and nuances of the game – skills like spatial awareness, touch and timing that only come with lots of practice. "The college game is more demanding than any other level I've ever played on," said Bentley, "and getting that endurance back, that soccer sense … it takes a long time to get back into it."
Bentley stepped back onto the pitch for the first time in years as a sophomore in the fall of 2009, and though the men's team put together an incredible season, there were times when Bentley wasn't so sure of his decision to get back into the sport. "I definitely second-guessed myself," said Bentley. "I thought, 'have I been out of the game too long?'" Thanks to his friends, family and coaches, Bentley saw the season through to its end. "I'm glad I stuck with it because I'm having a great time," he said.
Bentley credits his teammates and the men's head coach, Vitalis "Oti" Otieno, for supporting him during his re-entry into soccer and into his junior season at Principia.  "That's why Oti is special," said Bentley, "…a lot of other colleges wouldn't give players the same kind of chances that Oti does. You've always got a chance with Oti."
Even though Bentley still faces challenging days, he knows he's got an entire team backing him up. "You've got 20, 25 guys there to pick you up if you're having a bad day," said Bentley, "…and I love this team … we're all there for each other, and that translates too on the pitch."
There's plenty of excitement for the upcoming soccer season and Bentley will be in the thick of it. He'll be playing on the left side, using his deceptive speed and size to get a jump on the opposing players. He sure won't forget what's kept him in the sport all these years.
"It's one of the best feelings, walking out on that field…" said Bentley. He added, "we've all been given this great gift, this great chance to play … and when you play, you're really in that moment, and ever since I was six years old, it's always been my favorite thing to do."
From San Jose to Raleigh and now to Elsah, Alex's soccer career has been on quite a journey. When the leaves start to fall and the lights turn on at the soccer field this coming season, keep in mind the stories of all the players. And maybe remember how far that eight-year-old kid has come from watching his first MLS game way back when.