Sub-heading: Fancy a little art appreciation? Check out the latest interview of your on-campus artists!
Amanda Milhous is a senior majoring in Fine Arts who spoke to the Pilot about her development as an artist. Excerpts follow.
AS: What has your experience with art been like?
AM: I have been doing art my whole life. I started actively engaging with the art community when I was in middle school. I had my first art show in eighth grade and it was for Guy Harvey, a famous artist in southern Florida. He's a biologist, and he does all of these paintings of fish and barracudas and sharks. I entered a seahorse piece – my first entered piece. School has always been a struggle, but art is the one place where no one has been like "oh, she sucks at this." Then I came to college and worked on it more. Last year was when it finally clicked – my skill set. I feel like I'm more of a sculptor and a carver – a crafter. I'm also very passionate about the environment and biology, so I wanted my art to speak to the different issues we struggle with as a society.
AS: Would you say that you use art as a form of activism?
AM: Yeah, but I don't want my art to be extremely aggressive. I want to educate people. Hopefully they'll get something out of one of my pieces or at least start thinking about the issue it presents, but I don't like being gory or aggressive. I want my art to be something people want to look at and bring home and buy. Like with my turtle piece, one guy said he loved my turtle and he'd love to have it in his house. That's great and beautiful, but when people ask you about it, you can also say: this turtle is a loggerhead turtle and it's critically endangered. If you love this turtle, you'll think about not dumping trash into the ocean or look into whatever way you can help it. I want people to enjoy it, but also to understand the meaning behind it.
AS: Has that environmental awareness always been a part of your art?
AM: I have always liked and cared about nature. I think college is a place where you think you know what you're going to get out of the experience, but then you begin taking classes that make you change the way you think about things. I've always cared about the environment, but as I have gotten older, I've been more conscious of environmental issues.
AS: What's your creative process like?
AM: Most of the time it's pretty easy to pick a subject because it's always something I'm thinking about at the time. For example, the topic of bees has been on my mind because it's something very current that's bothering me. Sometimes I start off with really broad topics, but lately I've been working on narrowing them down. This is hard when you take such a broad idea like the environment or sustainability. I try picking a topic and making it fluid, or I'll find an image or idea that I want to portray in a way that isn't offensive. I also feel like I'm such a nonchalant person when it comes to my art. In a lot of ways, the process does matter to me, but sometimes I'll be making a delicate line for a print, but then I'll cut through that line. At that point, I'm like, "you know what, I guess we're not having that," and I'll just cut that one section since it doesn't work. I feel like artists sort of have to sell their piece when it's done, even when it's not at all how you drew it out to be. Something always goes wrong.
AS: How do you personally define art?
AM: That's changed for me a lot. As a kid, I always thought art had to be the mastery of a skill. It had to be something really hard for me to achieve and it had to be on a wall in order to be valued. Now, I'm starting to feel like art is self-expression. Art is almost everywhere. Artists are those weird people who can fit into almost every category. They can create stage backgrounds for Broadway, or music, billboards, and even font is a form of art! You can find us everywhere.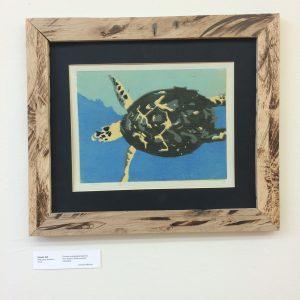 Image courtesy of Amanda Milhous