In a global context favoring inflation, gas prices have skyrocketed this year. Drivers all across the nation have had to find ways to limit fuel-related expenditures. All across the nation? Perhaps not quite. For those who attended the American Solar Challenge this summer, the main energy source was a bit higher in the sky, and a bit brighter, than gas.
"There was that sense of collaboration for the collective good of everyone having a solar car that can race and compete using the sun's energy," said Dr. Marie Farson, associate professor of earth sciences and engineering. She was one of the instructors leading Principia's solar car team alongside Dr. Brian Kamusinga, assistant professor of chemistry.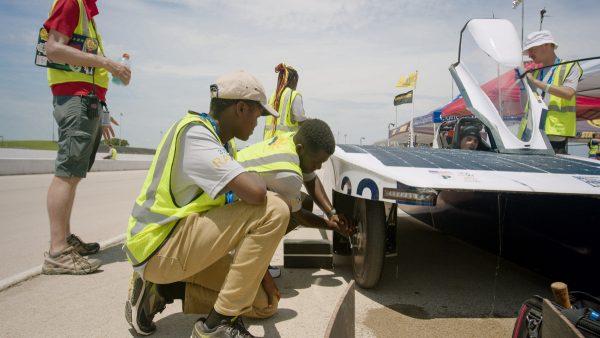 RA XI – that's how the car is called – overall ranked second in the mid-July American Solar Challenge. With an unfailing determination, the small but mighty team managed to shine both on the racetrack and on the road.
"We would usually work for eight to ten hours in the heat," said Hamza Njuba, a freshman from Kampala, Uganda, when asked about his summer.
An engineering major, Njuba was part of the mechanical crew of Principia's solar car team. Despite the intensive work schedule, he expressed gratitude for the "engaging" experience and the supportive team. When asked about his initial motivation, Njuba said that he wanted to stay active during the summer and apply concepts he had learned in class.
RA XI took first place in the racetrack segment of the American Solar Challenge in Topeka, Kansas, with 299 laps, beating the massive MIT crew.
And in the second segment of the competition, consisting of a 2,000-mile overland race following most of the Oregon Trail, Principia's RA XI won the silver medal with a second place on the podium.
"MIT saw us as serious contenders this year because we won the first part," said Farson, associate professor of earth sciences and engineering. "It did get to be a little more competitive, spicy there, but they never failed to be helpful and cooperative," she added.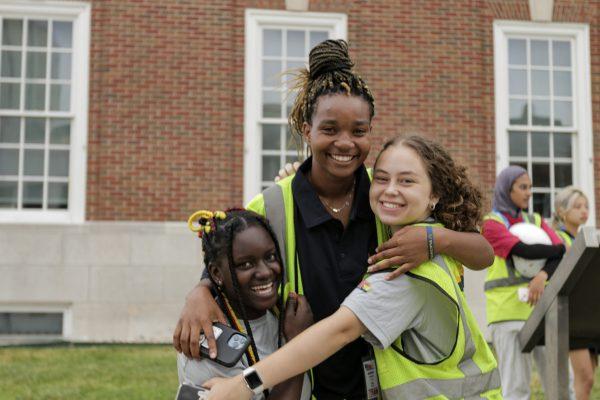 For Farson, Principia's performance pushed both MIT and the University of Kentucky, often seen as the biggest contenders, to excel in their respective races. "If we hadn't been dogging their feet as we did, they probably wouldn't have performed at the level they did," she said with a smile.
There were more than fifteen members on the team this summer, including four faculty. Most students were international, and most were freshmen, too, which means that there wasn't much carry-over from previous years. The car, however, was the thread connecting both the 2021 and 2022 competitions.
Collegiate solar cars are usually rebuilt every other year to abide by the competition's rules. As technology evolves, criteria of acceptance into the American Solar Challenge get stricter and stricter.
RA XI was put together in 2021 despite global shortages and delays. In fact, that year, Principia's team was the only one coming with a new car to the competition, noted Farson. Repetitive braking issues presented quite a challenge to the team, however, resulting in hours of nightwork spent trying to fix problems.
With the pandemic receding in 2022, it was much easier to prepare earlier. Students were onboarded very early on, and on-the-road tests and training even happened all across Jersey County several weeks before the race. The team came ready to vie for the coveted titles.
"[We had] the only car through the entire competition which didn't have any serious breakdown or issue even on the road race," said Njuba, the freshman from Uganda.
Martha Onswabwa, a junior from Kisii, Kenya, is glad she took part in RA XI's successes over the summer. She is grateful for "the opportunity to travel to five states" and notes that the team's victory in the laps segment in Topeka, Ks., "boosted" her experience.
Onswabwa is majoring in both math and economics. She said she wanted to apply concepts she had learned in class and was curious to see how the solar car team operated. After weeks working on RA XI on the strategy crew, she said she would "100% recommend it for anyone."
Unlike bigger colleges and universities, Principia's solar car team is indeed open to all majors. Students can participate regardless of their field of studies and take part in the team's achievements. For Farson, this inclusive environment enables Principians of all backgrounds to get hands-on experience and see how a national collegiate competition works.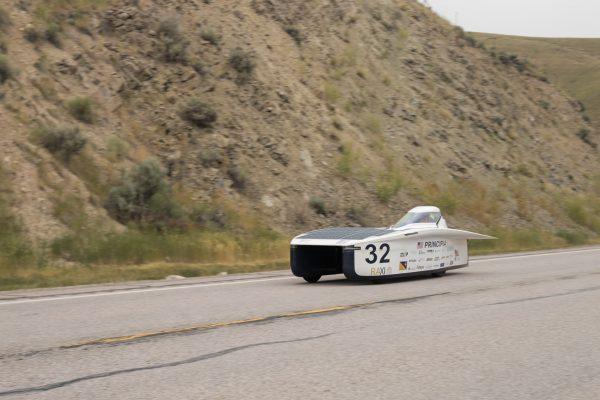 "To give you an idea, our entire school is smaller than MIT's engineering department," she said. "And there, the system is very procedural and only seniors run the solar car team. … That's not who we are. I don't know that's it's a goal to try to get there even."
Principia's RA XI will be for sure participating in the 2023 American Solar Challenge, perhaps as a one-motor car (the vehicle currently has two) – which would provide greater efficiency and lighter weight. And the professors involved are also trying to see if races abroad could happen in the near future, too.
"The World Solar Challenge had invited us to participate in the competition this coming March across Oman," said Farson. "We accepted… but it got canceled, before everybody gets too excited. One of the backers of the race pulled out and then [the organizers] didn't have enough funds, unfortunately."
In any case, Principia's invitation at a world-class competition testifies to the team's ability to shine beyond the Midwest. Teamwork paid off, undoubtedly, and that has been noticed far and wide.
"There were no egos in the way ever," said Farson, looking back at the 2022 solar car experience. "Just humble willingness to dig in and work and rejoice in the successes of everyone."