This content has been archived. It may no longer be relevant
By Quinn Heinbaugh
Being sent home indefinitely because of pandemic to finish the school year is far less than ideal. But in the chaos of video calls, syllabus adjustments, and aligning class schedules with time zones, there are some small perks: Quarantine classrooms are in students' homes or dorms (for those still on campus), which means no grueling five-minute commute and the chance to customize their workspace.
The Pilot took a short – virtual – tour of the bedrooms and basements of childhood now serving as remote Principia College classrooms.
The classroom has become a canvas for senior Aaron Marczi. The art major returned to his home in Canada and was in need of a space to complete his art capstone. His solution was to make a studio in the basement of his house.
"I have two large tables set up so I have a large work-space and places where I can store my materials," he says.
Working from home comes with its challenges. "I don't have the same access to materials as I would in Voney," Marczi explains. He also misses having professors and peers who give him valuable feedback during class.
But he enjoys the minimal distractions that come with working from home, along with close proximity to his kitchen.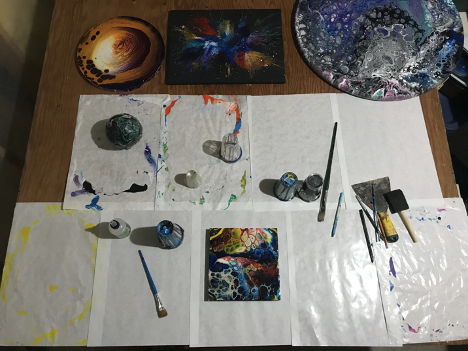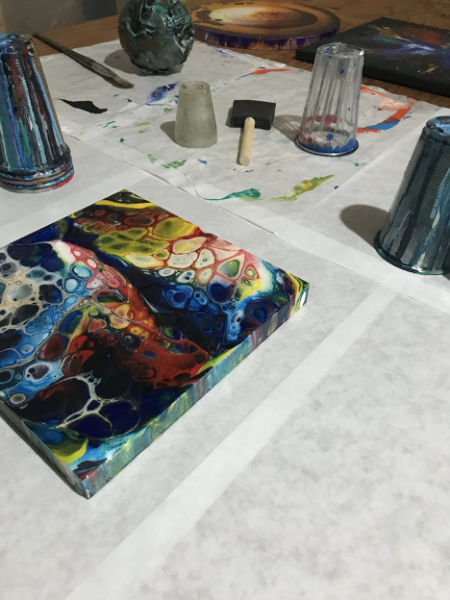 Junior Kelsey Bettman appreciates the opportunity to attend to her adopted baby ferret since remote learning commenced. Located in her bedroom, Bettman's workspace is designed to let her monitor her adolescent furball while attending classes on Zoom.
"It's nice to have [class] in my room so I can let my ferret run around," she says.
The window located near her desk provides much-needed natural light which is good for the ferret and helps better light Bettman while she is on camera. Her bedroom-classroom setup is enabling her to be the best ferret-mother and student she can be.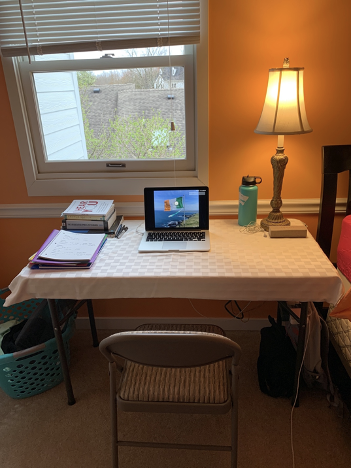 Jessica Bayne studied as a boarder at at the Principia Upper School, so as a college junior, she hasn't spent a semester at home in six years.
When she was forced to pack her car and leave campus, she was unsure of how she was going to adjust to living and working at home. Her home is nostalgic for her, so doing college work in a space she only associates with her childhood feels weird. This was a place where she did science fair projects, played board games, and made crafts. College feels like a whole other world.
Fortunately for Bayne, she is blessed with a backyard that faces Jonathan Dickinson State Park in Florida, providing Bayne, an art major, with the perfect backdrop for her oil painting class.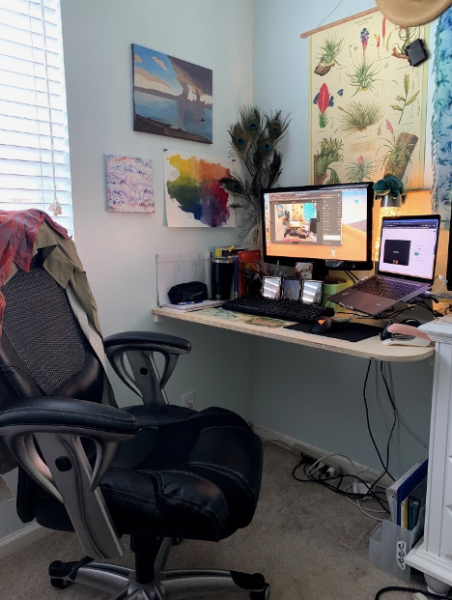 For the weeks leading up to the closure of campus, the world was Sammy Keller's classroom. But after the India and Nepal abroad was prematurely terminated, Keller and his abroad group returned to the United States. He now finds himself at Principia quarantined away from the rest of the students on campus due to his recent travels. He lives in temporary housing in Anderson House, and his current setup is simple and short term.
Despite unfavorable circumstances, Keller is keeping a good attitude. "In these times, it just means that we have to be able to deal with cards that we are dealt and make the most of it," he explains.
After his quarantine, Keller is expected to move into Lowrey House to rejoin the few men of Lowrey remaining on campus. He is from outside of Hamburg, Germany, and his plans to return home are uncertain.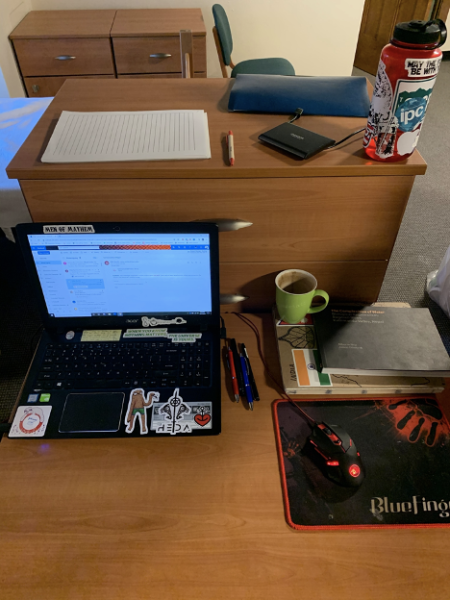 For various reasons, senior Kayleen Rice decided that returning to her home on San Juan Island, Washington wasn't the best idea. Instead, she tagged along with fellow senior Abe Ott on a road trip to the Ott family's residence in Colorado. When she arrived, the Otts put her up in their cozy cottage where she could focus on her schoolwork.
The soft paint color and wooden architecture create a soothing aesthetic, which makes for a productive study space, she says. Comfortable couches give her a relaxing place to study, and a big window provides a great view of the outdoors while giving her good lighting for her video feed.
If she is in need of a study break, she can step outside to enjoy the rural scenery and fresh air. Rice has a wonderful space to study and relax, she says, and she is very grateful for the hospitality of her hosts.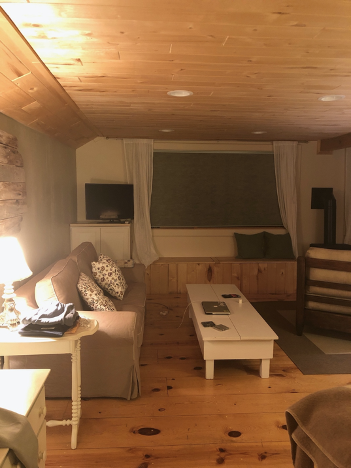 ---
Featured photo at top is Jessica Bayne's converted bedroom-classroom. Photo by Baynes