This content has been archived. It may no longer be relevant
Not long ago, a friend of mine said that there is no way to get the enjoyment of a sports car from a simple, cheap car.  Though many cars could prove this theory wrong, there is one in particular I have found to contradict my friend's silly theory.  That car is the 2008-2009 Volkswagen GLI.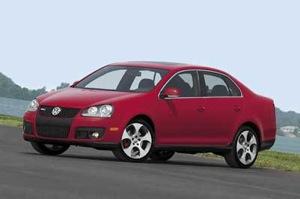 myride.com / photo
First, to give you some brief background, the GLI is a combination of the GTI and the Jetta.  The Jetta is a sedan and the GTI is a souped-up version of the hatchback known as the Golf.  However, the GTI is more than a hatchback.  The GTI was widely used in rally racing as a base, which was then bulked up to withstand jumping the car and speeding through a forest on a dirt road at 100 mph.   In short, to make the GLI you basically have a Jetta body with the bulked-up GTI engine.  And that is what I tested, or should I say, what tested me.
I arrived at the dealership and talked to one of the sales representatives.  In the building and on the way to the car, he told me about some of the features of the new GLIs.  It's not an outrageously equipped car.  It doesn't transform and save the world from aliens.  It also doesn't talk to you while it drives for you as if you were Michael Knight.  However, there are some features that make life a little better.
One such addition is the one-touch blinker.  How often have you changed lanes and had to turn on your turn signal and then turn if off?  Or have you opted to hold it part of the way, then release it so it snapped back into position?  Well, all you have to do in the GLI is lightly push it in the direction you plan to move and let go.  As you return to your driving, the car automatically flashes the blinkers three times and stops.
Before I get to the driving experience, I must tell you about one more significant feature. Volkswagen has produced arguably the best dual clutch automatic transmission on the market. Volkswagen also happens to own Audi, Bugatti, Bentley and Lamborghini, which means you will find this wonderful piece of machinery in other cars.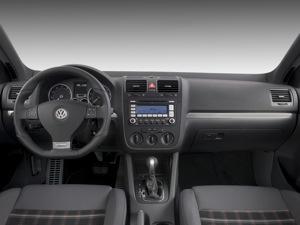 autos.yahoo.com / photo
This transmission is called the direct shift gearbox, or DSG. It's based on the F1 racing transmission and shifts in two-tenths of a second.  How can it do that?  I thought humans could shift faster!  How does an automatic transmission have two clutches?  Well, the clutches are controlled by a computer, and overall there is more science involved than a normal automatic transmission in a normal car or my mother's mini-van.
The basic idea is that each clutch has every other gear on it.  So clutch 1 has gears 1, 3, and 5 on it while clutch 2 has gears 2, 4, and 6 on it.  That way, judging by your speed, the computer can shift one clutch up or down and have it ready for you so when you shift, all it does is change the clutch.  Now, instead of disengaging the clutch, moving the gear selector and reengaging the clutch, all you do is engage one gear while the other disengages.
To visualize how a transmission with two gears looks, you must think outside the box. Imagine you have a clutch that is basically just a disc.  If you cut a hole out of it, that's one clutch.  Now, take the piece you cut out and trim the edges off to make it smaller.  Now replace it.  You now have two clutches that resemble a donut and its donut hole.
When I got in the car, it seemed quite normal with doors, windows, a radio, and seats.  Once I started driving, however, I could tell right away that the engine was bigger.  To be precise, it was a 200-brake horsepower 2-liter, 4-cylinder engine.  As we kept driving around, it was doing a fantastic job handling the curves.  It was very fun, possibly above average, but I wasn't ready to rave just yet.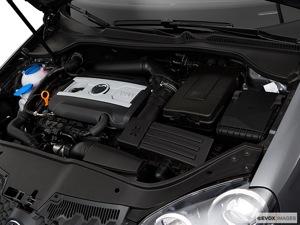 clickmotive.com / photo
Then the sales rep had me stop under a bridge and asked me to put the car into sport mode.  Next, I did as I was instructed and took the ESP (Electronic Stability Program) off, held the brake down with one foot and pressed the gas with the other.  Then I was told to let off the brake.  The car shot forward like a rocket.  I sailed through the atmosphere and into a nasty curve, which made me feel like I was on a bullet train because the car had such good cornering I felt it must have been on rails.
With this launch control feature, the computer controls almost everything, so when it knew I was pressing the brake and gas at the same time, it disengaged the clutches.  As soon as I let off the brake and it knew I still had the gas down, it dumped the clutch for me so the engine shot me to the moon.  Who said automatic transmissions were no fun?
We proceeded to the highway.  I, like many, love to go as fast as I can around the clover leaf, then punch the pedal down so I can soar into traffic.  Soar into traffic I did, and I quickly moved into the far left lane.  I was conversing with the sales rep for a moment and then looked down to discover I was moving at 100 mph without a clue.  The ride was so easy, so smooth, and so quiet!  I was stunned and slowed down.  I then put the transmission into manual select mode so I could tell it when to shift down and when to shift up.  I used this feature to dart around traffic like an adolescent in a video game.
However, play time soon ended.  It was time to go back to being a grownup in the real world.  Overall the car was great.  It isn't too expensive and is a great little economic car to have. However, it has the same intensity and excitement at your fingertips that a lower-end sports car would have.  Therefore yes, you can get the excitement of a sports car in a simple and affordable package.