Please Turn off the Remix
I'm a fan of Girl Talk and Diplo, and I like the way they adapt, remix and mash-up their music. However, I'm kind of tired of remixes as a whole, especially since most of them lack the authenticity that was portrayed within the original track. I guess I am a bit of a traditionalist in this respect. I cannot even listen to whole remixes anymore. You may not agree with me on this, but let's compare some recent remixes and consider how good they are when they're not bending songs to complement their own needs.
Spank Rock "Tell Me What It Look Like" vs. the Todd Edwards Remix
Mr. Edwards may be a big time producer who is partly responsible for Daft Punk's "Face to Face" number one spot on the billboard chart in 2004, but he is out of his league when dealing with Spank Rock. The angelical vocals and electronic back-beat do not make any sense coupled with Naeem Juwan Hank's rough lyrics. The repetitive gibberish from this other-worldly female becomes more jarring than the explicative dropping done by Spank, and the confused nature of the house electronics creates a dichotomy that is in no way enjoyable. (For a good remix of Spank Rock and other musicians, check out Diplo's Decent Days and Nights.)
Florence + the Machine "Heavy in Your Arms" vs. the C-Berg Remix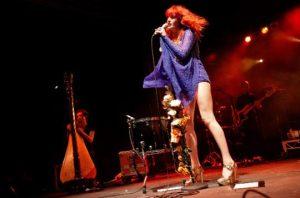 Everyone needs to stop trying to remix Florence Welch. Besides the xx remix of "You've Got the Love" off of Lungs, the attempts to make a remix worth listening to have just been depressing. These remixes are especially depressing because this artist does not need her concepts re-imagined because these "re-imaginings" often butcher anything that was once good about her songs. Case in point: "Heavy in Your Arms."  This song hails from the Twilight soundtrack (yes, it does make me a little bit more than sad to know that some of the most important musicians are opening their veins for the biting saga that will never end), which may be why no one over the age of 12 has heard it. The song itself is eerie and foreboding from the beginning (pre-vocals) and escalates as the chorus rolls around and the accompaniment swells. For some reason, the remix attempts to make the song even creepier by adding horror movie-like comparable beats over and underneath the vocals. This convinces me that listening to this song in the dark would not be the best idea. The remix's resemblance to music on Halloween film soundtracks undercuts the gripping lyrics.
Final summation? Remixes have a high margin of error in my mind. Subjective or not, some things just are not as good as the original. So the next time you get stoked about a new rendition of your favorite hit, consider that it may be just as awful as these remixes. Be cautious in order to prepare yourself for the slaughtering of the original song's integrity.
On a lighter note…
It's funny how new singles related to forthcoming albums often remind me more of the previous songs by a particular group than their current sound. I mean, what can you really say about an album that has not dropped yet when you have only one song to talk about? Not much. Any premature notions that I may have about the new album would most likely become totally irrelevant after hearing the album in its entirety. That is, unless the album is just a concept album, but even then, concepts intermingle to a point that one song can surely not represent everything that will be said. So let's look back instead of forward, and let this new release remind us of how awesome a particular band has been previously.
Cold War Kids is coming out with a new album in January of 2011 that will be called Mine Is Yours. Will poignant togetherness be considered? It could happen.
Song that you can listen to and/or download: "Louder Than Ever" http://rcrdlbl.com/artists/Cold_War_Kids/track/Louder_Than_Ever
Reason why this album may be worth listening to: Did you ever hear their 2008 album Loyalty to Loyalty? Maybe "Something is Not Right With Me" rings a bell. That song is the pop end of a narrative-filled introspective album that involves the lead singer, Nathan Willet, taking on several different personas. The best persona is his embodiment of a woman who is summarizing the unhealthiness of her relationships with the men she loves in the song "Every Man I Fall For." The rest of the album dips in and out of seriousness and understandability, but the stressed vocals and varying instrumentation is enough to feel a level of anticipation for what the next album could hold within its tracks. For a teaser of this album to be and their upcoming tour dates visit the band's website, http://www.coldwarkids.com/.