By MCOM 224 Feature Writing class

Dana Cadey, Lotti Bollattino, Peter Hagenlocher, Aurora Muller, Lily Oyer, Emme Schaefer, Hannah Sipe, and Marc Trinidad
In some ways, being a Zoomer learning remotely has made the previously impossible improbably possible – and hilarious.
Moms and ferrets photobomb your professors' serious lectures; your messy bedroom is on display to classmates; a professor's wobbly canoe sends his iPhone – with the class Zoom video -– into a pond.
The grid of video frames on laptops is a theater of the absurd – an odd sideshow to the professor's main event.
From the remote classroom – whether a kitchen, bedroom, TV room, or, yes, even a bathroom – comes a Pilot compilation of Principians' zany Zooming experiences.
Best seat in the class?
Senior Mourad Sami sees many benefits to online-only classes – not least of which is being able to multitask. Like, say, going to the bathroom while he's in class.
"If you need to, you can mute your mic and webcam, and go use the bathroom, but still listen in so you don't miss any information that might be valuable," Sami says.
But that's putting it mildly. Sami who has 1.2 million followers on TikTok – @bvtts – actually illustrated his point on the social media video site: An iPhone video shows his laptop perched on the bathroom vanity ( a grid full of classmates on the screen) and him perched on the toilet, pants around his ankles.
Sami did note on his post: "Don't worry, my webcam doesn't work." While his class didn't see what he was doing, 95.6K viewers did – and 21K "liked" what they saw.
Chaos in a canoe and team teaching with Bob Ross
Professors have been good sports about the difficulties of remote learning and are trying to lighten the atmosphere of pandemic separation.
Professor Adele Martin welcomed her French class to the new online portion of the semester with a French hotel background that had a view of the Eiffel Tower outside of the window behind her.
Art professor Duncan Martin and archaeology professor Andrew Martin went extra miles.
Duncan Martin placed a talking "Bob-ble" head of Bob Ross – the amiable artist and star of the old PBS show "The Joy of Painting" – on top of a paper towel roll to start his oil painting and senior capstone classes.
"It was hilarious," says Victoria Vandiver, a senior from St. Louis, who captured the photo below.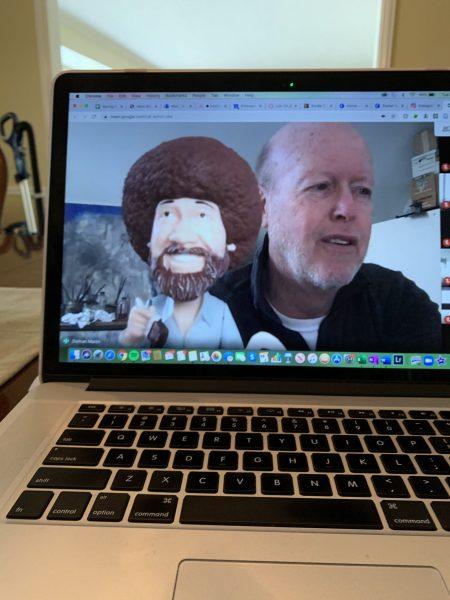 "We were live and I had him pop in and out of the conversation," explains Martin. "He would bop in at various times during class and he also signed off for me."
Most experiential education classes have accepted the transition to some new course material, but dedicated professor Andrew Martin still took his "Intro to Archaeology" class into the outdoors at Doc Mugumba's pond near Eliestoun – via Zoom on his iPhone.
"The experiment was my attempt to make an ancient boat or coracle, which many ancient people across the world used," explains Martin.
When the twigs Martin was using didn't work, says senior David McCook, Martin "decided to get in his canoe for a little entertainment."
Sophomore Olivia Denson recounts how while Martin was pushing off in the canoe, he dropped his iPhone: "My classmates heard him yell, 'Noooo!!' and reach towards his phone, but then [his Zoom video frame] froze… He disappeared completely from our Zoom call and that's when we all realized that something had indeed gone sideways."
McCook captured a brief recording of the class reaction on Zoom showing Martin's frame frozen and students clapping hands over mouths giggling wide-eyed and nervous.
"Unfortunately my phone fell in [the pond]…" confirms Martin. "Amazingly it still worked after I fished it out, and the students were still there on Zoom! So I asked them if they saw any tadpoles while they were at the bottom of the pond, and [I] continued the class."
He didn't miss a beat, says Denson: "He then proceeded to paddle throughout the pond and tell us about how, in the past, water acted as roadways and was the most popular form of travel for ancient civilizations…. He knew we were all feeling a bit claustrophobic not being able to explore [or] enjoy local nature and outdoor attractions, so he brought it to us!"
The 10 second audio delay and the art of ducking out
Students are accomplishing so much remotely – like recording themselves doing squats and arabesques to distant drummers to get credit in P.E. and dance classes.
Senior Katie Penfield mentioned that her ballet professor Erin Lane turns on the music on her end of a Zoom call and expects the students to dance wherever they are.
"Some things are delayed, and you're trying to move with everybody, but you're like … what?!" Penfield muses.
Unfortunately, for senior Billy Brooke, a member of the "Dance as Movement" class, he doesn't have a laptop camera. "It's a bit tempting to just join audio and sit there rather than actually participating, so I do have to watch myself a bit more closely to make sure that I'm not falling into that trap," Brooke says.
Bree Schwabe might as well be underwater – as living in the California wilderness near San Francisco – when it comes to audio quality. She doesn't have the best internet connection, and when she says anything on Zoom calls, her voice buffers and becomes choppy. A short sentence takes up to 10 seconds to be transmitted. It's not easy to hear other people on her end either.
And, unlike in-person classes where you're in it for the long haul or embarrassing yourself if you have to pack up and leave early, online learning offers the ability for students to, essentially, leave class whenever they want. It's easy to hit "end" on Zoom or "leave" on Google Meet and dissolve into the ether once you've been counted for attendance, especially if the professor isn't the most perceptive. Even if a student is identified as having left a class early, they can blame the exit on a faulty internet connection.
'Mute, Jack, mute!'
Principians are learning the hard way to be more heavy handed with the mute button.
More than one unfortunate student was embarrassed while eating and had forgotten to turn off their microphone which was right next to their mouth while crunching away as the teacher tried to continue speaking over the crackle and pop of crackers or carrots or Doritos.
"I literally could have sworn I was muted," says sophomore Jack Adler, echoing a familiar Zoomer lament.
To his embarrassment, he turned away from his screen to gripe to his brother about the Canvas virtual classroom software not working well – but every word of what he was saying was being piped loudly into the teacher's virtual class.
"It was funny, but at the time, I felt bad… I wasn't trying to shame [the professor]," he says.
When he turned back to the screen, Adler says he met "15 comments like, 'Mute, Jack, mute!' 'Jack, please mute!'
And Adler learned a similar lesson with the "private" chat function in Zoom: it isn't private. After bantering back and forth with a buddy in about 20 entries on the first day of remote classes, Adler was advised by a classmate that other students can't see your side conversation but … whoever initiates the Zoom call can see it, and that's usually your professor. Fortunately, he says, that teacher was "not tech savvy."
Slip, crack, drop
Within the first 15 minutes of the great remote learning experiment, an unexpected interruption landed right in front of sophomore Robbie Robison – literally.
Just as his professor was discussing the logistics of their new online French class, Robison opened the blinds of his bedroom window in Newport Beach to let in more California sunlight – and a license plate decoration that sat above his window for the past seven years fell from its spot onto Robison's laptop.
A sickening crack split the air, echoed into cyberspace, and … broke his laptop screen. It was unfortunate for Robison, but weirdly entertaining for the classmates who witnessed it.
"Our professor was kind of confused, but we all laughed," recalls senior Ava Lesko, who heard the accident at her own desk in Pennsylvania. "[Robison] was trying to be chill and not disrupt things but was laughing."
iTumbles and slobbery dogs
You might assume that since students aren't physically with each other, distractions disappear. But, no. Virtual classrooms present distractions in whole new dimensions.
Suddenly there's an unedited parade of life going on: Sophomore Viviane de Castro's mom, for example, serving her breakfast in bed during class; the whir of a blender producing a smoothie; sudden yawns that engulf a whole Zoom frame.
Those endless possibilities are what lead junior Brian Malambwe off track.
Take, for example, Malambwe's "Race & Ethnicity" class with Professor Billy Miller. It's usually a pretty intense class, but on one recent day most of the class of 17 students attending online seemed oblivious to the teleconference video grid frame of one student using their iPhone to attend class via Google Meet conference call.
Malambwe, who is still residing and attending virtual classes on campus, could hardly stifle his laughter as he watched the struggle that student was having with their video. They couldn't get the phone to stand steady, and it frustratingly kept falling through the whole class, repeatedly exposing his classmate's messy room.
"People didn't laugh, but I did laugh hella hard," says Malambwe.
The smaller the group, though, possibly the smaller the laugh, observes Malambwe. Imagine being in a class with just your professor and one other student. Awkward, right?
Now add a dog to the mix. During Malambwe's two-student chemistry class, the professor's adorable white dog kept entering the camera frame and showering its owner with slobbery kisses. Definitely cute chemistry, but not necessarily high level chemistry.
Classtime: Share it with the ferret
Less conventional pets make appearances as well.
Junior Kelsey Bettman, with her new ferret, Finn, is learning the pros and cons of motherhood on the brink of mayhem as Finn relentlessly tries to join her classes.
"One time I heard a crash," says Bettman. "I turned behind me and [Finn] had found his way into a box and couldn't get out. So, I had to leave [class] and go get him."
"He loves to crawl into my shoes if I have a pair sitting next to me during class," she says. "Ten times out of ten I will look down and all I see is his little butt sticking out of the foothold of my shoe."
Lowrey rowdy remotely
Despite the fact that many students are not on campus (or even in their normal houses), one important aspect of the Principia community remains unchanged: house cultures. Like many other students involved in house leadership, the rowdy board members of Lowrey have stayed connected through regular virtual meetings.
Junior Sammy Keller, a Lowrey resident, realized during one of these meetings that he was late for an abroad meeting that he had at the same time. In classic Lowrey fashion, he asked: "Y'all wanna hang out in my class?" – an easy 'yes' for every Lowrey board member. Immediately after the Lowrey board logged into Keller's abroad class, senior Abe Ott yelled, "Wait, this isn't the Lowrey house meeting!" The Lowrey men left the call soon afterward and let the shocked students assume their abroad meeting in peace.
It seems that even as Principians become "Zoomers," our community – for the most part – stays the same.