March in St. Louis Observations
Maddi Demaree, Women's Issues Reporter
On the day after President Trump's inauguration, millions of people gathered for marches around the world in response to his controversial rise to power. Such locations include Washington, D.C., Los Angeles and St. Louis.
At the St. Louis march, thousands of people of all ages, gender identities and races converged on Market Street to walk from Union Station down to the Gateway Arch. Signs were painted with phrases such as "Women United Against Oppression," "Love Will Win," "Black Lives Matter," "Climate Change is Real," and even a few signs featuring pictures of the toy doll Barbie with "#freeMelania" on them.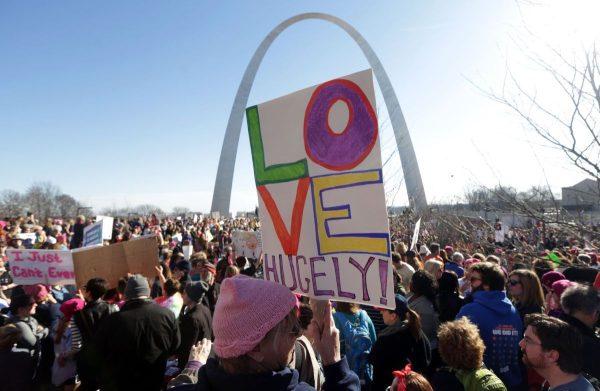 A few Principia students had the opportunity to participate in the march as it was held in the last moments of their winter break.
Freshman Zoe Boyman, who attended with her mom and sister, explained that she was marching for, "equal rights for men and women," and that the degrading comments made by the President were, "appalling," to her, making her want to support other women who reacted similarly to his comments.
As the crowd walked the mile and a half route, different chants circulated throughout the crowd, including, "Love Trumps Hate", "Hey, Hey, Ho, Ho, Donald Trump has Got to Go," and "This is What Democracy Looks Like."
Participants described the feeling in the crowd as powerful, friendly, welcoming and peaceful. One demonstrator characterized the event as a, "beautiful show of solidarity."
Sophomore Samantha Frank described her reason for attending as showing her support of equal rights. She elaborated, "there are marginalized groups in this country and part of the perpetual problem is that the majority of Americans turn a blind eye. [Americans] are good at ignoring the struggle of others here, [because] the testimonies of those struggling challenges our illusion of perfect America where everything is already equal. Going to the march was my way of both refusing to be silent and complacent, and insisting on listening to others who are speaking from their own validity."
Senior Anna-Zoe Herr, who attended with Frank, had slightly different motives for attending. "I marched for progress," she said. "I wanted to make sure that I am not marching against President Trump, but always frame what I am doing in a positive way."
One student, who wished to remain anonymous, cited his reason for attending as an opportunity to do something in response to his outrage and disappointment. "It's really easy to talk about how upset you are with the system," he said. "I felt that instead of just complaining, I should do something. I marched because I support everyone having their rights."
One notable participant was Missouri Senator (D) Claire McCaskill. The Senator attended the inauguration in DC the day before and then marched the entire route,often speaking and taking photos with constituents before speaking at the rally at the end of the march.
Her remarks at the rally were brief, but passionate, and touched on the introspection she faced after Missouri voted Trump in November. She also mentioned how her experience marching gave her, "a renewed sense of the fight," and her final remarks ended with reminding attendees to come out to vote in 2018 and 2020.
Principians involved throughout the day's activities were passionate about their choice to attend, and have now extended their reach to subsequent marches and rallies.
Image courtesy of St Louis Dispatch