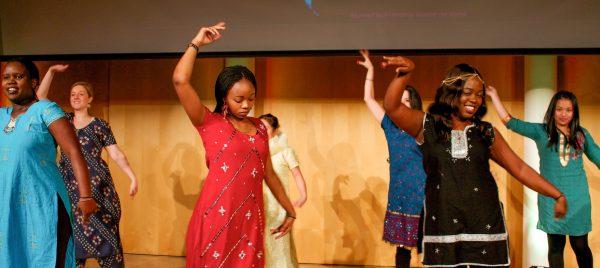 The 13th annual Whole World Festival held in Wanamaker Hall on March 1 was full of pomp and color. Participants were adorned with elegant and fashionable dress, clear displays of the culture and diversity that were this year's main themes. The lively festival was hosted by freshman Gwenydd Kirkpatrick and senior MoonHee Kwon.
Dances, songs, poetry and skits showcased the performers' talents and gave voice to their respective cultures. Junior Enyonam Akpoblu of Ghana kicked the night off with a poem recitation. "People make culture and we can change it. Culture is constantly changing," Akpoblu said.
The F4 trio – comprised of senior Benedick Suryanata and juniors JV Duran and Arthur Soemarsono – rocked the stage with a Chinese song called "Qing Fei De Yi" by Harlem. The crowd cheered and saluted them on their performances. Freshman Grace Njogu commented on the trio's performance, saying that "it spoke to her in a different way." She appreciated their technical skill as singers and "the video clips [that ran before and after] their performance also helped to bring out the mood of the song to people in the audience [who didn't understand the language]."
"We wanted to bring in something different and we felt that the videos in between the performances would keep our audience engaged," junior Shirley Moihloe, president of the Friendship Around the World club, said.
Out of the 11 performances, the Carnival Revival Group and the Ainvayi Ainvayi Indian dancers were two performances that really revved up the crowd.
Kirkpatrick said that the Carnival Revival and the Ainvayi Ainvayi Indian dancing groups were astounding. "Even though the energy of the dancers stood out to me, I thought that the festival as a whole was such a beautiful collection of cultural diversity," she said.
Many international students in the event were once again connected with the smile of their former "international mother," the late Bente Morse. The two-minute video reminded many students of the warmth and love they felt from Morse.
This year's festival took a different direction compared to previous years. In the past, a fashion show always marked the end of the occasion in a colorful way. However, it was not observed in this year's celebration. Moihloe said "the fashion show was missing because it was preserved for parents' weekend, which will be in April. Many parents have not encountered international students, and I think this will be a good opportunity for parents to meet them."
Moihloe said that the festival was an incredible success, noting the dedicated board, lots of planning and proper advertising of the event. She also passed her gratitude to the attendees who supported the event.