This content has been archived. It may no longer be relevant
Students recently received surveys from Dining Services asking for input on aspects of the convenience store, which is expected to open next quarter in the old student government office.
The Dining Services survey sought student opinions on staffing hours, employment, décor, items sold, and more.  This is the next step in expanding the Dining Services repertoire, although momentum is building in other aspects of the convenience store movement.
Senior Katie Sydness, the Dining Services student representative, said Principia has chosen to work with an architectural design company called Porter Khouw that has designed convenience stores for over one hundred other universities.  The architects expect the project will be completed by early to mid-spring quarter.
Student Body President Will Buchanan said that since the concourse is an old building, the architect has been hired to determine the most cost effective and energy efficient way to get more electrical power to that space. The cost of completion is unknown at this point, but Buchanan said, "We hope that whatever it costs to make the store, we will make it back in a few years."
Last quarter, Principia approved a proposal for an on-campus convenience store. Dining Services Director Lance Thornton said the overall purpose is to have "grab-and-go convenience [that will] enhance the offerings and the current meal plan program."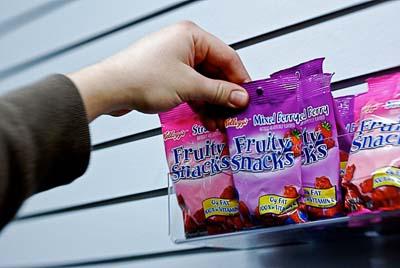 Although many details of the convenience store are still in the very earliest stages of development, student government and the administration have decided to put the convenience store next to the Pub. Student government had been using the space behind the Pub for its offices, and they agreed that it would be more appropriate to relocate those offices. Buchanan said he is excited about the new student government offices in the School of Government.
Thornton said this is the ideal location for students who want to buy their food in bulk and have some variety.  No business will be taken away from the Pub, Scramble Room, or the Bookstore because they are all under the same financial umbrella. Buchanan said, "Let's take some business away from Schnucks and keep the money here."
Thornton said that the idea is to have the store be mostly student driven, so Dining Services has been working closely with student government to determine and meet the needs of students.
Buchanan said there is a demand among students for a variety of food options. A selection of vegetables, eggs, and milk would empower students to cook their own meals. Trey McCartt, Assistant Director of Operations for Dining Services said, "If students want it, I'm game to put it in there. It's for the students." Buchanan said that many members of the faculty and staff that live on campus have expressed an interest in the convenience store as well.
Sydness said the administration saw a need for another kind of dining room plan where students who are up doing papers can come grab a quick meal during late night and early morning hours. Although the convenience store will not be staffed for the full 24 hours, it should be open until 2 a.m. most nights of the quarter, including finals week.
Sydness said that student government did a survey last quarter which showed that half of students were satisfied with vending machine snacks, while the other half wanted more of a grocery store on campus. To accommodate this, Sydness said the convenience store will sell items like Sun Chips, yogurt, fruit, Naked Juices, soup, Luna bars, Clif bars, and other light meals. In addition to these offerings, there will most likely be vending machines stocked with chips, candy bars, and even some healthy snacks to provide another option on those late nights.
The convenience store will not be open at the same time as the Pub and the Scramble Room, so there will not be much of an effect on existing dining options. However, the convenience store will carry more varieties of packaged goods, so if students need to stock up, they can do so at the store instead of at meal times in the Scramble Room.