In April of 2007, Principia College opened the versatile Crafton Center, home to swim meets, track meets and a two-story fitness and weight center. Crafton was only the first project on a list of numerous athletic facility upgrades that the athletic department is proposing over the next few years.
Lee Ellis, Athletic Director at Principia College, said recently that "[head track and cross country] Coach [Chuck] Wilcoxen and I have talked about the prospect of hosting a national championship in 2013." If Principia College were to consider this, the cross-country course on the other side of Beltrees Road would need to be revamped. There are specific guidelines that must be followed in this process so that the course will be up to par with national hosting qualifications. "We will have to move a little dirt, which we hope to have done by 2012," said Ellis. The goal is to have the course certified by 2012.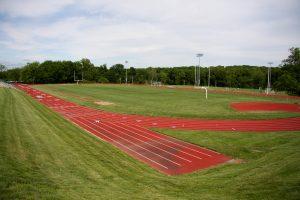 By the fall of 2011, the cross-country team will also have a new team gazebo.   "This gazebo represents a long, long, effort to build a useful structure for the cross-country team," said Wilcoxen. "It will also help us remember our friend Erika Myers, who was a very important part of our team and passed away the summer before her senior year."  Members of facilities are helping to build the gazebo with wood harvested from the Principia College campus.
In the next three to five years, the athletic department is also hoping to build a brand new eight-lane outdoor track to replace the old six-lane track that the college currently uses. Wilcoxen said: "In its day, the track was state-of-the-art. I have coaching friends who ran their first race on this track here in Elsah. It's been a great track for a long time, but it is time to change. A rounder track yields faster times, and teams want to run where they'll run fast. It is something I take into consideration, so I'm sure other coaches and athletes do, too."
Since Principia no longer sponsors a football program, Ellis hopes to construct a new soccer pitch. The pitch will be located in the center of the track and will be equipped with lights and new stadium seating. "The current game field for soccer will be turned into a multipurpose turf field, so we can use it for lacrosse, soccer and rugby practices, and any other activities that the students need it for," said Ellis. The practice soccer field on the other side of the track will be converted into a parking lot in order to accommodate traffic from what will hopefully be more well-attended games and possibly national championships.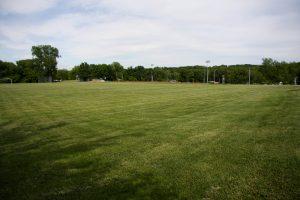 As many Principians are aware, the baseball field has also recently undergone several major changes. The athletic department, with the help of donors, has added a press box and stadium seating. "I feel now we have one of the nicest baseball stadiums in DIII college baseball. The players love it, the energy is there, the crowds love it. The stadium gets rockin', especially for night games and it has helped jolt some life into the program," said Pete Paciorek, former head baseball coach.
The new press box enables Principia Internet Radio (PIR) to broadcast live and it also keeps the scorekeepers dry in wet weather. Loudspeakers have also been added to play music for the crowd and make it easier to hear the players' names when they step up to bat. "With these new additions, we hope to host a regional or even national championship on our field," said Ellis. This improved facility will help the program improve in future seasons as well. "With top-notch facilities, we are going to attract top-notch athletes, which will in turn result in better performing teams," said Paciorek.
The construction of the softball field just last year is another notable addition to Principia's athletic facilities. However, the field is still not complete. "There are still two pieces that need to be addressed," said Ellis. "One is the lack of lights and second is how to get power to the fields." Right now, the women currently play some of their games at 1 p.m. These early game times pose a challenge because the women cannot miss class for home games. Therefore, it is important that power become accessible to the field so that games can have later start times. The design of the baseball press box will also be used in the construction of the softball field's press box. Principia will hopefully be able to save time and money by using the same design. Like the men's box, the women's box will also have seats and a place for PIR to report from.
The Hexberg tennis complex may also need to undergo updates in the near future.  "When we are not using it, Saint Louis University (SLU), Lewis and Clark and Southern Illinois University Edwardsville (SIUE) all use our courts," said Ellis. "It is 20-plus years old and needs renovating." The athletic department would like to add two more courts and improve the locker rooms and the spectator viewing area.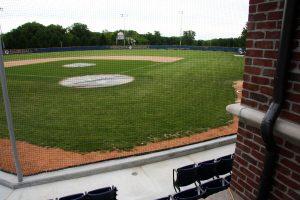 All of these changes and additions have been articulated as part of the master plan currently under consideration by the college administration with the hope that the completion timeframe is between 3-7 years.
"As of right now, we cannot host most of the bigger events like nationals," said Ellis. "We just made baseball able to host." The athletic department hopes that these additions will enable Principia to host national competitions in soccer, track, cross-country, softball and tennis. "I know our teams will get to that point, so when they do, I want our facilities to be at that point too," said Ellis.