This content has been archived. It may no longer be relevant
Principia Abroad Programs 2012 – 2014
The Principia Pilot, in collaboration with the Principia Abroad and Field Programs Department, is proud to announce the upcoming abroad programs for the fall semester of 2012 through the summer of 2014.
If you want to skip right to our announcement feature, please go ahead. We understand this is exciting.
It's fun to pore over the map and see the places you might travel to in the coming years. Maybe you'll recognize some of the programs your friends have been on, having heard all their stories about memorable home stays, wilderness treks, embarrassing moments and spiritual healings. Other programs are happening for the first time in Principia history in countries and regions that are arctic, tropical or somewhere in-between. We hope that as you look over the programs, you'll see something amazing, something that catches your eye or sparks an interest. Something that makes you say, I want to do that.
Abroad programs are perfect examples of the hand-wrought kind of education upon which Principia is founded. Abroads are life changing. Students come back from abroad programs changed in some way: they've developed new career interests, learned more about Christian Science, become more comfortable living with other people or perhaps just become more confident navigating foreign subway stations.
With Principia changing to a semester system, you might notice some differences in the upcoming programs. For each academic year, there are three full-semester programs and two shorter programs. Shorter programs will last 3-4 weeks and will take place either during the winter break or the first month of summer vacation. Semester-length programs will combine abroad preparation and the abroad itself into one academic term. In most cases, students will spend several weeks on campus completing preparation programs that would, in a quarter system, normally occur during the quarter prior to the trip.
Bon Voyage, Principia!
Japan – Fall 2012
Leading Professor: Linda Bohaker
Program Courses: Japanese Language, Japanese Culture and Society, Japanese History
The Land of the Rising Sun is a country full of discoveries waiting to be made. What will you learn about yourself and Japan while on this trip? Visit ancient temples and have lunch with geisha while studying the language, history and society of Japan. Students will work to understand important turning points in Japan's history while living with host families, touring the cities of Kyoto and Tokyo, attending language classes, and much more. You might even try some green tea-flavored chocolate and see a sumo wrestling match.
Peru – Spring 2013
Leading Professor: Cecily Quintanilla
Program Courses: Spanish Language, Biology, Peruvian History and Culture
Have you ever wanted to explore one of the most fascinating countries in South America? Ever thought of visiting a floating village or seeing ancient Incan ruins? Then spend the spring semester studying and traveling in Peru! Students will improve their Spanish skills while also studying the biology, history and culture of this unique country. Trek though the majestic Andes Mountains, visit the desert coasts and even explore the headwaters of the Amazon River. You'll stay with a host family and perhaps sample guinea pig at a meal!
Tibet – May 2013
Leading Professor: John Williams
Program Courses: Tibetan History and Culture, Independent Research Project
3-4 Week Program
Tibet is one of the most spiritual and mysterious regions on the planet. Journey to Tibet in order to discern the competing narratives of Tibetan-Chinese history and immerse yourself in the many facets of Tibetan history and identity. Courses include introductions to the history, society and people of Tibet. Students will visit Buddhist temples, create relationships with Tibetans and learn about this country's rich history and culture.
Greece & Turkey – Fall 2013
Leading Professors: Dan Kistler and David Coughtry
Program Courses: Studio Art, Digital Media, Greece and Turkey Culture Studies
Imagine yourself on the shores of the Mediterranean, capturing the beauty of Greek temples in strokes of paint, pastel, pencil and digital media. All that and more awaits you on this unique trip. Criss-cross the countries of Greece and Turkey on a journey that will have students creating their own unique experience and cultivating their understanding of the people of the Mediterranean. Program participants will explore the rich cultures of Greece and Turkey as artists, social researchers, architects and historians. Classes include digital design, art and country studies.
Alaska – January 2014
Leading Professor: Michael Booth
Program Courses: Species, Ecology and Resources in Alaska
3-4 Week Program
Alaska—there's no place like it on Earth! If you love the snow and working in the field, then this program might be for you. Cross-country ski and snowmobile through the tundra and mountains of Alaska while focusing on the important roles biology and natural resources play in the shaping of the state's future. Students will conduct field research from the Universities of Alaska in Fairbanks and Anchorage. The program will study the evolutionary adaptation of organisms, Alaskan ecology, and the extraction of environmental resources.
Spain – May 2014
Leading Professor: Duncan Charters
Program Courses: Spanish Language, Spanish History and Culture, Religion of Spain
3-4 Week Program
From bustling Barcelona to sunny southern coasts, Spain has it all. There's so much to learn! Experience the country of Spain through its language, religion and culture. Students will participate in intensive language study programs, live with homestay families, visit historical sights, meet Spanish Christian Scientists and become stronger, savvier world travelers. Classes include the study of Spain's major religions, Spanish language and Spanish culture. Not a bad start to summer vacation, right?
Russia- Spring 2014
Leading Professor: Dr. Helene Brown
Program Courses: Russian language, Russian History, Russian Art and Culture, Russian Politics
Spend a portion of your spring exploring St. Petersburg and Moscow after thorough on-campus preparation! In the words of program leader Dr. Helene Brown, "Understanding Russia, its people and its role – past, present and future—is key to a visionary, healing approach to our world today." The goal of this focused abroad is to understand more clearly the political formation and history of Russia in order to prepare Principians to be healers of the world. Through grappling with the pertinent questions of war and terrorism – timeless questions explored through centuries of Russia's art, literature and politics – students will get to know Russia, an important player in today's world politics and events. Students can expect to grow, learn, have fun and fall in love with a foreign culture and its people. Oo veedeemcya tam! (See you there!)
St. Lucia- Winter Break 2012-2013
Leading Professor: Lauren Hinchman
Program Course: Outdoor Education
As the snow falls quietly in Elsah, why not pack up and travel down to St. Lucia, a tropical island in the East Caribbean for an educational adventure in experiential learning? With Professor Lauren Hinchman, you can explore "learning by doing." You can expect to hike into a volcano, sea kayak, snorkel and navigate a high ropes course in the tropical rainforests of St. Lucia, all while learning more about what community means—building a strong one within your abroad group. You can look forward to an active, sunshiny time while "doing" outdoor education on the island of St. Lucia!
San Francisco Field Program- Spring 2013
Leading Professor: Roz Hibbs
Program Courses: Internships, Leadership, Current Issues in California
Leadership: Everyone appreciates good leaders and the world needs them today. Whether you work for a bank, a non-profit, an investment firm, a museum or a university, having strong and refined leadership skills will help you go far and empower those around you. Spend Spring 2013 in the lively, gorgeous and historic city of San Francisco and learn how to put your leadership skills into practice – on the job. Students on this abroad will be set up with an internship in their area of interest, take a course on leadership, meet with professionals in their fields of work, learn about current issues in Northern California, and explore the beautiful Bay Area and beyond. This is a great opportunity for majors in all fields of study to explore their interests in the professional world.
Czech Republic- Fall 2013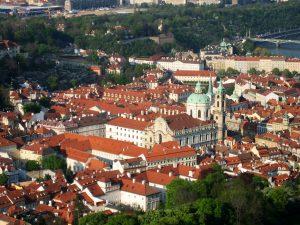 Leading Professors: Dinah Ryan and Paul Ryan
Program Courses: Studio Art, Creative Writing, Czech History and Literature, Czech Language
What better location to hone (or discover!) your artistic and creative writing skills than in the beautiful and inspiring city of Prague? Explore moral questions through art and literature while learning about the fascinating history of this ex-Communist Block country and how art played a role in giving this nation a voice during years of political oppression. Explore the city, test your survival Czech; create a portfolio of your artwork; feel inspired while writing short stories in a city park; talk with working Czech writers and artists about their work and the creative process. Delve into creativity on this abroad and get ready to become immersed in the rich culture of an artistic city while you yourself become a working artist and writer. This abroad is open to all majors.
Well, now you've seen them—the ten abroads spanning the next two years at Prin. We hope this brief itinerary of travel destinations has sparked the explorer and learner in you. Whether you find yourself cross-country skiing through Alaska, scaling high ropes courses in the rain forests of St. Lucia, or chatting with Japanese geisha in a historic tea room, be prepared to grow, learn, be inspired, experience healing, open your mind and have fun. You can't go wrong.