This content has been archived. It may no longer be relevant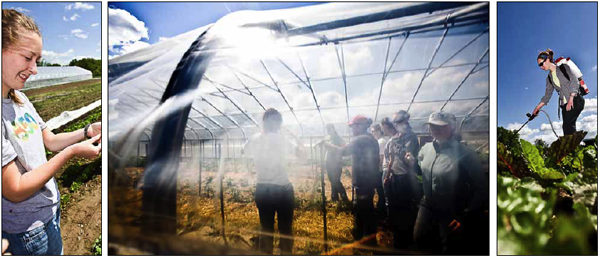 Twice a week, senior Molly Hayes, junior Jenn Odell, sophomore Lulu Mosman, and freshman Emma Lowenberg venture into Elsah, where they learn about organic agriculture as interns on the Three Rivers Community Farm. Dirty knees and dusty pants are hallmarks of their work.
On any given farm day, these students can be seen weeding, mowing, planting seedlings or seeds, or doing anything else that the farm needs that day.
Farmer Amy Cloud runs the Three Rivers Community Farm with her husband Segue Lara. Started in 2006, this organic operation rests uphill from Elsah proper, just off of Chautauqua Road. Cloud and Lara live with their eight-month-old son Diego on this small-scale, chemical-free operation, which is a form of community-supported agriculture (CSA) that is located just a couple minutes from the Principia campus.
Lowenberg loved the opportunity to jump right into work. "Amy started us out right away, and we were weeding on the first day," she said.
Mosman applied for the internship, inspired by author Barbara Kingsolver's book Animal, Vegetable, Miracle, which records the Kingsolver family's year of eating only locally or homegrown food. "I love the local aspect of organic farming," said Mosman. "Farming and gardening takes skill and a little bit of knowledge, but once you figure it out, it's easy, fun, and active." As for weeding, Mosman does not see the task as a chore. "I look at it as 'eradicating evil from the soil,'" she said.
Tractor training is an essential skill that interns need to acquire. The machine is an intern favorite; the dated tractor from '73 sports a bright orange mower, which jostles as its blades whir over the pasture. "It's crotchety and has a lot of personality," said Lowenberg.
Mosman said she has loved her internship and has learned much about sustainable agriculture. "It's a lot of work, but we're making it more productive for [Amy and Segue]," said Mosman, "I love the idea of fresh food without pesticides, fresh from the earth. I love supporting small businesses. I mean, this is their passion."
Cloud said she thinks internships are great opportunities that provide personal knowledge about a particular line of work. After all, internships helped steer her away from a Windy City desk job back to life on the farm.
As a senior in college, organic farmer Amy Cloud completed a publishing internship in Chicago as a Literature major. "After high school, I didn't want anything to do with farming," Cloud said. Having grown up on a corn, soybean, and dairy farm in Michigan, she had witnessed first-hand the struggle to make ends meet. But the noisy, crowded, big city environment of Chicago did not suit her. "It was not my cup of tea," she said. "I was living downtown, and I felt out of place."
After meeting a farmer in Kentucky who was using sustainable methods, and after interning on an organic farm, Cloud knew right away that she had found her passion. After first leasing land from Principia in 2006, Cloud found a way to make her passion profitable in the village of Elsah. "I love the direct relationship with the community," Cloud said. "I love the small scale."
In addition to biweekly visits to the farm, the internships contain academic components. The intern group meets weekly with Biology professor Mike Rechlin over lunch to discuss readings from Michael Pollan's book Omnivore's Dilemma, which examines the American food industry. "Reading the book goes hand-in-hand with what we're doing," said Hayes. "Being out on the farm, seeing how everything grows, and how we have an impact."
Interns will also complete an individual project which allows them to examine in depth a particular facet of organic farming. Mosman brightened as she explained her topic of choice: heirloom vegetable varieties: "They come in all different colors, varieties, flavors. They're better for the soil, because they use different nutrients than conventional varieties do."
Hayes is exploring how a farmer could actually start and establish their own organic farm. After graduation, Hayes is thinking about starting her own farm back home in Montana. "People have lost that connection to supply for themselves," said Hayes. "To be given those tools and know how to use them in the future is a unique opportunity."
Mosman agreed, and said she appreciates this understanding. "They're teaching us to be self-sufficient, because we're not shipping things from a long way away," Mosman said. "It's a responsibility, but not a weighty responsibility."
The Principia interns work part-time alongside two full-time interns, Liberty Hunter and Leslie Touzeau, who previously interned at another organic farm in Kansas City. Touzeau said people need to change their perception about farming. "People think farming is an uneducated, blue-collar job, but that's a misconception. Actually, a lot of strategy and planning goes into farming," said Touzeau. "Education doesn't matter. All it takes is awareness and appreciation."
Hunter agreed, saying that understanding that vegetables actually come from nature and not the supermarket is a big first step. "People need to know real vegetables are not perfect," she said.
These internships provide an opportunity to learn as well as volunteer, and Cloud gladly takes volunteers who want to help at the farm. Cloud loves the student involvement, and said she hopes that by participating at the farm, students come away knowing how to care for their own garden. "Our internship is a hands-on learning experience," Cloud said. "Best way to learn is just to get your hands dirty and do it."