This content has been archived. It may no longer be relevant
"Most of us – we want to see moral courage in others; it is something to appreciate in others, not to practice ourselves."
These were the words of the United Nations Special Advisor on global education, Ziauddin Yousafzai. He has, along with his Nobel Peace Prize-winning daughter, Malala, risen to prominence on the international stage as a campaigner for girls' education and human rights. This came after Malala was shot by a Taliban gunman on her school bus in October 2012 for her role in documenting life under the Taliban and promoting girls education.
Yousafzai was Principia's annual Vogel Moral Courage speaker, who gave a talk in Cox Auditorium on Thursday February 26. It was followed by a Q&A session moderated by the Christian Science Monitor's Editor at Large, John Yemma.
Yousafzai's overwhelming message emphasized how important it is that when we see something that is not good in society, we should stand up for what is right, rather than passively assuming that it is someone else's responsibility to fix it. He also emphasized that good education, and particularly girls' education, are at the core of solving many of these problems.
Education is key
Growing up in a small village in northern Pakistan, Yousafzai received his Islamic education and school education simultaneously. Under the influence of a theology teacher in the 1980s, Yousafzai had it drummed into him that the greatest honor was to die as a martyr. He remembered praying for God to create a fight between Muslims and non-Muslims so he could die for Islam.
Later on his father decided to send him to a school for modern education where he studied science and English literature. He became a political activist and saw "[another] side of life that was very beautiful."
"And then I used pray to God: 'Give me love, life, I do not want to die,'" he said to the raucous laughter of the audience.
"I found my life, myself, through education. I discovered myself through education."
Yousafzai saw that his five sisters never received an education, and he vowed that if he ever had a daughter one of his missions in life would be to work to enable girls to be educated.
When asked by Yemma how best to effect change, he said he was not so much in favor of talking, but rather taking action.
"Change comes in a very unique way…when you express it through your actions," Yousafzai said.
Pointing out that it was not his choice to become a global activist, he reflected on his own experience working for change in his local community. He said that he supported activism within one's community as the best way of making change. The real push for his own efforts as a political activist and educator in Pakistan's Swat Valley came after certain clerics and the Taliban ramped up their efforts to put an end to girls' education and other freedoms for women.
Women's rights and progress
Yousafzi spoke on the rights of women as a key indicator of progress and freedom. He likened nations with equality for men and women to having two legs, metaphorically allowing nations to both run and walk.
He pointed to the tendency in men to want to control women, but that a true feeling of power comes from letting go.
"Controlling others is a big headache," he said to laughter from the audience.
"My advice to men is, 'Make your life easy, don't control your sisters.' Rather than controlling others, control yourself."
He said that the misogynistic actions of extremists in the name of Islam do not align with true Islamic principles, pointing out the fact that the prophet Muhammad married a wealthy businesswoman, Khadija.
What can we do?
Earlier in the day, Yousafzai visited a number Principia classes. Asked by the Pilot what students could do to effect change on some of the specific issues he had raised, he again emphasized local activism.
He said it would be helpful if people in America and around the world would stop attaching the word "Islam" to extremism or terrorism. While groups such as ISIS, Al Qaeda and Boko Haram commit heinous acts in the name of the religion, they are not the only organizations which engage in terrorist acts.
He also told the audience that within many Muslim-American communities there are pockets that are still opposed to the education of both boys and girls, and so it would be useful if people could find a way to locally promote education in those communities.
"When the people of a community of a society don't stand for their rights, and they think, 'It's not my responsibility, it's someone else's responsibility, it's [the] state's responsibility… Of course it's [the] state's responsibility, but you are a part of the state," Yousafzai said.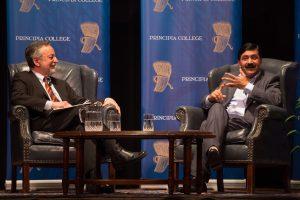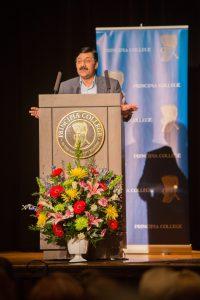 Image courtesy of Emilie Fredrikson