This content has been archived. It may no longer be relevant
Men's Soccer celebrates their 50th anniversary as a program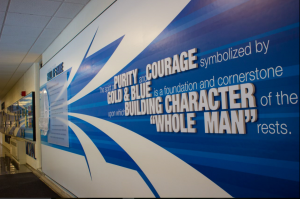 On the evening of October 14th, approximately 150 current Upper School and College Varsity soccer athletes, alumni, and coaches came together for a dinner in Holt Gallery to celebrate the 50th year of men's soccer at Principia College. Many of those who founded the program were recognized and thanked for the path they paved in 1965.
The current head of the college's men's and women's soccer program, Jess Semnacher, said the purpose of the event was to celebrate the soccer program's rich history, values, and friendships. "A half a century is a long time – a noteworthy mile marker," he said. "It's a time to acknowledge the good that has gone before us and to recommit to the continuation of that good."
Coach Semnacher also noted, "It was great having so many people come back. The banquet on Friday night had some great speeches from coaches and players. It was fun to see the 2001 team be inducted [into this year's Athletic Hall of Fame]. I played with a lot of those guys and it is fun to see their commitment, tenacity and hard work being rewarded."
The commitment and hard work that Coach Semnacher recognized and appreciated also made an impact on the younger players present. Current Upper School senior and member of the varsity soccer team, Sawyer Bradley, said, "What was really cool about the dinner was that we had three generations of Principia soccer players all gathered in one room enjoying a meal together. It was fun to hear from different alumni about what was important to them during their soccer experience at the college."
Bradley also shared, "The celebration has definitely shown me how much the players and coaches care about the program, which I think is something that's hard to find at a lot of colleges, so it has definitely made me want to consider Principia more seriously as an option for next year."
Following the dinner on Friday, Principia College alum and ex-soccer player, Travis Thomas, gave the homecoming keynote address to a nearly full Wanamaker Hall. Thomas shared his experience as a player on the college soccer team, recognizing his soccer career as mostly unsuccessful. However, Thomas went on to explain how his life motto and personal company's title, "Live Yes And…," helped him to realize his potential for success.
As a freelance speaker and trainer, Thomas assists in team, company, and organization culture building. Additionally, he works as a comedian and does improvisation – the inspiration behind his company's name. Thomas' message of, "finding your why," gave everyone in the audience something to ask themselves, and started Homecoming Weekend off on a high note.
"Travis' talk paired nicely with the dinner after hearing stories from past seasons at Principia College…. [It is] important [for] young Principia players to realize that what they put into their experience is what they will receive from it," Bradley said.
In addition to dinner and the homecoming address, about forty men's soccer alumni showed up on Sunday afternoon to play against the current varsity team. With a number of the 2001 Hall of Fame team present and jovial game commentary from junior Jules Kitchingman, the game was highly entertaining. One highlight was watching Norman Bair, one of the original players who was back for his 50th year reunion, step up to play goalkeeper against the varsity team and save five shots.
Coach Semnacher felt that the alumni game was, "really well attended," and that "there was a great sense of brotherhood among the alums." Overall, the celebratory weekend was quite a hit. Semnacher summed it up by saying, "Anytime you have soccer and your best friends in the same place, it is a good day."
Image courtesy of Taffiny Kablay