This content has been archived. It may no longer be relevant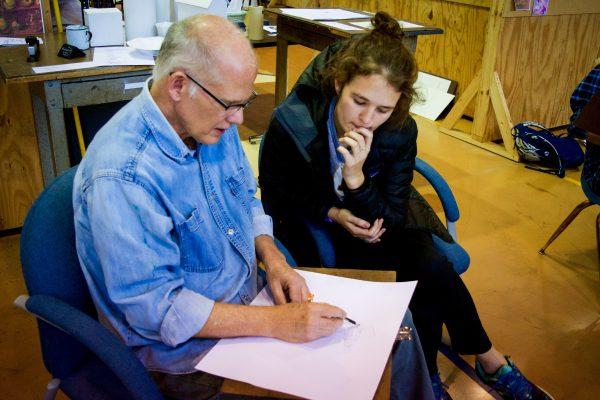 Sky O'Brien
President Donald Trump's proposal to eliminate the National Endowment for the Arts (NEA) and the National Endowment for the Humanities (NEH) has stirred the debate about the value of the arts and humanities in today's society. Given President Trump's intentions, what is the value of studying arts and humanities in college?
At Principia College, liberal arts distribution requirements give every student the opportunity to interact with the arts and humanities in their college career. These requirements, which are necessary for the achievement of a Bachelor of Arts and a Bachelor of Science, offer students "breadth across a variety of disciplines in designated academic areas of the liberal arts."
The general education program at Principia College explains the value of studying the arts. It reads, "The study of arts develops the ability to recognize and experience the inspiration, vision, and creative process of the artist." This allows students to become sensitive viewers of the world and use "discipline-specific language to describe the arts studied."
Professor David Coughtry of the Art and Art History departments at Principia College supports this view. He explains that his classes are "about learning an indispensable language, via modes of representation, symbolism and the non-objective—promoting the capacity for understanding values of reasoning and order."
He says, "This [study] enhances powers of insight, originality and imagination—all invaluable qualities for those artfully working in the various employments they will undertake within the current job culture."
Principia's general education program also acknowledges the value of the humanities. It notes that investigating the values, knowledge, and experience of our humanity through the study of history, languages, literature, philosophy, and religion allows students to ask difficult questions about the world and express cognizance of diverse perspectives.
Dr. Heidi Snow of the English department at Principia College echoes this view and suggests that studying the humanities allows people to make substantial connections with each other, challenge prejudices, spark imagination, problem solve creatively, ask difficult questions, and express ideas clearly and compassionately.
Combined with these practical applications, Snow acknowledges that studying the arts and humanities also helps students bring healing to the world. "You can't help others if you don't first learn to listen to them and have empathy for them," says Snow. "If you go out into the world imposing your own impression of others on them, they will not listen to you. More importantly, you can't bring healing if you are working from your own prejudices and presumptions."
According to Snow, "Literature teaches empathy. It requires readers to enter into the thoughts and feelings of others quite different from themselves. This practice can help readers be better healers because they will learn to stop, listen, and meet people where they are—not where they wish they are or imagine them to be."
Stephanie Alioto is a senior studying history at Principia College. Alioto sees the humanities as invaluable in fostering critical thinking skills. She says, "It is nearly impossible to look at literature, history, music or art in only one way. Interpretation and analysis of events is crucial to understanding within these subjects. They also provide us with a deeper look at the emotional and physical response of people as they cope with the events history dealt them."
She continues, "In doing so, we have an opportunity to evaluate past events as well as moral and ethical implications and recognize the mistakes that we wish to avoid. In a world where tension is daily increasing, being able to critically analyse a situation and look at how similar situations were handled is invaluable."
Although Coughtry and Snow believe strongly in the value of the arts and humanities in college education, they are also sensitive to the importance of other disciplines in a student's liberal arts college education.
Coughtry says, "the humanities are important because they better allow us to understand humanity. The study of the humanities is just as important, and no less, as the sciences. The concept of thinking suggests an association with words; perceiving is an attribute that might be considered when engaging numbers; forming is ultimately about the inventiveness and orchestration of shape."
He goes on to say, "I feel that any of the world's greatly esteemed engineers, scientists, architects, musicians, actors or visual artists would not be so observant and influential without cognizance or association with these three spheres of expression."
Snow agrees with this sentiment. She says, "Those of us in the humanities are not at odds with our colleagues in other fields, nor should we be. Our students are best served by a cross pollination of ideas and disciplines.
"You can see our dedication in the humanities to cross-disciplinary relationships in the many FYE and abroad programs we are involved in with other departments. Our students benefit from looking at the world from multiple viewpoints."
Alioto notes, "While the importance of engineering, computers, and technology is undeniable, to neglect the humanities or believe they are no longer necessary would be our greatest mistake."
In this regard, President Trump may threaten to eliminate the NEA and the NEH, but liberal arts institutions like Principia College will continue to provide students with the opportunity to ask sensitive questions about humanity through the study of arts and humanities.
Image courtesy of Liz McAloney