How does Patrick McCreary do it?  He leads a busy life as an educator, professional actor and a world-class triathlete. In his free time, you might not see McCreary around because he'll most likely be training for his next big triathlon.  On some mornings, he'll actually be done with training before most students  get out of bed.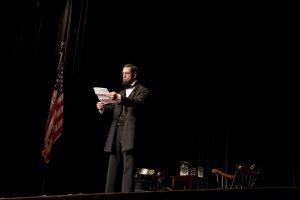 When McCreary lived in Kansas and worked in the theater, McCreary's best friend was the one that introduced him to triathlons.  This friend invited McCreary to compete in a nearby triathlon with him. McCreary recalls that it was a "bitter cold day," but he was really excited to participate in a new kind of event. He was immediately hooked. Twenty-three years later, McCreary has competed in 171 triathlons.
So how did McCreary know that being a triathlete was what he wanted to do?  "How does one know…it's inexplicable…it's like wearing a pair of driving gloves.  You put them on and you don't even notice they are there," McCreary says.  "But you have to have them. It's such a feeling of comfort, and a triathlon to me was like wearing a fine pair of driving gloves.  It was every aspect of the sport that peaked my interest and put me in a comfort zone."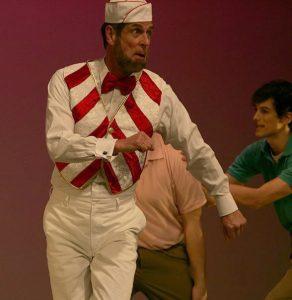 McCreary says that every race gives him a feeling of dominion, and that there is no better feeling than finishing a triathlon and knowing you gave 100 percent. "Triathlons have given me innumerable lessons throughout my life," says McCreary.  "Other than that, I just love meeting all the people. They are all so upbeat and generous."
Triathlons have taken McCreary all around the world: to Hawaii, Switzerland, Hungary and Beijing. He's also qualified for this year's men's national team, which will compete in New Zealand.
One might ask what a professional triathlete's summer training schedule looks like.  This summer McCreary competed in 10 races and received seven first places, two second places and one third place award. However, the icing on the cake was McCreary's silver medal at this year's world championship triathlon in Beijing, China.
When he's not busy training, McCreary is best known for his work in the theater department at Principia College.  Aside from teaching classes, McCreary is also known for his amazing impersonation of Abraham Lincoln, which many on campus recently would have seen in Cox Auditorium when he introduced Thomas Jefferson and Patrick Henry from Colonial Williamsburg.
Ever since McCreary's visit to Chastain Park, an amphitheater in Atlanta, when he was a young boy, he knew he wanted to take the path into the theater world.  "That had such an impact on my young imagination as an eight-year-old that I never forgot it and immediately became enamored with theater," McCreary recalls.  "It has now become my whole professional career both as an actor and as a teacher.  Since that one whimsical moment I have not lost my passion for the arts."
In following this passion, McCreary founded multiple theater companies before coming to Principia. One such theater is located in central Kansas and is in its 25th year of operation, 13 years of which McCreary worked with them.  "There really is not an aspect of the business I have not been in," says McCreary.  "I have really not done any feature films, but looking back, it really is and has been an ongoing adventure."
McCreary has been a professional actor for over 20 years. His theatrical skills have led to a number of unorthodox opportunities. "Someone mentioned to me that I looked like Lincoln, and if I had ever preformed Lincoln before," he explains. "I said 'no', and that was the genius of an idea that got me thinking about it."  McCreary has always considered himself a lover of history, and especially the presidency, which he has studied extensively.  Ironically enough, McCreary is the exact coloration, size and weight of Lincoln himself.
McCreary said performing Lincoln is not his favorite thing to do, but it is good for his professional development as an educator.  McCreary said that, for a while, impersonating Lincoln was a full-time, "always on the road" job.  After a good run as Lincoln, McCreary decided to settle down and start the theater in Kansas, which later led him to a career at Principia.
McCreary has been teaching at Principia for 11 years. "I've pretty much taught everything in the department, especially early on because there were only two of us in the department," McCreary says.  Overall, McCreary has been a teacher of the arts for just over 25 years.
It takes dedication to balance several areas of expertise in one's life, but it takes even more dedication to excel in each of those areas.  Patrick McCreary has an unbreakable passion for life and its many opportunities. This dedication and passion is what drives McCreary every day as a teacher, actor, and professional athlete.