This content has been archived. It may no longer be relevant
One thing I have come to learn about myself is that I am a fiend for coffee shops. Coffee is an excellent beverage, yes, but it is not always the same when you are drinking it by yourself in your dorm while watching something on hulu. But coffee shops, now that's different. The atmosphere, culture, comradery, of a well-attended coffee house is something that cannot be beat and always seems to draw me in like a moth to a flame. So, when I was offered a seat in a car heading in to St. Louis to do homework at a coffee shop in the Cherokee district, I hopped right in that car, laptop and all.
If you ever want to know where the "hipsters" of St. Louis get their cup of coffee, I recommended taking a trip to Foam Coffee and Beer on South Jefferson Ave. I was there on a cloudy afternoon, and to step out of the gloom and into this corner building was such an inviting moment that I never wanted to leave. The front room has a clean, albeit funky vibe and is filled with metal chairs and smooth tables. On the wall where the drink accessories are located, there are posters from past concerts, and these show off bands like Spoon, Elliot Smith, and other notable indie musicians.
Everyone has a beverage of choice, whether you enjoy the sweetness of the mocha, the simplicity of espresso, or the frothiness of a latte, everyone has their favorite. Mine is the dense foam and sweet espresso found in a good cappuccino, and whenever I am able to order one, I happily make my order being sure to mention I want it "extra-dry". If you ever want to sound super hip, it's good to know the lingo of coffee, and one when it comes to foam is the difference between wet and dry. "Wet" means the drink will have less foam and the foam will be more liquid that fluff. "Dry" means the drink will have more foam, and the foam will be super thick and airy. I am a "dry" person, but of course it all depends on your desire, and your wording when ordering.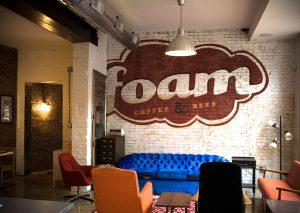 Walking up to the counter, the barista was extremely friendly and focused on me and my order. I got a cappuccino, with soy milk, and extra dry. The barista stated that he wanted to make sure the drink went smoothly so he would make it for me before he rung me up. I was touched by his work ethic and enthusiasm, which is why I felt horrid to say something when I noticed he was putting whole milk into the steamer instead of soy. Now, I'm not a vegan, so the mistake wasn't a reason for me to request that the entire batch be dumped out. I happily had my cappuccino with the whole milk, but want to send out a small warning to people who just don't want dairy in them, be sure to watch and make sure they pull out the right creamer.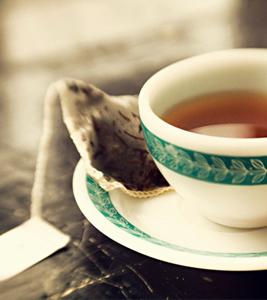 Along with my cappuccino I had a warm, gooey on the inside, crunchy on the outside, ginger cookie that helped me remember again that it is fall, and I took my goodies into the back room for 3 hours of homework. The back room is set up like a living room, with a couch, oversized lamp, bookcase full of literature, and cozy armchairs. While sitting in this living room sipping on my drink and eating my cookie, I was grateful to be in this shop instead of my room, and even more grateful to be blessed by the love and joy of the people in the shop, for that is the warmest moment in life, regardless of the beverage.