This content has been archived. It may no longer be relevant
Cieply learns the ins and outs of individualizing a Subaru BRZ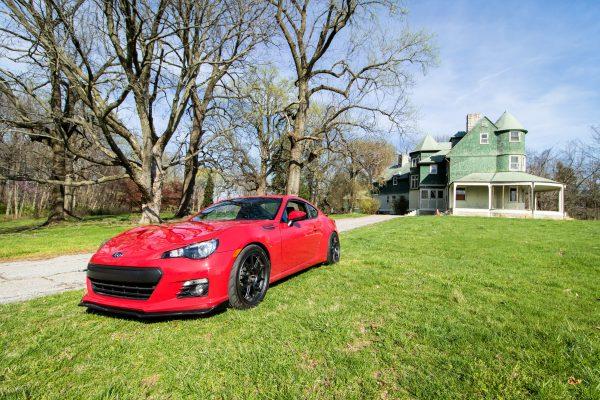 Skylyr Cieply
Auto Reporter
The Subaru BRZ, Toyota GT-86, and Scion FR-S are very similar and have been produced in jointly between Subaru and Toyota. So why did these two companies decide make three versions of the same car? Well, there are a few differences in what options you get under what brand, but they essentially have the same underpinnings.
The Subaru BRZ occupies a strange space in the car world. On paper, the BRZ is not incredibly fast and its capability as a performance car seems to make many people skeptical. However, the BRZ has some real perks.
The BRZ is a car that is intended to be squeezed, pushed, and muscled into and out of corners. You have to work for the power. You have to work the revs. Similar to the sports cars of the 60s, 70s, and 80s, it is a car that requires thought in how to get it from point 'A' to 'B' the quickest. Stomping on the gas is not necessarily the answer.
The BRZ is still quick, but the purpose of it is to maintain more momentum rather than having orbit-reversing torque and brain-puree-ing G forces that car makers try to achieve through mind numbing specifications. A BRZ is merely a car that offers a fun and reliable driving experience. The BRZ reminds a car enthusiast of the Toyota AE86 (AKA: Hachi Roku) along with the other Japanese economy-sport vehicles. These were extremely popular cars in southern California in the 80's and 90's.
The Japanese imports revolutionized American car culture and popularized tuning of turbo cars and drifting. The BRZ is similar to the AE86 because it is an affordable and fun rear-wheel drive sport coupe. However, the AE86 has a sort of mythology to it as it popularized drifting and helped establish itself as a sport and motoring discipline. The AE86 was also easily modified and infinitely customizable. Only a few cars have seen such popularity in the vast possibilities of customization as the AE86.
Since its release the BRZ has had multiple modifications. There are turbo, supercharged, widebody, track, and race engines. There are even cars that upgraded their factory engine for a Ferrari 458 engine! These cars offer performance to everyone.
Bruce Rea has a BRZ that is better than average. He has meticulously modified his BRZ over the past several years.
Rea's upgrades include KW coilover suspension, full exhaust with sport cats, an ECU tune for 93 or E85, a K&N intake, WedsSport lightweight wheels, Nexen R-compound tires, Stoptech stainless brake lines with racing fluid, a short shifter with upgraded bushings and mounts, and various suspension braces. All of these components make the BRZ a much more engaging car to drive.
The BRZ may not have all the options, power, nor cool body style, but it is pure fun. Not a lot of cars can make you feel more confident than a BRZ can. You wanna stick the back out a little? You want grip? The BRZ gives you both.The level of responsiveness in Bruce's BRZ is the best part. Cars that have felt responsive and tight in the past felt loose and floppy in comparison.
The BRZ's pedals, shifter, and seating are racy. Carving through the sharp bends of the road, the BRZ is grounded. It likes to be revved up high. In many ways it is the "poor-man's Porsche" with its boxer engine, rear wheel drive, and a tall powerband. It's almost impossible to shake the feeling that this is about as close to driving one of the great 1960s race cars that a driver can get without spending more than their life's savings.
The BRZ is a timeless formula. Weight reduction equals more speed and agility. As Rea demonstrated, it is possible yet much more difficult to break the rear loose because of the R-compound tires. It has immense mechanical grip. There also did not seem to be any undesirable understeer. This BRZ is even lower and wider than stock making the already low center of gravity even lower. Oversteer was easy to control.
Cars like the BRZ are special. BRZ owners are either complete novices or complete gearheads. The cool looks of the BRZ might be misleading, but the purpose is truly geared for enthusiasts. Rea plans to supercharge his BRZ and possibly add a sequential gearbox instead of the stock 6-speed in order to achieve full race car status. If the chance ever arises to drive this stand-out and fun car, definitely take the opportunity.
Image courtesy of Tommy Wolfe