This content has been archived. It may no longer be relevant
As winter quarter comes to a close, a new Student Activities Board (SAB) is poised to take over in the spring, along with six students pioneering new positions that the outgoing student government has put in place.
Juniors Laura Buchanan and Esteban Xifre will take over the positions of student body president and vice president, respectively. Both said they are confident that their complementary leadership styles will enable them to serve students effectively. Buchanan said, "Both Esto and I felt that … this was a natural next step for us because we were both looking for a new challenge." She said she hopes to begin her term as president by accomplishing some basic things for students, such as implementing a shuttle system to and from the airport in Saint Louis.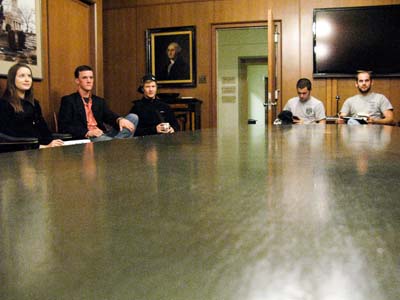 Buchanan added that she wants to make student government easier for students to relate to, "instead of just something that happens on the administrative level in the School of Government." Along the same lines, Xifre said that he envisions weekly reports letting students know what the administration is thinking about certain issues and enabling more direct communication. Buchanan and Xifre both served as freshman house presidents in 2007-2008 and are now ready to give back to the community on a greater level. Xifre said, "We were both looking to serve, so this was a kind of natural progression."
Junior Nate Hey will fill the position of All-Campus Meta Head. He said, "I'm ready to give to the campus." He added that he wants to help create a deeper understanding of why we practice Christian Science here at Principia. He also said, "I would love [to shed] a new light on the importance of our pastor [and] show people how wonderful the books are and why we go to the books to read the Lesson."
Junior Amelia Heron will be the new All-Campus Eco Head, and said she can't wait to share her ideas with the campus. Heron said that initially she felt "impelled to act without a title," but that when a friend suggested she run for election, her "thought motive redirected itself." Heron said she hopes to provide a "drop of inspiration" that will ripple out to include others and their ideas. Among her first activities in the spring will be organizing an Earth Day celebration at the end of April. Heron added, "The environment is inclusive; it is us and it is each connection that creates a oneness. It is not the dreary facts of how our planet is being destructed … but rather looking at the solutions … and viewing each circumstance as an opportunity … to discover spirituality through pure organic ideas."
Freshmen Liza Hagerman and Jessica Gealy will serve as the new Women's Intramural Heads. Both spoke of their love for sports and said they are excited to share that with the campus. They said they would like to continue the popular weekly aerobics that current Intramural Heads Cristi Scheye and Jodie Maurer started this quarter. Gealy added that they want to hold intramurals during the week because many students leave campus on the weekends. Another idea Gealy shared was to hold a competition between classes, instead of just between houses, as a means of reuniting the classes after freshman year. Hagerman and Gealy also expressed interest in trying out new sports. Hagerman said that they hope to increase general attendance, and that they're "trying to come up with creative ideas to get people excited."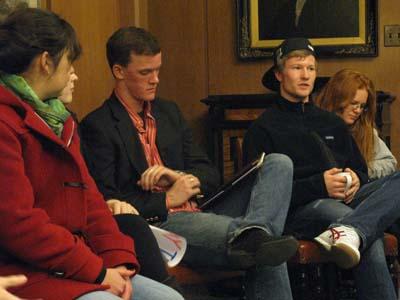 Freshman Robert Barnacle will join SAB as a Men's Intramural Head, along with returning sophomore Brandon McKee. Barnacle said he would like to make intramurals "more of a unity thing, instead of just individual houses playing each other." He's also hoping to develop an MVP (Most Valuable Player) award that would carry over from quarter to quarter.
In addition to these positions, there are six new student representative positions, filled by students who will serve as non-voting SAB members.
Junior Theodore Lindsey will serve as the All-Campus Technology Representative. In the past year, Lindsey has helped develop the student government website. As an extension of his Tech Head duties, Lindsey started a Principia chapter of FreeGeek, a group that revamps old computers that would have otherwise be thrown out and gives them to students who don't have computers of their own. He is also attempting to get the campus email server switched to Gmail, which is an ongoing process.
Sophomore Laura Ainsworth will be the first-ever Clubs Representative. She will serve as a liaison for all of Principia's clubs and help them increase participation through advertising. Ainsworth said that, as president of Principia's Amnesty International chapter, she sees that campus support for clubs is lacking, and "want[s] to do all that [she can] to inspire people to join clubs." She hopes to create more communication between clubs and make it easier for students to start new clubs.
Sophomore Eric Pagett has been elected to the new Admissions Representative position. Pagett, who already works as an Admissions Ambassador, said, "I'm very business oriented and I have a lot of experience holding responsibilities in important job positions." He has also worked in the Guest House, where he said he learned the importance of "Principia hospitality." Pagett said he is excited to be the connection between Student Government and the Admissions Department, and that he sees himself working with the advertising department and helping college visiting weekends "reach their full potential." Finally, Pagett plans to use the student body as an important research tool, because students have firsthand experience with the Admissions Department and are "a valuable resource."
As the first Scholastic Representative, sophomore Amy Baldauf will serve as the only student member of the Scholastic Committee, which deals with scholarship renewals and academic discipline. Baldauf relayed the importance of this position in creating academic opportunities for students. She said, "I'm excited to be a student voice for the committee and see what I can do to help."
Junior Mel Stein will serve as a direct link between Dining Services and the student body as Dining Services Representative. She said she ran for the position because she "[loves] working for Dining Services," and that she has already received suggestions from students since being elected.
Sophomore Maija Baldauf will fill the position of Communications Representative. She will be responsible for updating content on the student government website, as well as updating the bulletin board in the concourse and advertising for certain campus events. She said, "I've been interested in [serving with student government] for a while but I didn't really know where I might fit in until I heard about this position."
As current presidents and seniors Will Buchanan and Chelsea Kendrick leave office, they look forward to seeing the new student government model put into action. Fortunately, incoming presidents Buchanan and Xifre are ready to make it happen. We wish them the best of luck in the coming year!