Can you have fun on campus? Can you use your skills and interests to change the world? If your answer to these questions is yes, then you'll want to participate in this year's HomeGrown Festival on May 14. The festival is the successor of the Principia event formerly known as Prinstock, and is being organized by the All-Campus Ecological Head Nick Tosto, in cooperation with OSL and the student Social Event Planners. The organizers have spent a good amount of time making this year's festival more diverse and more fascinating than ever before.
A large tent and a stage will both be set up on the Chapel green for the event. The festival will start in the early afternoon with a focus on various booths and presentations in and around the tent. At 6 p.m., a number of bands from both on and off-campus will get the opportunity to share their repertoire with the audience. The entire event focuses on the idea of bringing talent and passion together and embracing our community.
Event planners Nick Tosto and Amelia Heron shared six of their visions, ideas, and plans for the festival:
Celebrating Principia, celebrating home
Amelia Heron made it clear that one big goal of this year's HomeGrown Festival is to show the opportunities and the potential Principia has on its own campus: "This festival is about changing the paradigm that a music festival or an art festival is something we must go off-campus to experience. Rather, we bring our ideals and our vision for our community to a local level. It is exciting because it is composed of our friends, our teachers, our neighbors, the people that we see on a daily basis, and broadens those relationships on a deeper and more creative level." Heron also loved the idea of emphasizing Principia as our home: "It is really focusing on what [home] means, on what our definition of home is. On a metaphysical level, it is realizing all these attributes and all these qualities that we connect to home. It is not just having this great event at all […] It is having a day to show clearly what Principia is […]."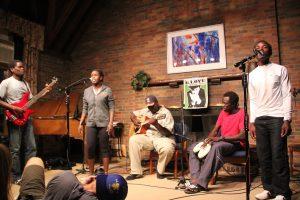 Showing what you are passionate about
In the tradition of Prinstock, the HomeGrown Festival will focus on the special talents, activities, and passions of Principia's students and guests. Heron put it this way: "It will be sort of like an art festival. And this art does not have to be limited to the art of painting or the art of design. Art is emphasized here in a broader sense of what you really are passionate about, what really interests you. […] Within these booths we are focusing on what people are passionate about, what people enjoy. Putting what we are learning here into action. We are all going off in very different directions, but I think we all have one thing that is very deep, that we all have in common: the expression of Life with a capital L." Nick Tosto also shared the idea of showing diverse talents: "What we are trying to do is to get as many people involved and focused on what their passion is. We are trying to open it up to everyone, not just the tree-hugging kind of people. Everybody has something cool to share, whether it is relating to sustainability or not. We are trying to open it up to have the whole array of things."
Being a compassionate neighbor
One big aim of the organizers is to connect Principia more to its surrounding communities and to strengthen Principia's relationship with local community members. Besides inviting bands from Elsah and Alton, the event planners are also trying to get off-campus visitors, artists, and collectors. Tosto said, "I am just excited that we are trying to expand our borders a little bit more to the surrounding communities, and not just Prin." Heron added: "The festival is emphasizing that sense of locality, that sense of neighborliness. It is about being a very compassionate neighbor."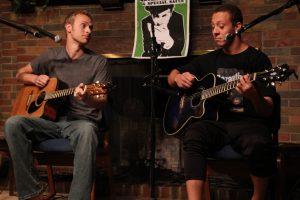 Getting to know different food
Food will play a big role at the festival. Heron shared her plans of bringing a diversity of different foods to the campus: "We are having booths for anyone who is interested in doing their own cooking. This is also a cultural expression because I feel that gets a little removed sometimes when we are in college and have very busy schedules and we don't really have time to think about where our food comes from. […] We have contacted Dining Services. Hopefully we are going to have the dinner outside and have some organic options. We are contacting local CSA farms and local organic farms […] to see if there is anything they can bring and we can buy from them for that day."
Starting a change
Heron also emphasized the connection between a local event like the HomeGrown Festival and global issues: "When we talk about the global issues, we can implement them on a local level. We take all these things that are going on in the world and bring them back home. We can realize what we can do back here. Instead of pointing our fingers, we can start with ourselves."
Everybody can participate
The main message of the festival is that everybody can participate. Heron and Tosto both made that clear. Heron said:  "This is everyone's festival. HomeGrown is about coming together to share music, food, hobbies, arts and crafts, to recognize all the things that we are really interested in or moved by and to share it with the community! Bring your positive vision and watch our home evolve."
Funds will be available for those interested in activities like cooking, craft making, or workshops. If you are interested in either having a booth or performing as a band, sign up in the Info Booth in the Concourse as soon as possible, since space and funding will go soon. You can also contact Amelia Heron, Graham Thatcher, or Nick Tosto for more details.